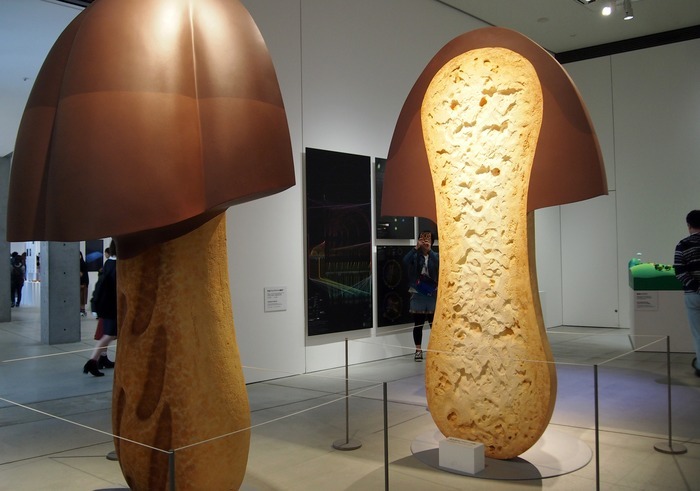 Hi guys, Kame here, visual designer here at Pinkoi Product team, on a business trip to Tokyo!
While in Tokyo, one thing not to miss is 21_21 Design Sight (Read "two-one two-one design sight") in Tokyo Midtown of Roppongi. If you follow Japanese designs and museums, you would be familiar with this museum designed by architect Tadao Ando, branded by Taku Satoh. If you hadn't heard of it before, now you know about this cool spot in Tokyo!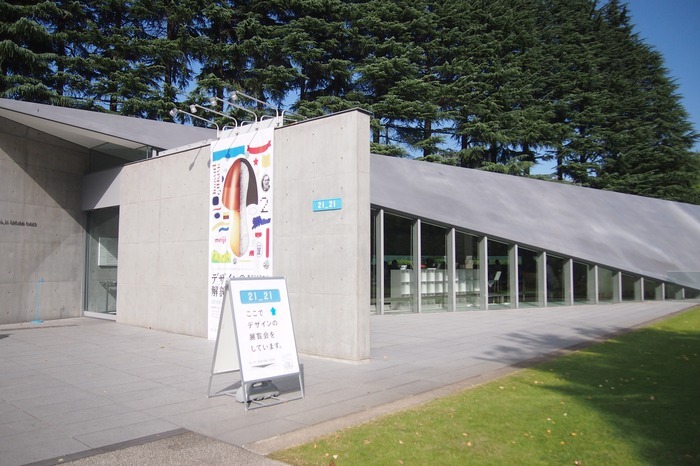 21_21 Design Sight puts on two to three curated exhibitions throughout the year. In coincidence with my business trip is the Design Anatomy Exhibition: A method for seeing the world through familiar objects. A lot of these "familiar objects" are popular Japanese snacks, so get excited, because we'll be looking at them from a design perspective!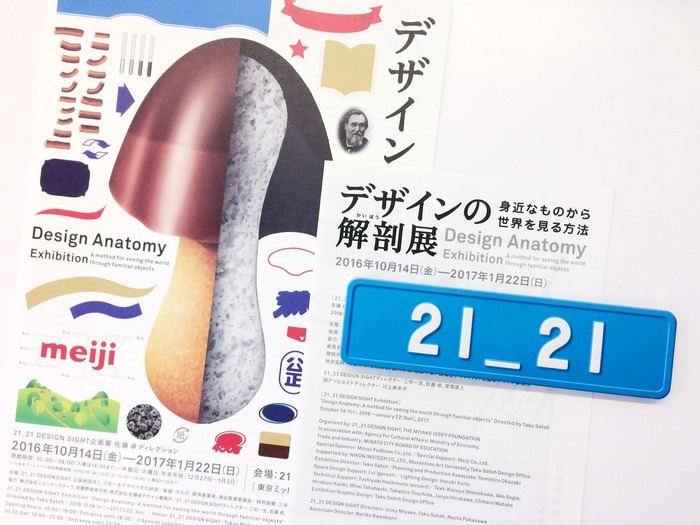 Anatomy is a profound and complex study, and Design Anatomy reflects that with a lot of detailed information and extensive background explanation. Therefore, 21_21 Design Sight reminds you of two ways of viewing the exhibition: take your time to take in all the information, or simply check out the summary section on the top-facing panel.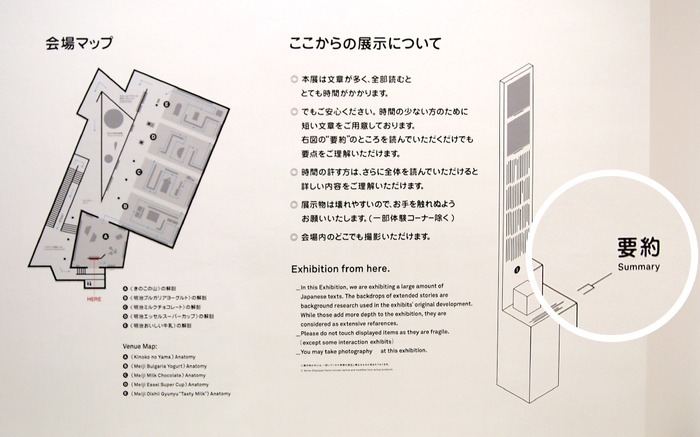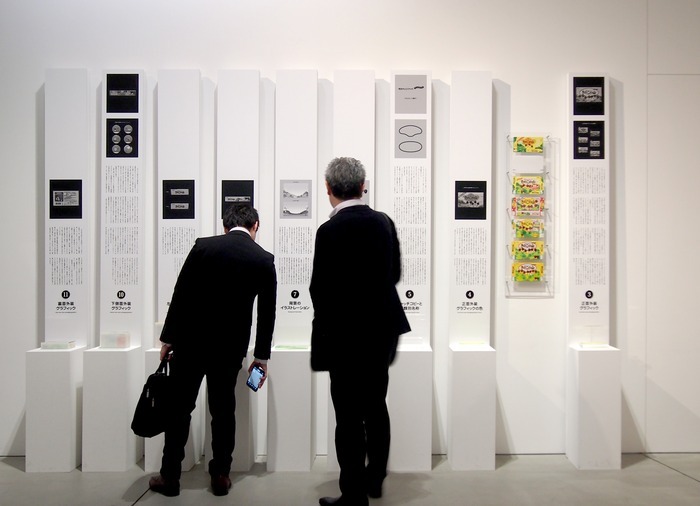 The exhibit shows very detailed anatomy of different products, each dissected into almost 50 components, such as the history of the product, examination of the product name including text graphic and pronunciation, the evolvement of packaging design with close-ups on the front, side and back designs, and the packaging production such as materials, shape, and the printing process.
Everything you want to know and could know  are addressed in this comprehensive exhibition. But I'm not going to tell you all because then this post would be way too long, and it's simply more awesome to experience the show for yourself. But if flying to Tokyo today is not an option, follow me and check out these exhibition highlights.
Meiji Kinoko No Yama (明治キノコの山, chocolate mushroom biscuit)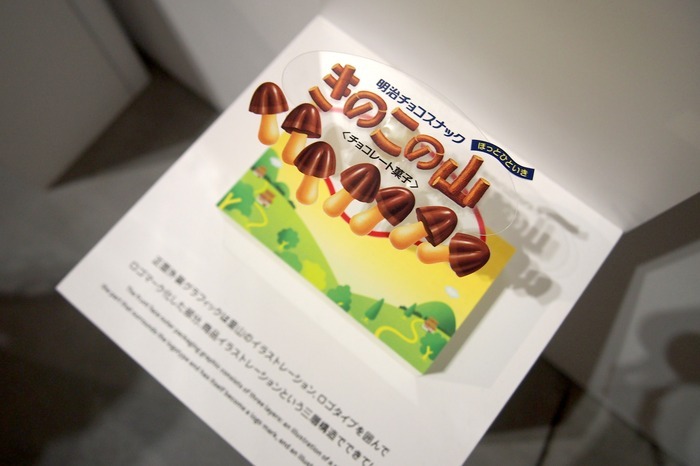 This was the first exhibit I ran into! Can you also identify it immediately? If yes, I guess you're a Japanese snack foodie like me. But food is prohibited at this exhibit, so let's forget the snacking and get into the design.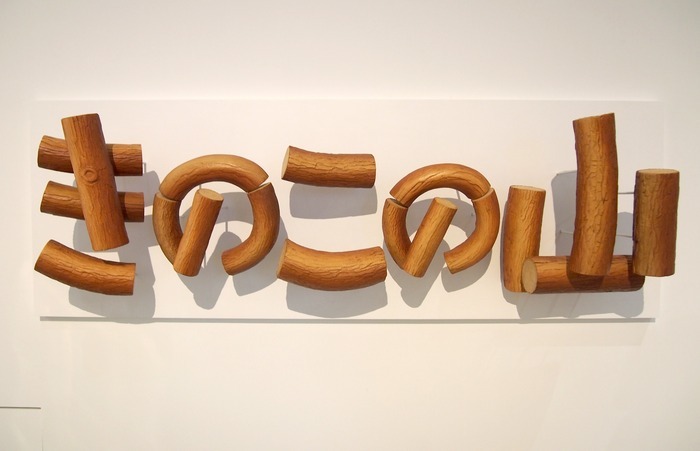 The name Kinoko No Yama written with logs came into the three dimensional space! It's as realistic as it can get.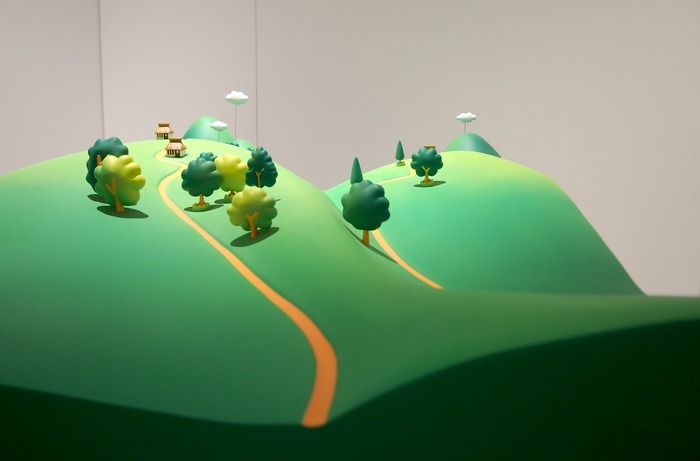 The "yama" (mountains) graphics also became three dimensional. You can check out the hills from every angle and even imagine yourself in there.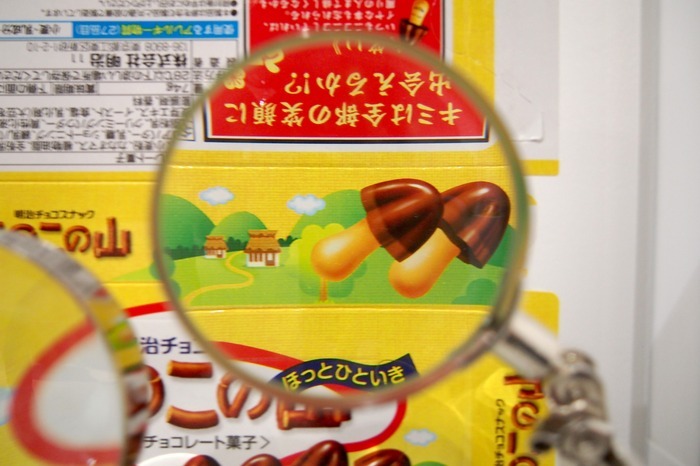 Besides the basic CMYK, colors named in the Kusa (which means "grass") category in the DIC color system are also used for the hills and the trees. A magnifying glass is included for you to examine it in detail. 
Kame's designer's 101: Besides common systems like Pantone, the DIC is also a very common color system in Japan to produce specific colors.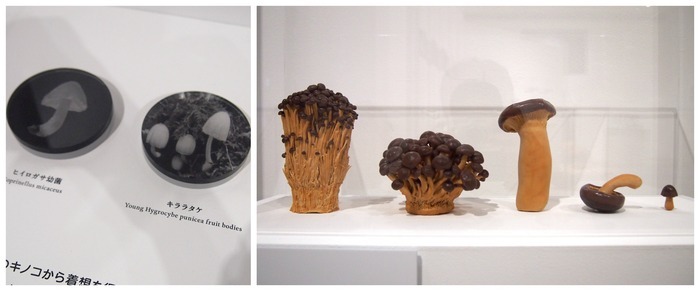 Now let's look at the mushroom chocolate itself. Although the chocolate shape was not based on any actual mushroom variety when it was designed, after serious study, we discovered the Coprinellus micaceus (mica cap mushroom) resembles Kinoko No Yama mushrooms the most. 
As for the color, the chocolate cap consists of two shades of chocolate, and the biscuit stem is sand color. Other common mushrooms you'd find in the supermarket are also turned into Kinoko No Yama biscuits. Now, as a foodie, the important question to ask is: Would biscuits based on real-world mushrooms taste as good?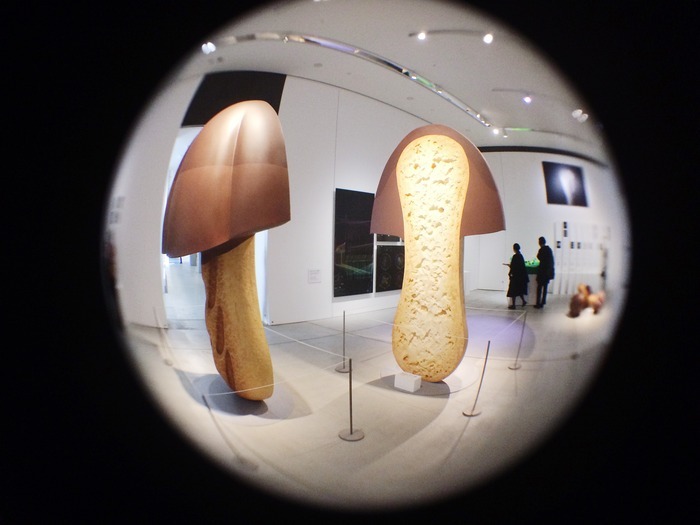 A 2-meter tall enlarged Kinoko no Yama is also here for a close-up examination. You'll see that there are actually many details on these biscuits which are normally just an inch tall. The mushroom stalk (the biscuit) is textured, and the chocolate cap comes in two shades.
Now you know a lot more about Kinoko No Yama biscuits. From now on, you're not just a foodie, but an educated foodie.
Meiji Bulgaria Yogurt (明治ブルガリアヨーグルト)
Are grocery stores and convenience stores considered travel destinations in Japan? For me, it's a definite yes. This yogurt easily spotted in stores bring back a lot of memories of the days I lived in Japan. My refrigerator is often stocked with this yogurt!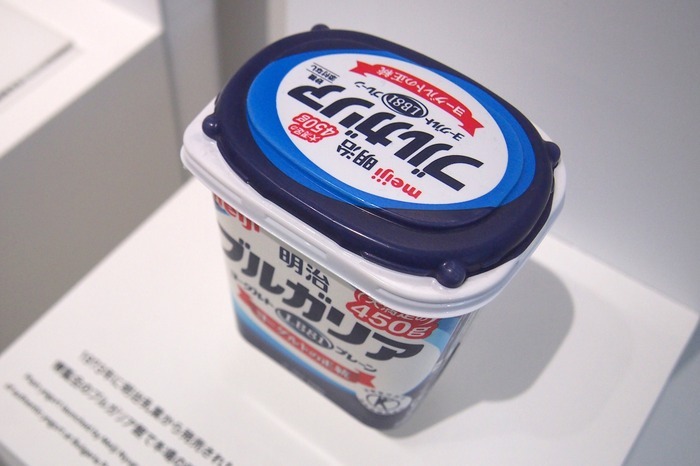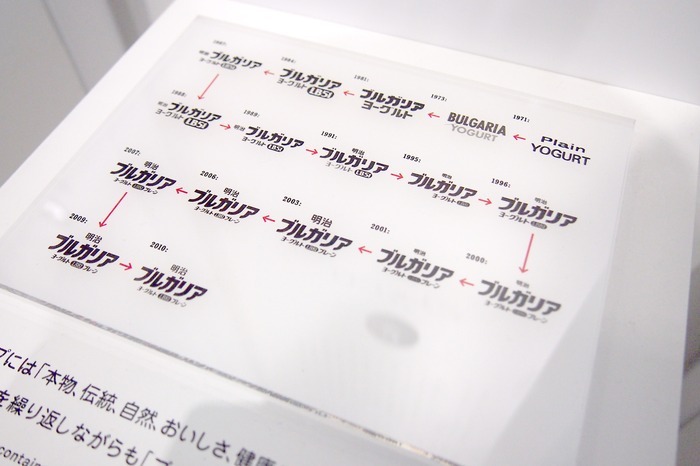 Starting from the top right, we can see how the Bulgaria Yogurt text graphic evolved. The name changed from Plain Yogurt to Bulgaria Yogurt, and the writing changed from English to Japanese hiragana characters. The fonts changed from boxy to slender, but still maintains a good style.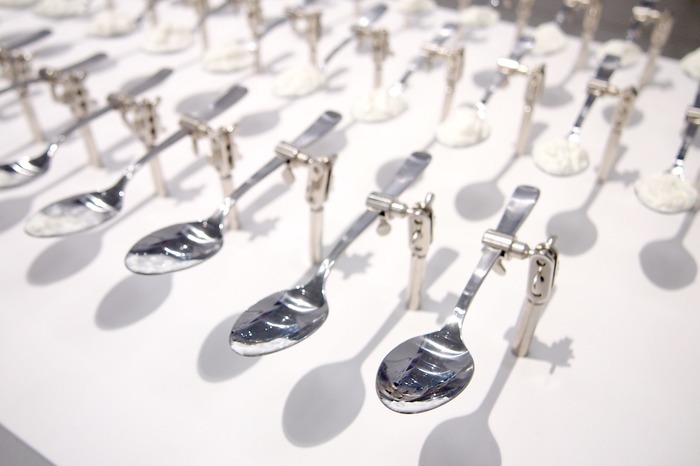 How much is a serving of yogurt? Can you tell 1 gram from 10 grams? Now that they are visualized in spoonfuls, you can control portions more easily!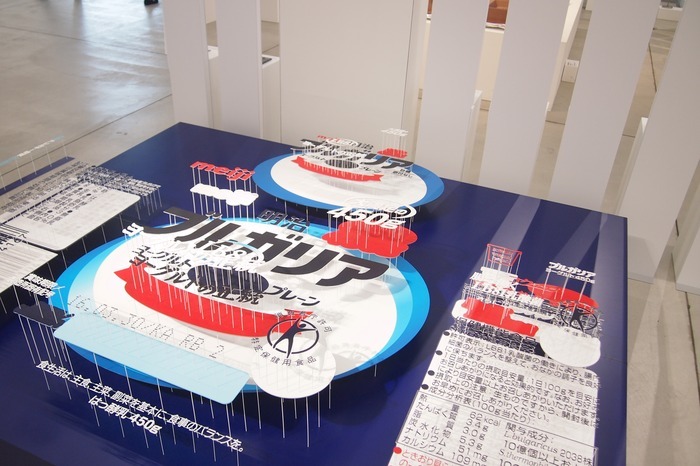 The packaging graphics also turned three-dimensional into layers and layers of graphics. Isn't it amazing? Never mind the anatomy perspective—they took me right back to the designer perspective for some massive organizing.
Never ask your designer friends to design something "really simple" for you ever again! Okay?
Meiji Essel Super Cup (明治スーパーカップ, vanilla ice cream)
Is this vanilla ice cream part of your memory? Besides being easy to find in Japan, it can also be bought in Taiwan. But ice cream later. Right now we are educated foodies studying ice cream through design anatomy.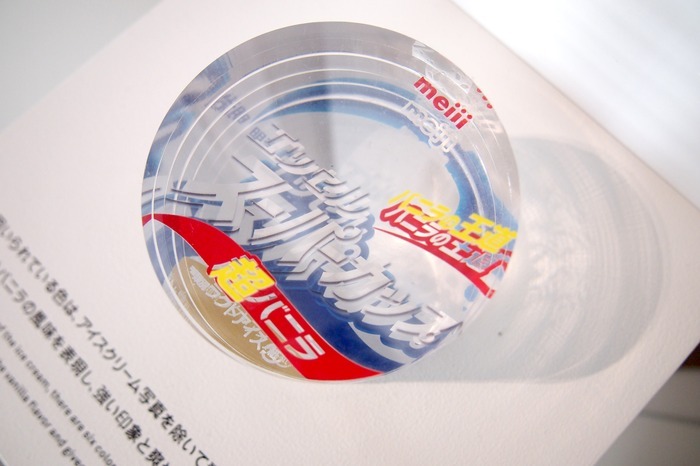 Since ice cream cups are usually stored in ice cream cases in convenience stores, first impressions depend on the top lid design. Here the product name is presented in sporty italics right in the center of the lid, with yellow texts emphasizing the strong flavor of vanilla. It's all meant to plant that vanilla impression in your mind just by looking at it.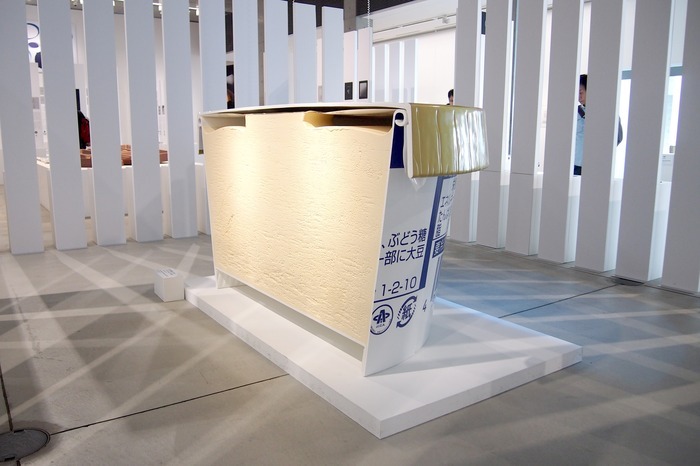 As usual, here's the supersize Meiji Super Cup. The first thought that came into mind is why isn't there a spoon for me to start digging in? Excuse me, I didn't mean to voice that out. I meant the first thought that came to mind was how thoughtfully it was presented—down to the bits of ice cream sticking to the sealing film.
Meiji Oishii Gyunyu (明治おいしい牛乳, Delicious Milk)
The carton packaging is very common in Japanese and Taiwanese convenience stores, but in Japan, the packaging takes one step further in terms of design. See the red dot on the photo? Beneath the red dot is a curve on the carton top. You can see it even better on the wire structure on the right hand photo. What is the curve for? It's designed for the vision impaired to identify milk products simply by touching the carton. Another very thoughtful design!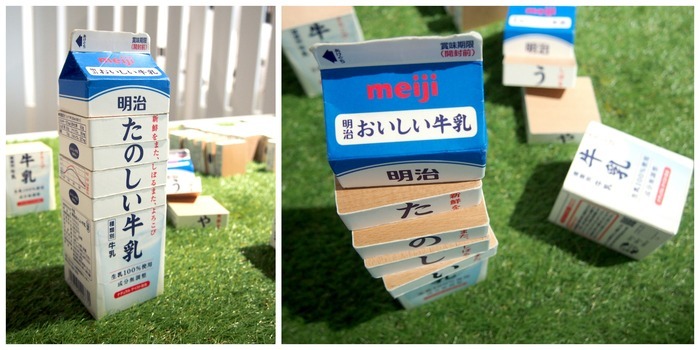 Next, Meiji's Delicious Milk is transformed into building blocks. Blocks printed with all 50 hiragana characters are prepared so you can create your own Meiji Milk. I made a Meiji Happy Milk (Meiji Tanoshii Milk)—a milk that brings happiness everyday!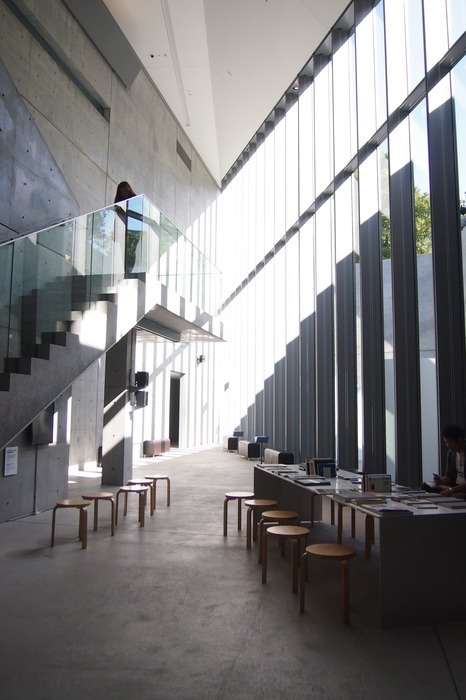 At the end of the exhibition is a library zone with books related to the Design Anatomy topic, so you can dig in more on the subject. If you don't read Japanese, no problem. There are plenty of chairs for you to sit back, relax and enjoy the play of light and shadow from Tadao Ando's architecture. With this, this visit has a perfect ending.
If you're exhausted like me, just grab the chance to take a break before heading to your next destination. Design Anatomy Exhibition runs until January 22nd, 2017. Make a mental note of 21_21 Design Sight, and plan for your next visit!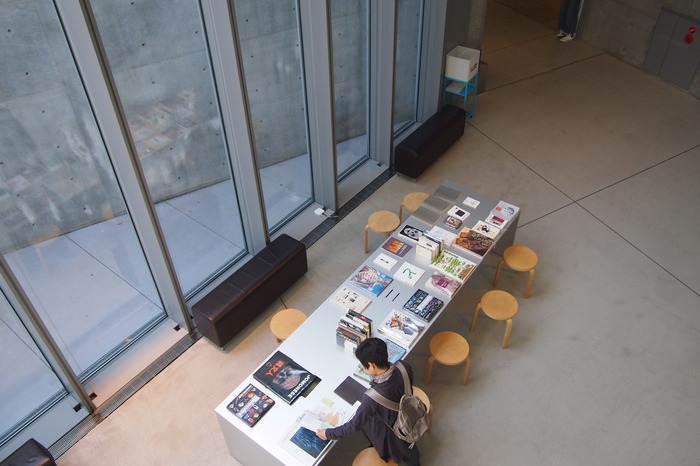 ? 21_21 DESIGN SIGHT
Hours: 10:00–19:00
Transportation:
.Tokyo Midtown Roppongi station on the Toei Subway Oedo Line
.Exit 6, Roppongi station on the Tokyo Metro Hibiya Line
.Exit 3, Nogizaka station on the Tokyo Metro Chiyoda Line
? On view: Design Anatomy Exhibition
Date: 10/14/2016–1/22/2017
Admission: ¥1,100
? Upcoming: Athlete Exhibition
Date: 2/17–6/4/2017
Admission: ¥1,100
Have you been to 21_21 Design Sight? Or do you have more recommendations for travelers to Tokyo?
Keep exploring?
► ► ► Pinkoi in Bangkok | Our 8 Favorite Coffee Shops to Visit
► ► ► Pinkoi in Budapest | Treasure Hunting in Vintage Stores
► ► ► Pinkoi in Lisbon | Look for these 5 Iconic Symbols in Lisbon!
Text/Photos: Kame
Edit/Translation: Melissa