We are finally at the end of the year when the holiday season is basically taking over the entire planet. During this busy time with Christmas and the New Year's going on, besides planning on creating new products and taking festive product photos, you can also think about a special holiday packaging for your customers. Most people come to Pinkoi to buy gifts, so festive gift wrapping is also an important part of a purchase decision.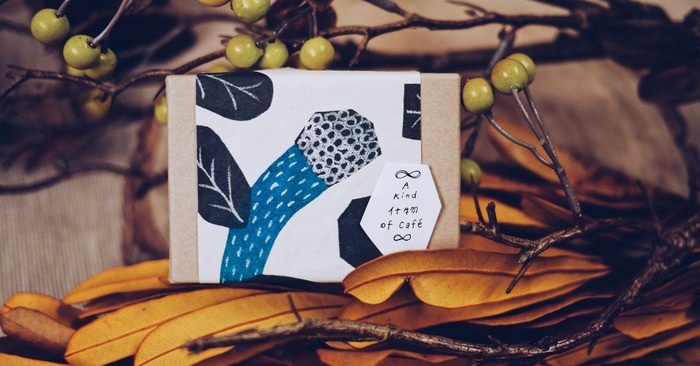 We've invited the talented brand "A kind of café" to show us how to DIY your own wrapping paper with Japanese stencil method—katazome!
How to stencil?
Called katazome in Japanese, stenciling is a traditional printing art in Japan. Because of its versatility, it's become one of designer Uulin's favorite ways to create products.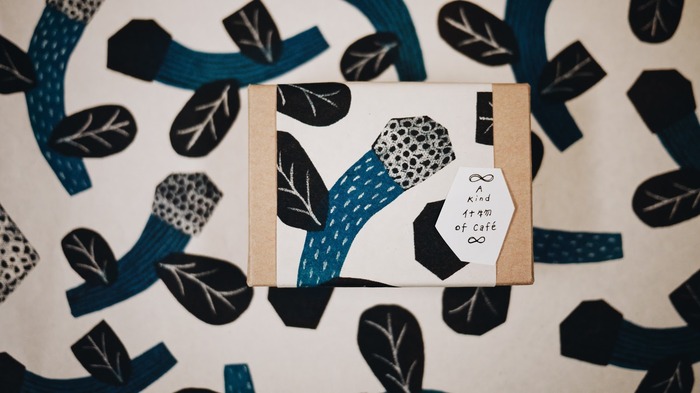 Today's project is to create some wrapping paper and use it to wrap all sorts of items. It's fairly quick to make so you can produce it quickly during the holiday season, even after the holidays it's still a quite useful packaging material.
Now, designer Uulin is going to teach us how to stencil your one-of-a-kind wrapping paper! (P.S. They used fabric instead of paper in the following photos, so just go ahead and pretend it's paper.)
① Create a template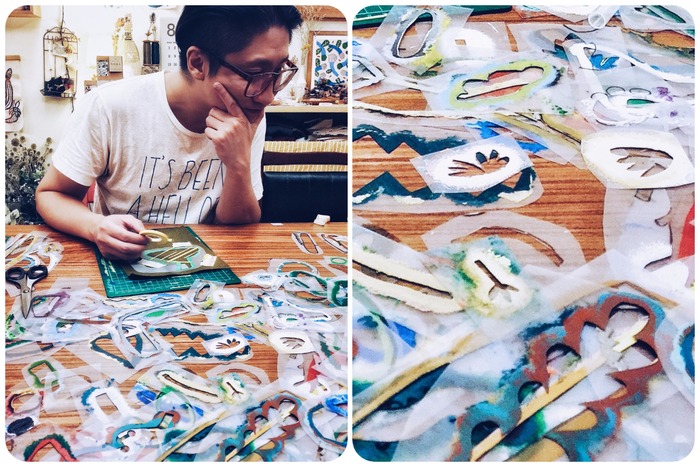 First, draw your desired shape on a celluloid film or bristol board. It could be your logo, brand name, or festive illustrations like a Christmas tree. Trim along the lines and cut out the shape, and that's your template.
② Fill in the colors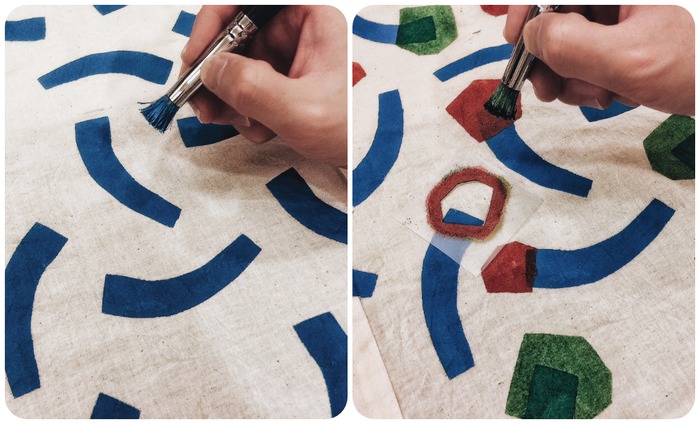 Place the template on your paper and color with acrylic paint. (Tip: use some washi tape to secure the template.) When you're done coloring in, simply move the template somewhere else and recreate!
P.S. Other than acrylic paint, designers Uulin and Pearl said they sometimes use gouache paint to color. Its thick and vibrant color makes it very easy to scan and print if they ever needed to use it again in the future.
③ Add some details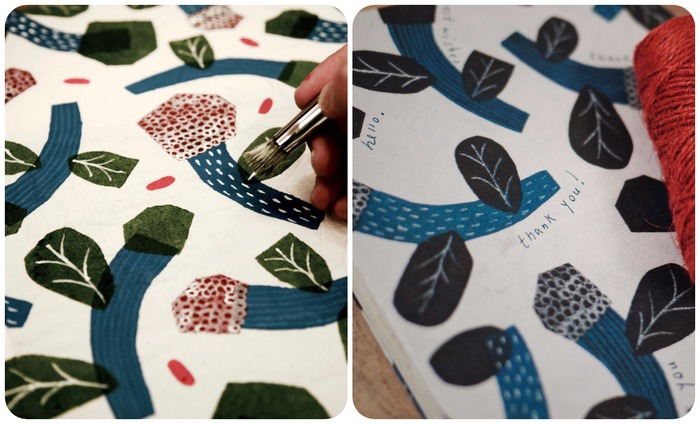 This step is optional, but we recommend it so your illustrations look extra special. Uulin used a thin white pen to draw out leaf veins (left photo). If you do a mean calligraphy, you can also compose next to the illustrations like Pearl did (right photo)!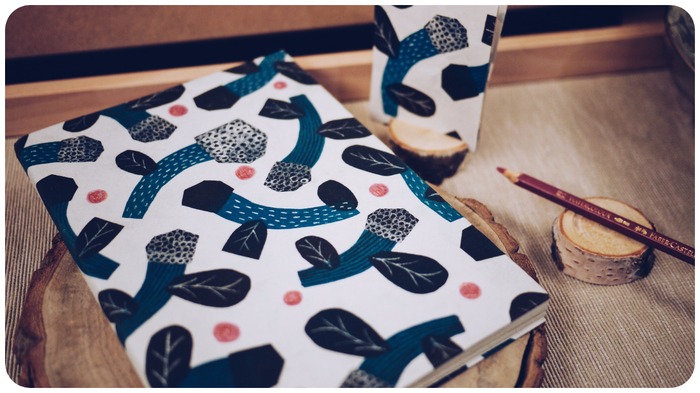 ▲ Or draw some red circles with a colored pencil to make it look more like Christmas.
How to wrap?
Now that you've made your own wrapping paper, let's learn how to package different items.
① Basic wrapping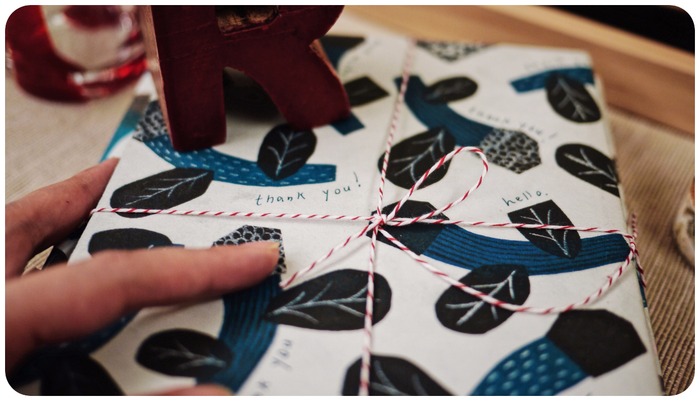 Let's take a book for example: any notebook or journal would do. Wrap up the item entirely with the wrapping paper. The key to a festive look is the bright decorative strings! Uulin used a candy cane color here to create a Christmas look.
② Obi wrapping
We're demonstrating this method with a pound cake. After you do your usual packaging, you can wrap it with obi, or essentially a paper waistband. You just need to trim the wrapping paper to a suitable length and width, and that's an obi! (P.S. Obi wrapping is also good for items with a softer material, such as t-shirts and totes.)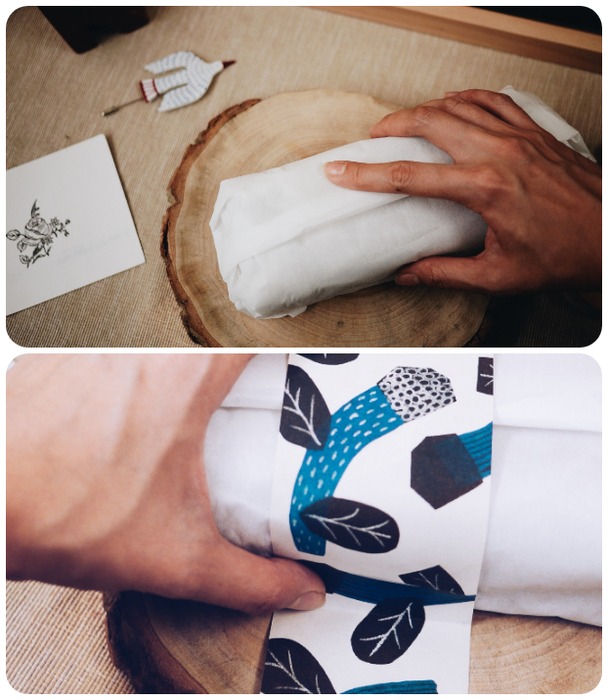 Tip: If the item itself is vibrant and full of patterns, use a simple but festive-colored obi; If the item is plain, make some patterned wrapping paper (like the one above). This type of wrapping saves you from using too much wrapping paper and is just as fun as basic wrapping.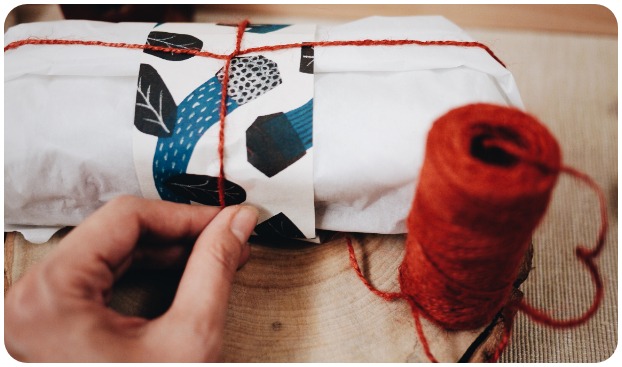 ▲ Tie it with a piece of red string, and it's festive already!
③ Labels / small gift boxes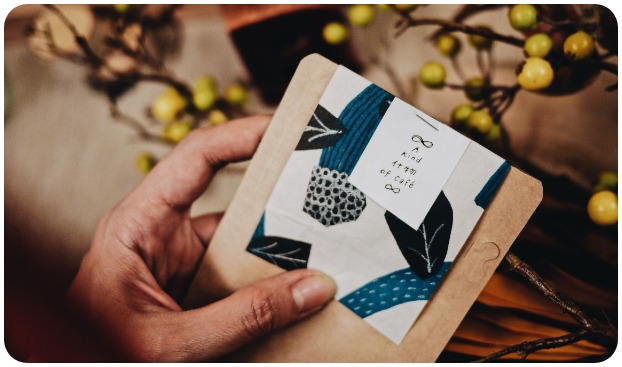 This is another variation of obi wrapping. We are using an envelope and small box here to demonstrate. All you need to do is trim the wrapping paper into smaller labels, and it's a completely different style!
Labels/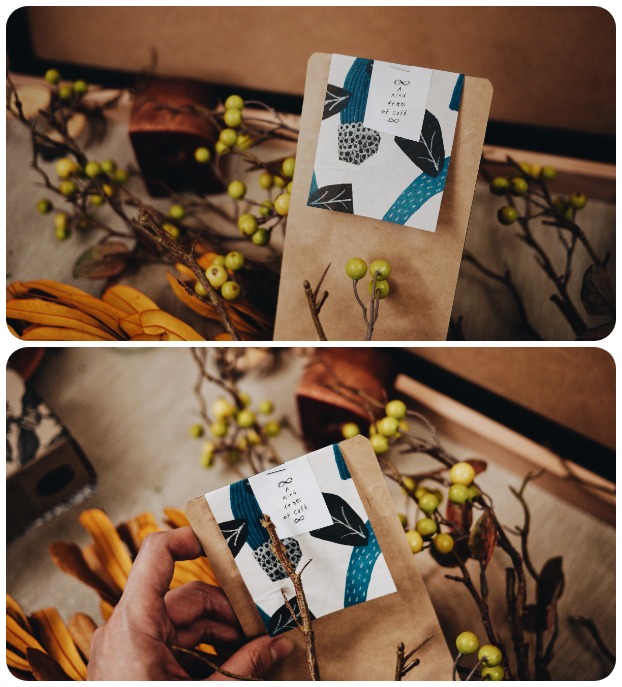 Small box/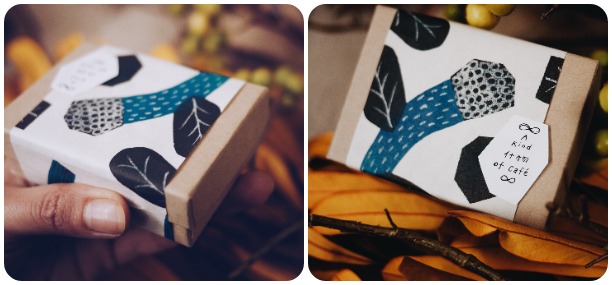 ④ Transparent items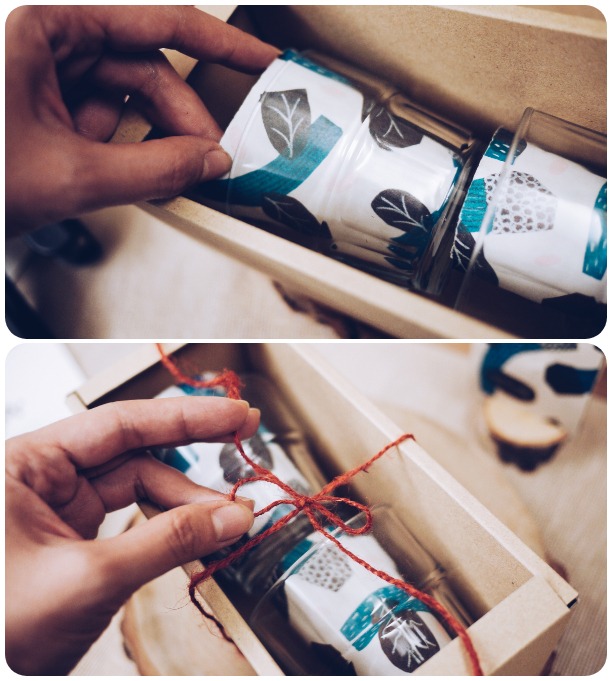 This style is inspired by Starbucks travel mugs! Simply put a strip of your wrapping paper inside the transparent item. You can also wrinkle it a bit and place it at the bottom of the gift box—it quickly becomes a festive decoration!
Finally, Uulin says,
You don't have to spend too much money on wrapping paper. If you want your customers to be wowed by the packaging, play with your imagination!
We have an assortment of products, so we quite often have to create new wrapping paper designs. The customers will feel your love through your creativity!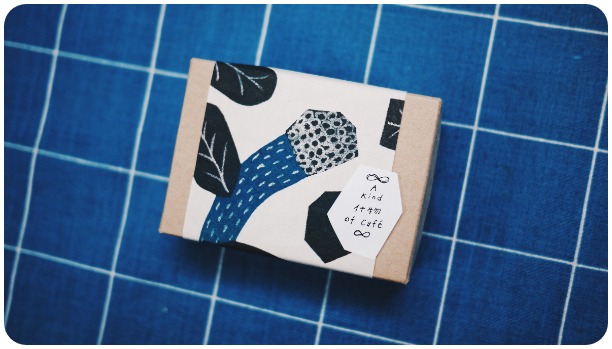 If we're in a hurry, we would even take some kraft paper to a print shop and print the design in grayscale, draw on some circles or stick on some logo stickers, and it's good to go.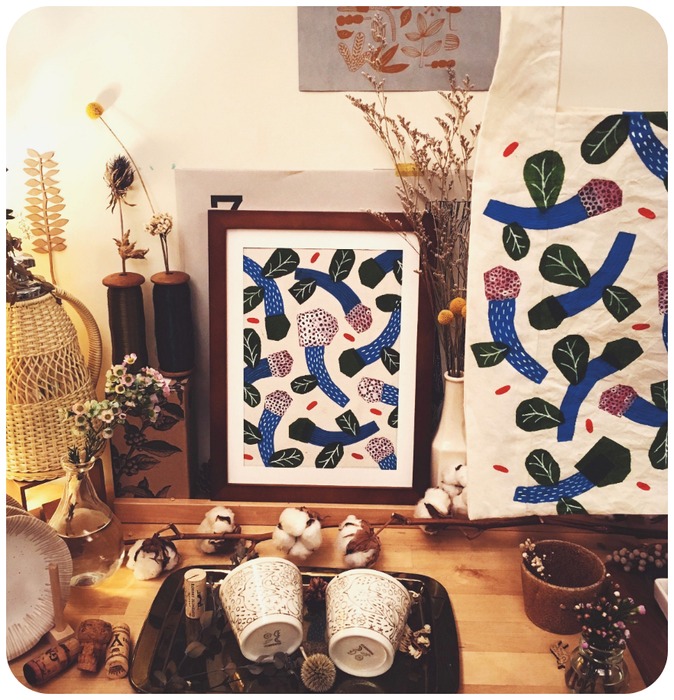 ▲ Apart from creating stencil wrapping paper, you can also use it to create beautiful artworks on the wall!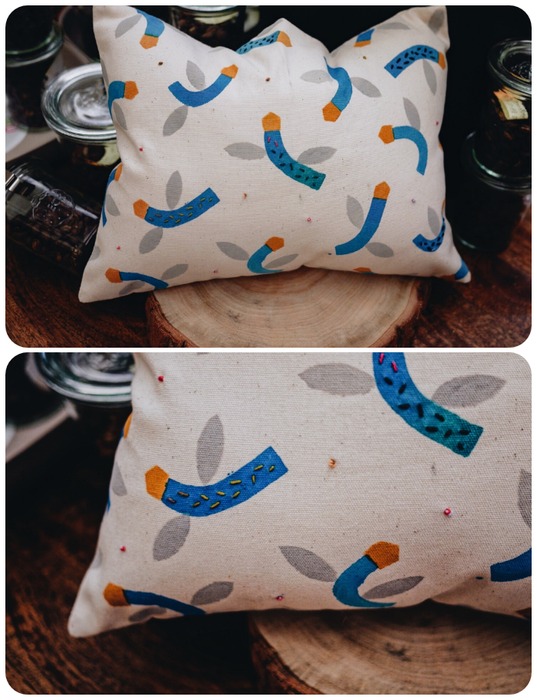 ▲ Or you can stencil some fabric and make a cozy pillow! They even embroidered some small decorations on the pillow.
A huge thank you to "A kind of cafe" for sharing their packaging tips with us. Are you exploding with inspiration like us? Try out these tips this year, and let us know your thoughts!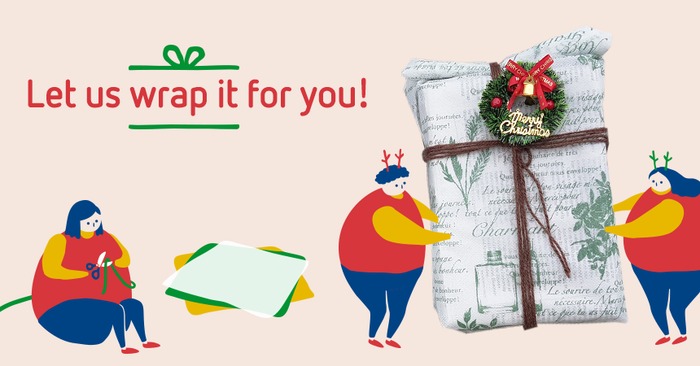 Season's greetings! Every day until 12/25, win cash rewards for all your holiday shopping. Browse gifts by budget, shop personalized gifts, choose from Pinkoi's beloved classics, and give gifts worth remembering!
More Christmas Reads 
► ► Christmas Shopping Done Right! Indie Asian Brands that Ships Under $5
► ► 5 Christmas Gift Wrapping Ideas with Winter Holiday Washi Tapes
► ► Glitter Your Way through the Holidays! 5 Ways to Sparkle and Shine
► ► 10 Extra Meaningful Personalized Christmas Gifts for Him and for Her
► ► Trending Christmas Decorations: Chic Lights, Scented Ornaments & More
Text: Nicholas
Translation: Litta