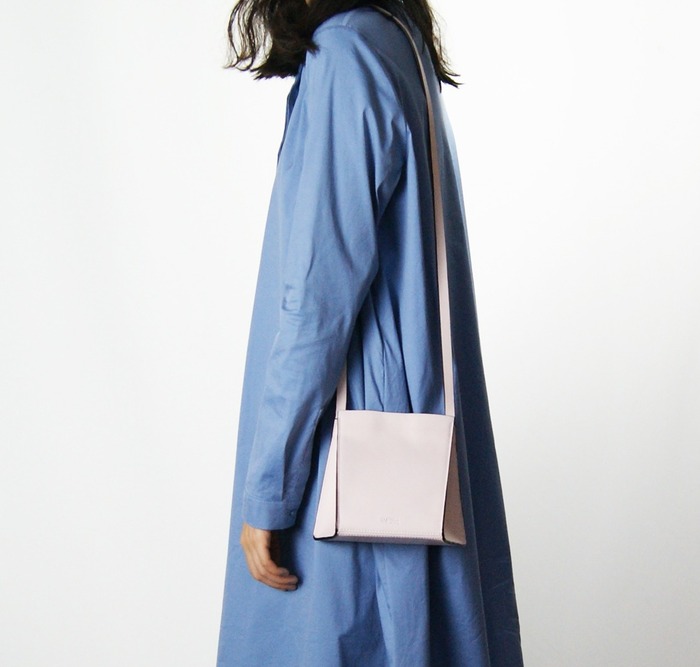 Geometric fashion comes in all shapes and sizes. If you love gazing at simple lines, mesmerized by their infinite potential, you'll love the pure, original and downright functional bags from Emerge Studio.
Designer Tanya launched her brand Emerge Studio by selling at Thailand's renowned JJ Market (Chatuchak Weekend Market, the the largest market in Thailand). With a few collections made with leather, faux leather and also cotton, she has turned haute elements into everyday essentials.
1. The simplicity of the Mini-Backslash Crossbody Bag is striking. What are the inspirations and challenges that went into making this bag?
I started with the shape of a normal bag and then took inspirations from geometric shapes. I usually sketch my design first, then make patterns and then sew my prototypes. Here's a video of the process:
2. When did you start making your own bags and accessories?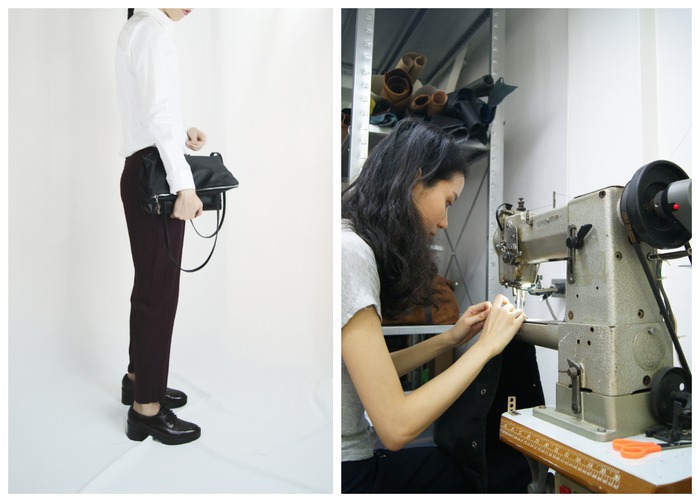 I've always been making my own clothing and bags, mostly because I couldn't find the right item. Sometimes it's because my go-to piece got worn out and I couldn't find a good product to replace it.
3. How did selling at JJ Market help you launch your brand?
We were fortunate to get a short term lease onf a semi-furnished room, although sadly, the lease was not renewed. JJ market was a great experience—we meet many customers and friends. I think selling online is great, but getting feedback and connecting to the customer is great too. Customer feedback helped us in developing our second collection, "Trip," and our third collection, "Later".
4. We love that you included the weight of the bags in the specs too. How do you decide when to use genuine or faux leather?
We use real cowhide leather for the exterior, and high quality cloth lining for the interior which is so luxurious that everyone asks if it is suede leather. It isn't, so you can wipe it clean as often as you like. The reason we use real leather is because it has durability and a luxurious texture that PU cannot achieve.
5. The Signature Two Tone bag has a capacity for "up to six bags of chips"! How did you come up with this practical measurement?
Well, everyone loves shopping bags. Going green is good and even trendy. I wanted to make something different. I had finished sewing the bag and wanted try it, so I grabbed the nearest item. I happened to be at 7-Eleven's and bought six bags of chips or so! To my surprise, everything fit in this bag.
The best part is that the shopping bag could be folded up to fit in the palm of my hand. It's very good for bringing snacks for trips.
6. What are some of your favorite fashion brands or artists and designers?
MM6 Maison Margiela is my hero with regards to brands. I love the consistency and the energy of their designs. My personal design hero is Jeremy Scott—all his designs are fun, innovative and exciting!
7. Do you plan on bringing in more colors to your collection?
Yes and no.
My next collection is in production and it consists of three colors: stone, rose and charcoal. So there will be more colors! However, tanning hide is a complicated process, especially as we are trying to develop our leather quality to match Italian leather. In my future collections, I plan to release less colors, and focus on desirable features like scratch and water resistance, and more.
8. What is your ultimate vision for Emerge?
I think all my pieces have the element of fun, but this time I've successfully made it elegant and classic. I hope to create more geometry-inspired design in the future. Eventually, I hope to build a strong, loyal customer base.
The ultimate vision is a long way away, but currently, one thing I've been working hard on, is designing a permanent store. And the plan is to launch the store this June!
If you can't make it to Thailand, you can still check out Tanya's bags in detail at the Emerge online shop!
Featured bag makers
► ► Featured Shop | DOUBLE-X
► ► Featured Shop | Beara Beara
► ► Featured Shop | The Ducky Bags
► ► Featured Shop | Mamie Bag
► ► Featured Shop | Leatherwood
Edit: Melissa