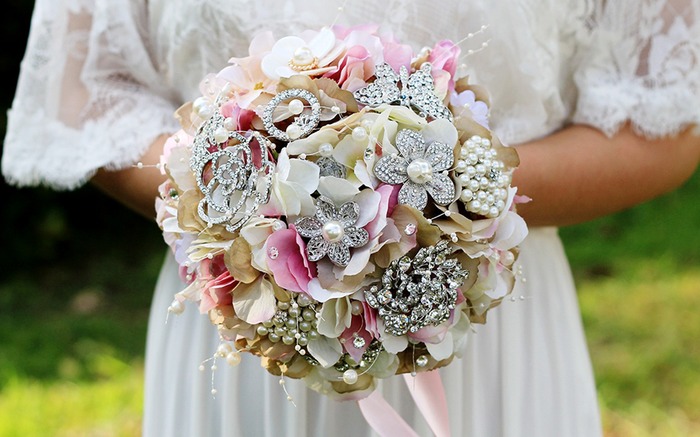 Although buying wedding bouquets and accessories like corsages online has become pretty easy, it is for a once-in-a-lifetime occasion. Talking to and getting to know a bridal designer before making your purchases can make a real difference.
Out of all the countless online shops and designers, we've scored interviews with a few of the bridal designers who specialize in unconventional wedding bouquets such as dried flower bouquets, preserved flower bouquets and brooch bouquets.
Yuna specializes in wedding bouquets and flower crowns that'll challenge your impression of dried flowers. Ariel's brooch bouquets and corsages will delight you with sparkling, long-lasting pearls, rhinestones and vividly preserved flowers.
Let's meet them so you can get to know their specialties and personalities!
✔ Wedding bouquets
✔ Hair combs, pins and crowns
✔ Corsages
✔ Dried flower dreamcatchers
Designer Yuna is dedicated to presenting the vibrant side of dried flowers. In her shop, you'll mostly see a wide variety of wedding bouquets and hair accessories, but corsages, earrings and such are also part of her creations.
Why do you make dried flower bridal accessories?
More and more people are asking to use dried flowers instead of fresh flowers in their wedding bouquets, mostly because they want to preserve this significant object of memory. The benefit of a dried flower bouquet is that it's really lightweight, making it easier for the bride to hold during the wedding banquet. If we use preserved flowers, the bouquet can even last for over two years. For brides who want to "share" the bouquet, our solution is a combined wedding bouquet set, so that every lady guest can have a complete mini bouquet to take home.
What do customers love the most from Yuna Style?
Our best sellers are the floral hair combs—they keep the customers coming back. They originated from a time when there was a bridal stylist ordering from me, who wanted small hair accessories to design with. After a discussion, we decided to look for a suitable comb structure that I could make durable hair combs with.
A hair comb sounds like a simple product, but it's not easy if you want the colors and pieces to coordinate and have the piece look refined and elegant. In the end the stylist told me, "Your designs really shine, do you know that?" I was so touched by her words!
Your work begins from making dried flowers. How do you make your bridal accessories?
Showing good colors and the airy quality of dried flowers is essential. It starts with choosing fresh flowers that are in good condition. The flowers are then hung in small bundles to dry them. There are no chemicals involved—you just need to let them dry naturally without putting them in direct sunlight because the UV will make the flowers fade. After that, it's the continuous learning of design, color schemes, construction and style.
Share your happiness with a bouquet. Give blessings with a dreamcatcher. Make a house a home with a wreath. I've always considered myself a sunflower chasing the sun until a student thanked me for bringing hope into her life. Then I finally realized that I can also become the sun.
♥ Visit Yuna Style online shop
♥ Check out reviews for Yuna Style
✔ Wedding bouquets
✔ Corsages
✔ Boutonnieres
A brooch bouquet is a bouquet made with jewelry pieces—brooches and earrings, and quite often family heirlooms. At Ariel's, a shop named after her daughter, Chia Yu also loves making brooch bouquets with preserved flowers.
Why do you make brooch bouquets with preserved flowers?
I want to spread the joy and beauty of flowers. Flowers and jewelry each have their own beauty and expressions, but while flowers wilt, jewelry lasts."
You encourage custom orders. How does that work at Ariel's?
Once, a mother came in to choose materials, but didn't make an order. She said, "I'm going to try and style these at home. I'll come back." After a few months, she really came back. She brought her own jewelry from home and requested a custom order. As she pondered, we saw the deep, deep love of a mother. As we chatted, she went on to share with us the bouquets and wedding favors she makes, as well as the design for her daughter's wedding. Customers are like our friends: we can chat about design and the happy things in life together.
One of my goals is to encourage handcrafting. So besides taking custom orders, I also teach customers how to make bouquets. This way, anyone can create unique bouquets and jewelry for weddings and gift-giving.
Designing is like painting a picture: composition and the color tone are important. The artist's inner world is also reflected in the picture. So, if you want to create something beautiful, start with your heart!
♥ Visit Ariel's online shop
♥ Check out reviews for Ariel's
♥ Read Ariel's full interview
From dried flowers to brooch bouquets, these alternative wedding bouquets are meant to last for many years to come. A designer who you know personally would be happy to work with you and will ensure your vision comes true on the big day! Ariel's Brooch Bouquet and Yuna Style are both based in Taiwan with online shops, so feel free to enquire, especially if this is where the bride or the wedding is going to be.
Wedding essentials
► ► How to DIY Your Wedding: Tips from Pinkoist Zoe's Outdoor Wedding
► ► The Art of Lasting Memories: FEINEIN Custom Cufflinks & Tie Clips
► ► Featured Shop | Ariel's Bouquet and Bear
► ► February First: Fairy Tale Clothing Made with Fairy Tale Materials
► ► Where to Get Bridal Headpieces and Hair Accessories in Hong Kong
Text: Melissa