Some people seem to have the natural ability to keep their office desks organized, pretty, inspirational, and simply Instagram-ready. For the rest of us, being hard at work means either a chaotic desk or an unattainably clean table. How do you achieve uncluttered workspace that's also full of character? Here are some of the best organizing and decoration inspirations from our office!
Tinnie's declutter style: Repurpose
Tinnie's office decor: Hedgehogs
I want my office desk to feel like a space of my own, so I start putting things that make me happy. And now it looks like this!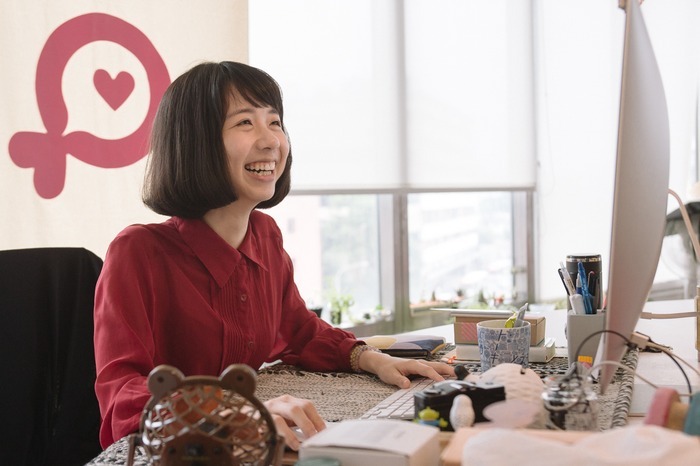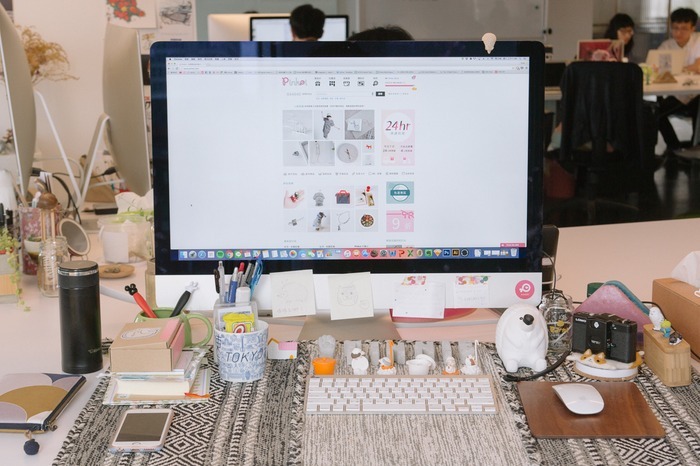 Visual designer Tinnie's desk is next to a row of windows, and on her desk are many little hedgehogs bathing under the sunlight. They come from her own collection as well as gifts from friends. "I've loved hedgehogs since I was a kid, and now I have a pet hedgehog as well. I learned that I have a lot in common with hedgehogs, and so I've become even more fascinated with them."
When it comes to organizing, eco-conscious Tinnie makes very good use of packaging boxes from shopping.
☞ DIY tissue box

Cut out a hole in a packaging cardboard box, and put your tissue box inside. It's an instant tissue box cover! It is free and looks nice, too.
☞ Repurposed catchall box

If you got a nice box from shopping, don't throw it away. It's a great catchall for office things like sticky notes and memos.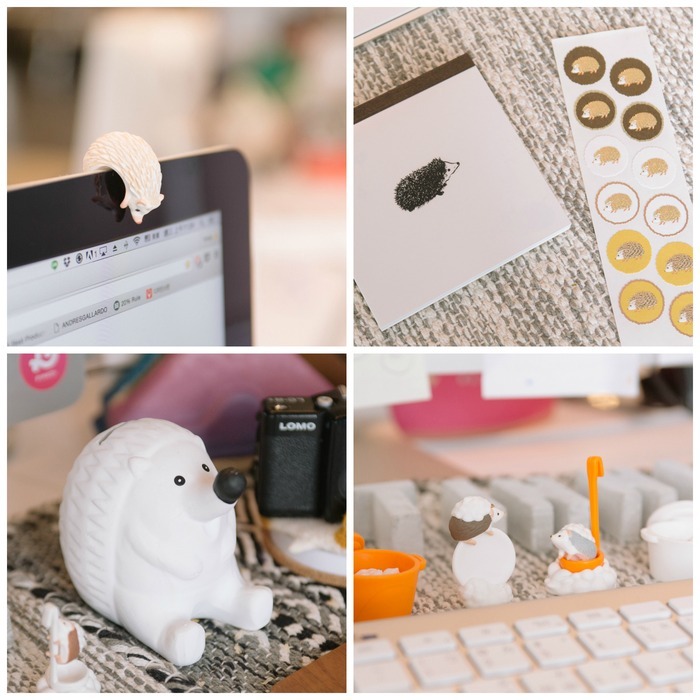 As for her hedgehog collection, Tinnie feels a lot of love when friends and coworkers think of her and bring her hedgehog gifts. "Our editor got this white hedgehog coin bank for me in Europe. The hedgehog stickers and sticky notes are from friends and coworkers who went traveling in Japan. Knowing that people find me these hedgehog designs from all over the world just because they know I like it gives them a very special meaning."
Danny's declutter style: Keep it organic
Danny's office decor: Foxes
I don't really decorate or declutter my desk. It's quite messy, actually. Everything I need is within reach. My pen and paper is right here, and my phone charger is always standing by.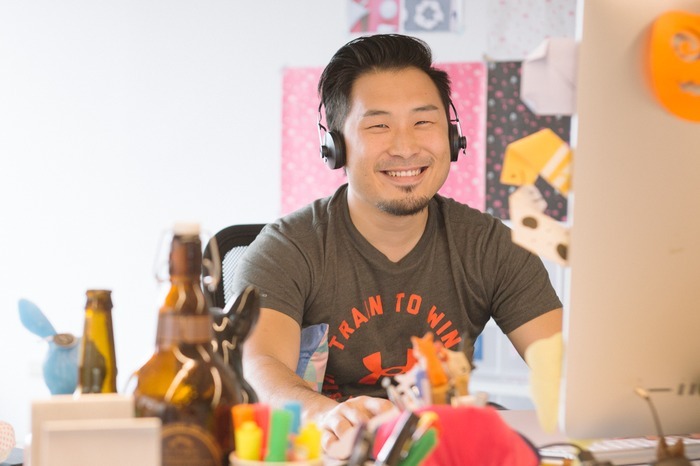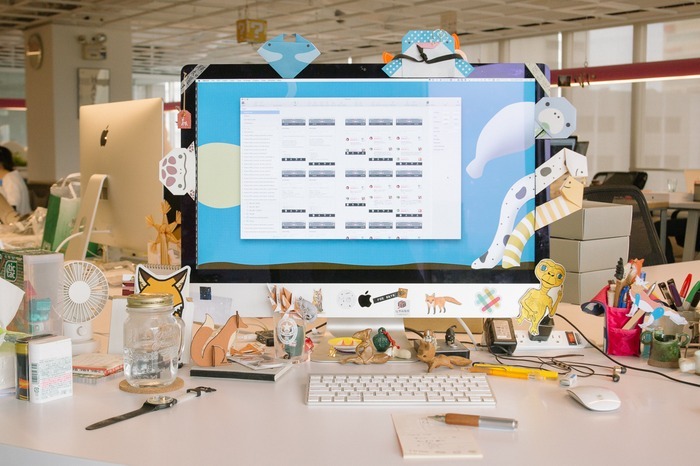 You'll find UI/UX designer Danny very easy going once you start talking with him. His desk is also pretty approachable in that it doesn't look like an IKEA catalogue. While most people dream of perfectly managed spaces, Danny prefers order within disorder: "Getting organized is too much hassle. I keep everything I need right on the tabletop—it's easier to find them."
Such a desk is also filled with decorations. Danny wasn't into foxes until friends told him he looked like one. "I started noticing foxes more often. Foxes have a lot in common with cats and dogs—two animals that I like—so I became really fond of them."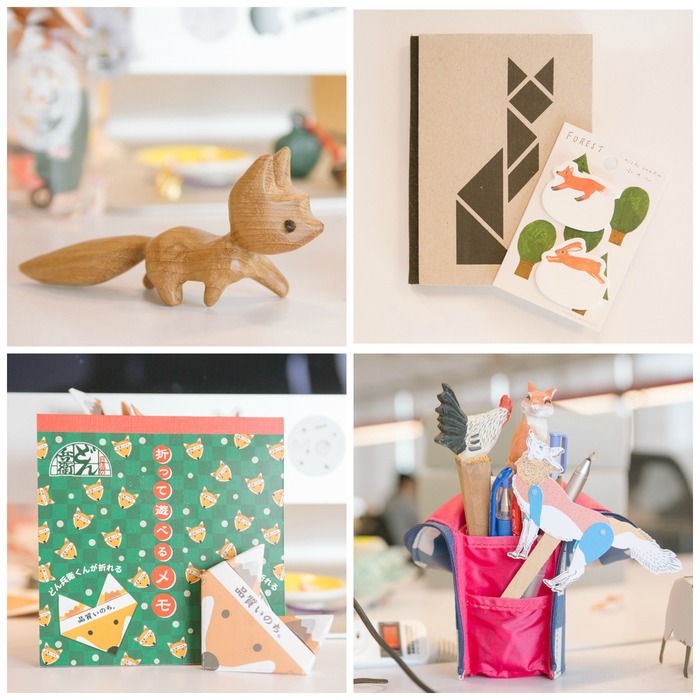 My friends and coworkers know that I like foxes and would bring me fox things like carvings, notebooks and paper crafts from abroad or from craft fairs they go to.
Sharon's declutter style: Organizers
Sharons' office decor: Animals
My desk goal is one that's filled with animals! I want to turn my desk into a zoo.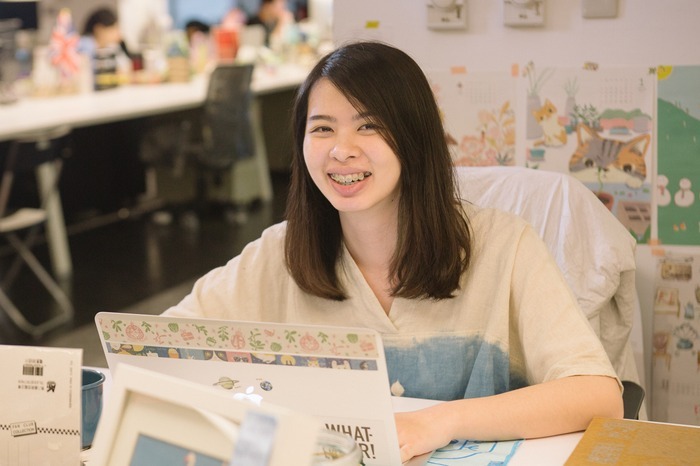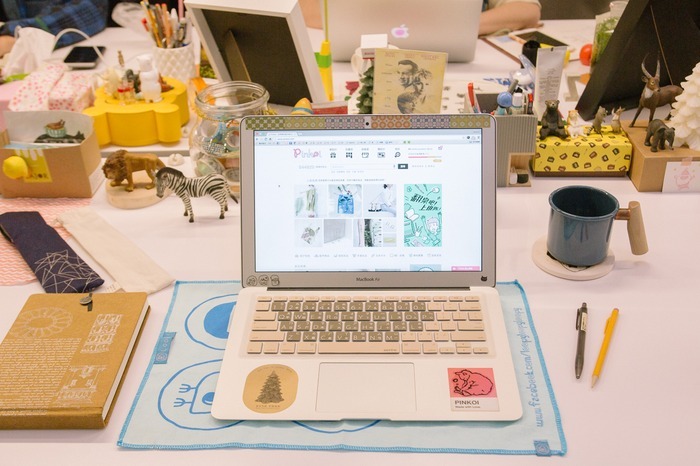 Account manager Sharon is another animal lover. Her table is full of animals from every continent: zebras, lions, kangaroos, black bears, and more. She believes that every animal represents an aspect of nature, and that's why she's fascinated by all kinds of animals.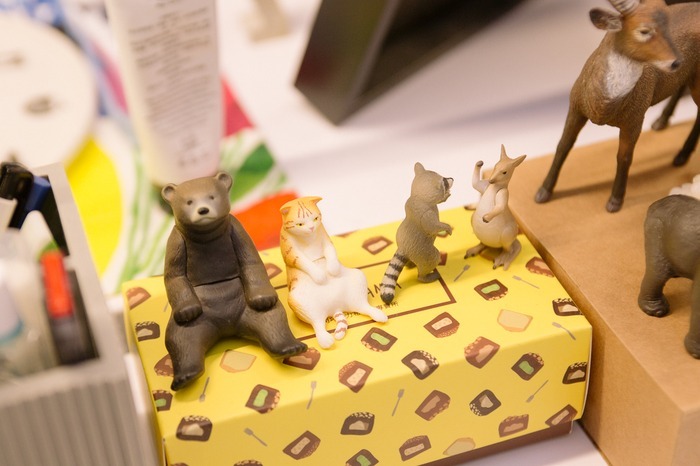 I got too many of these animal gashapons when they were really popular. The one of a raccoon riding a bus had such an awful face that my coworkers keep making fun of me. So I kept trying the gashapon and finally got a cute kangaroo!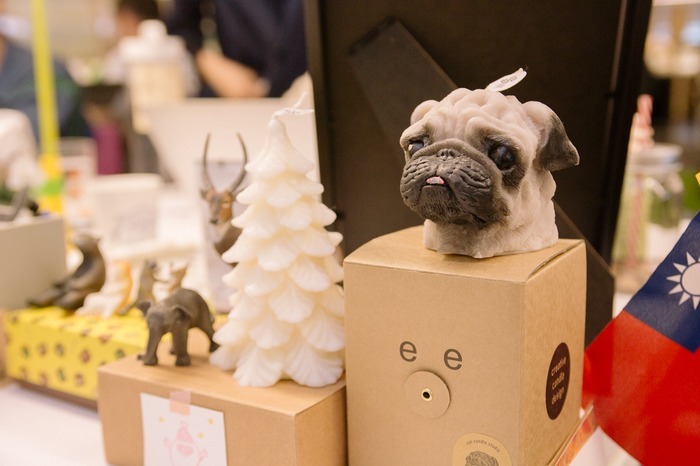 This pug candle was part of a Pinkoi Christmas Year-End party display. Its tongue fell off after being handled by too many customers, but the designers who lent us this candle were super understanding and let us keep it for no charge.
Sharon's desk is full of little organizers: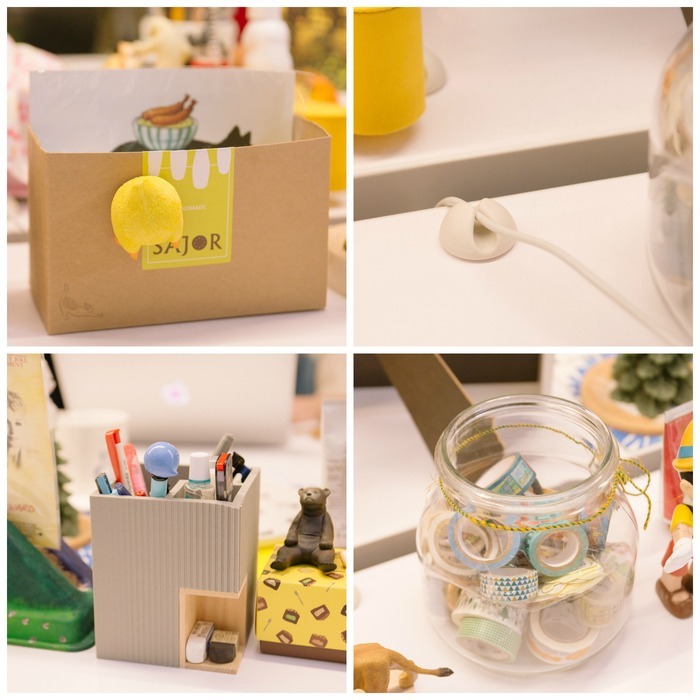 Top left: also a repurposed box from shopping online. (That chick butt came from another gashapon.)
Top right: a cable catch can really keep cables in place.
Bottom left: the soft cement pen holder keep pens and erasers organized and easy to reach.
Bottom right: glass jars are good for organizing and displaying Sharon's favorite washi tapes.
Gazhua's declutter tips: Categorize
Gazhua's office decor: Planters and succulents
My desk gets out of hand sometimes, so I have to keep a good habit of categorizing so it doesn't get too messy.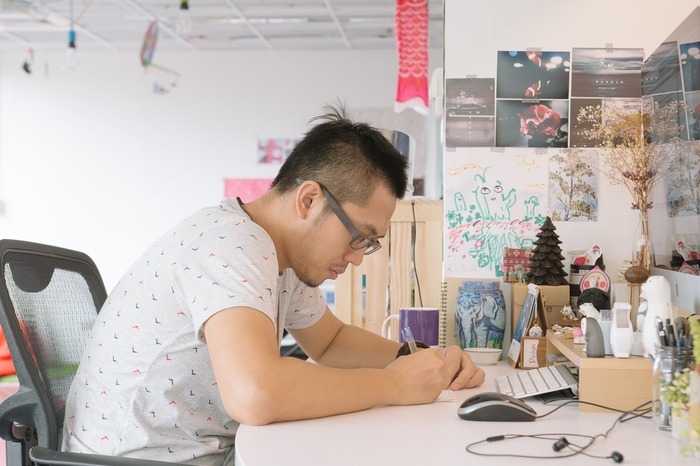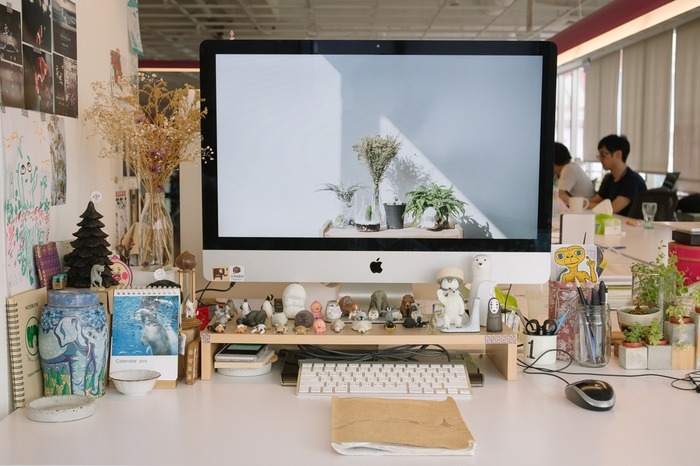 Visual designer Gazhua is the unofficial photographer and gardener of the office. Thoughtful and reliable, he's down to earth when it comes to hobbies and collections. He likes plants and animals a lot as well as gashapons, and considers his desk nothing more a reflection of what he enjoys.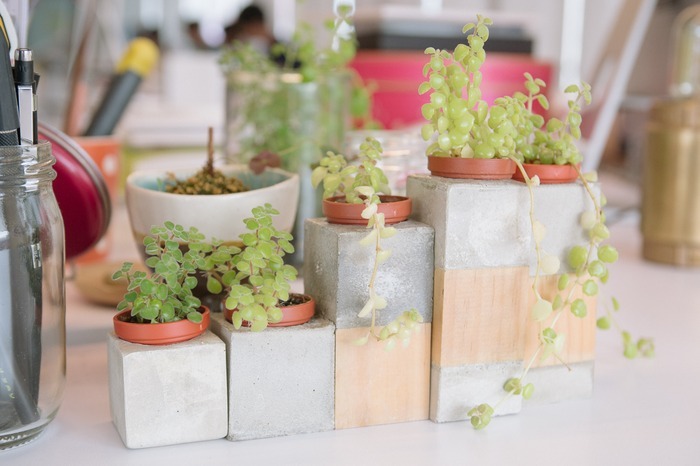 Gazhua recommends planters as the best destresser for people hard at work. "Instead of decorations, planters are better choices for the desk. When I get really tired, I can rest my eyes with greenery, check if the plant has grown a little taller, and I might notice that the cactus has bloomed. It relaxes me and motivates me to keep working hard."
An impressive display of animal figurines, mostly from Gazhua's gashapon collection.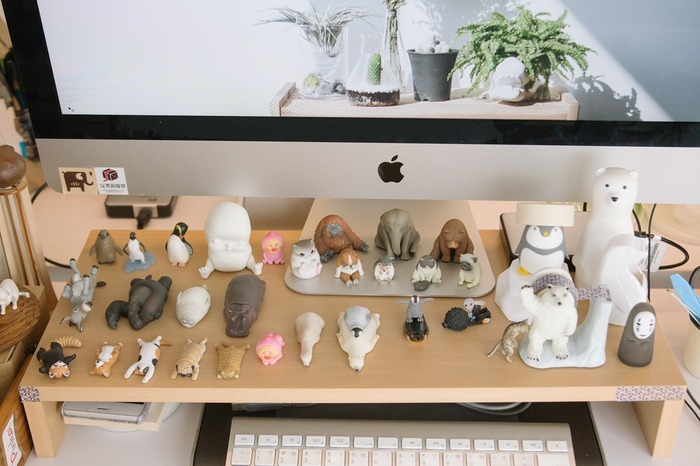 These innocent pals from the North Pole are actually tools in disguise. (Did we mention he's also a reliable handyman?)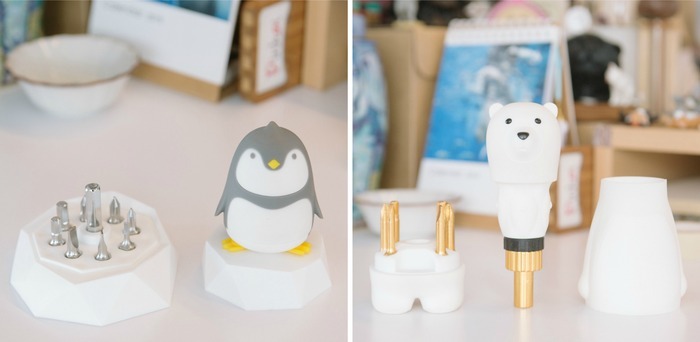 To make things look consistent, Gazhua uses a bamboo cardholder so that it matches the colors and materials of things on his desk.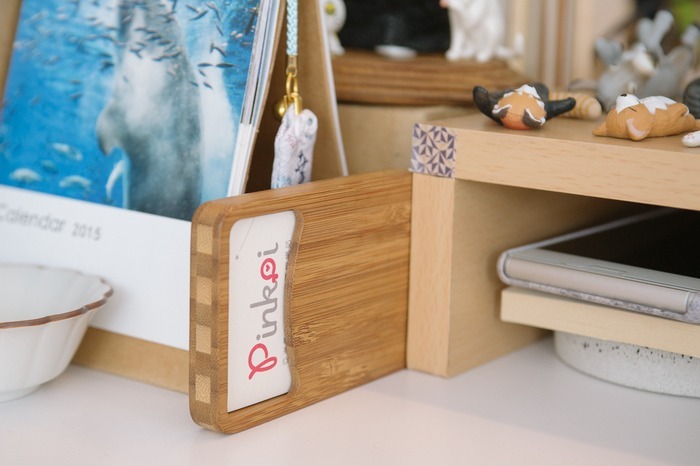 Depending on what's going to go inside of them, choose jars and cups of matching sizes and materials. This way a flat, open desk will have a variety to it.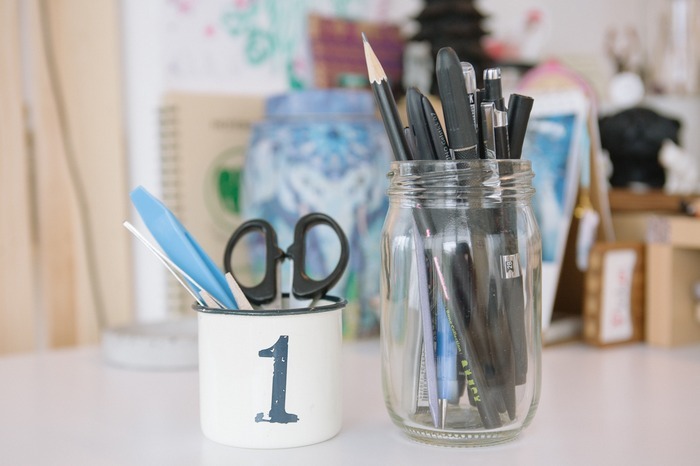 Angie's declutter style: Thoughtful designs
Angie's office decor: Cats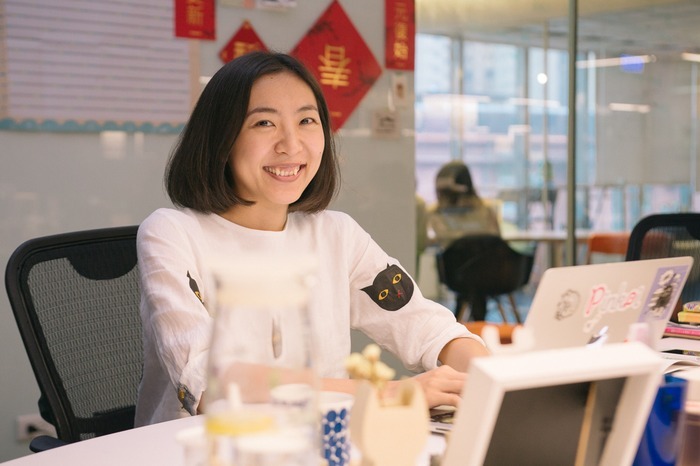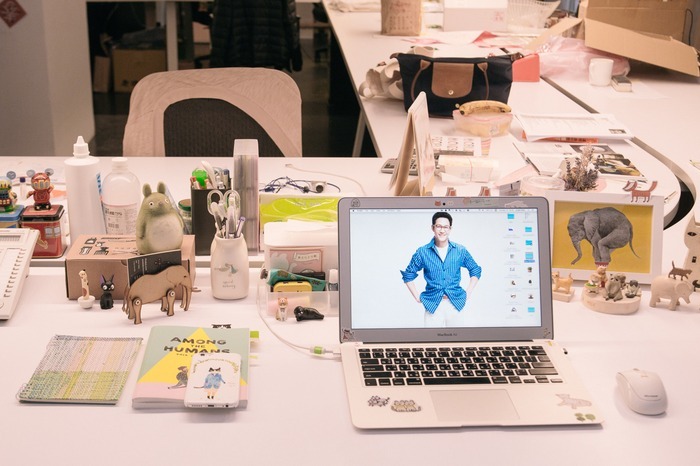 Marketing manager Angie is a proud cat lady, and when she's not busy serving cats, she's trying to wipe off the slightest bit of coffee stain off her coworkers' table. Actually, there's something else she enjoys: looking at cute guys on her laptop!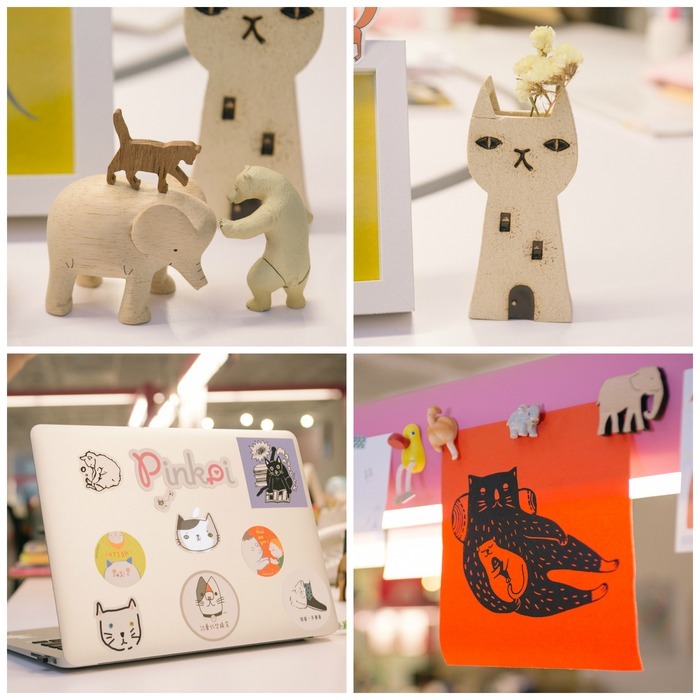 Surrounded by Cat Pile, cat planter and all the cat stickers on her laptop, Angie is the happiest cat lady at work, ever.
This little bobcat figurine has a story to it.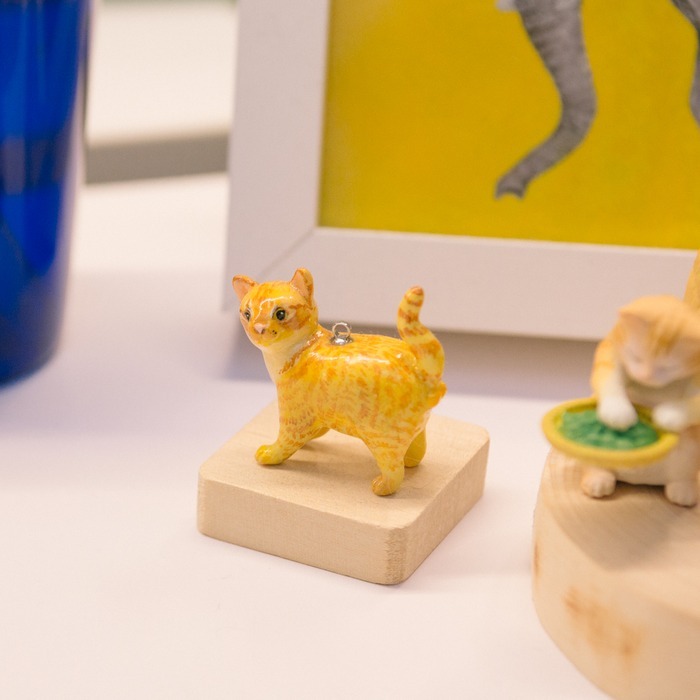 I requested a custom figurine of my cat at Mola Sola. The designer was very attentive and asked for details about the posture and expression of my cat, even the look of his legs.
Then she suddenly asked, "How big are the balls of your cat?" She owns a cat herself and observed that orange cats usually have bigger balls, so she wanted to confirm. So I sent her a picture of my cat before he was spayed. And now we have this very macho model of my cat!
As for organizing, Angie uses clever designs to help her.
☞ Spring-up tissue box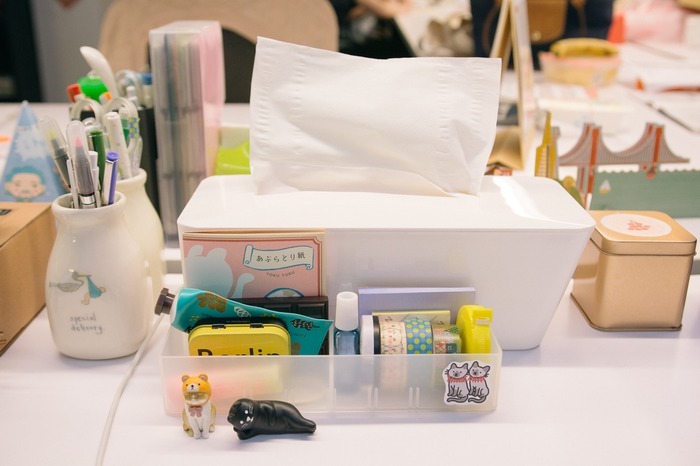 Tissue Know has a spring-up design that pushes the tissue paper up, so I'll never have trouble reaching for tissue again. Also, transparent dividers are really helpful for desktop organizing!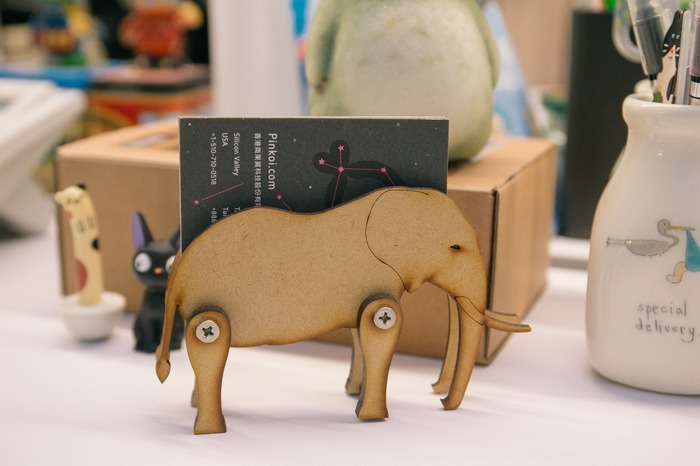 The designer of this cardholder is an animal lover like myself. I love it that my animal friends are helping me organize my business cards.
Lastly, a decorating tip from Angie.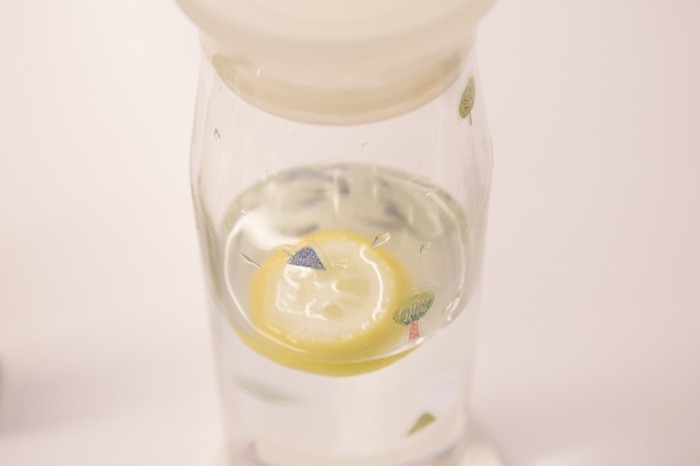 I collect stickers and really like the tree stickers from Hello Studio. One day I got a Muji water bottle and thought it was kind of plain, so I decorated it with the tree stickers. Water means life! Just remember, if you're decorating a clear water bottle, be sure to look for clear waterproof stickers so that the bottle would be easy to wash and can keeps its crystal-clear look.
They styles are many, but one thing is sure: give it enough tries, let it evolve, and you will have your own version of an organized desk that'll keep you proud and happy at work.
More ideas to get you going
► ► ► 5 Mind Tricks to Declutter Your Life
► ► ► 4 New Ways to Kick Off Spring Cleaning and Decluttering
► ► ► Show Off Your Book with This Transparent Bookmark!
Translation: Melissa