Come shop and have fun at Pinkoi Market in Hong Kong!
For many years, Pinkoi Market has been bringing local Asian original design brands together for designers and fans to meet and shop face to face. Last year, Pinkoi Market in Hong Kong Zero Carbon Building had an overwhelming turnout of more than 60 thousand people who came to shop and search for great quality original design from all over Asia. And now we're back!
This year, Pinkoi Market returns to ZCB Kowloon Bay to bring you a weekend of international brands, good designs, fun workshops, and online/offline specials! Here's all the specifics you need to know.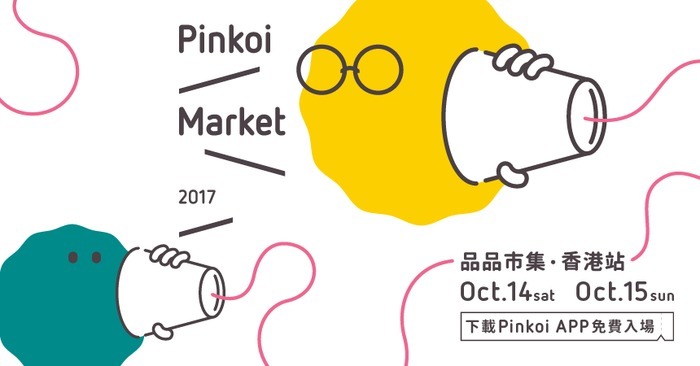 Pinkoi Market will be held on October 14–15th for the weekend at the ZCB in Kowloon Bay, Hong Kong. There will be 132 brands participating at the Market—brands not just from Hong Kong and Macau, but also from Taiwan, Thailand, mainland China, Japan, Malaysia, and Singapore.
It's the exact place you want to be to shop for unique gifts and discover talents!
There is no entrance fee, however you need to have the Pinkoi App to enter!
▶ Pinkoi Market event details
Date: October 14-15th (Sat–Sun)
Time: 11AM–6PM 
Location: Zero Carbon World (next to MegaBox), 8 Sheung Yuet Rd, Kowloon Bay, Hong Kong
Transportation: Take Exit A at Kowloon Bay MTR Station. Walk about 10 minutes
Admission: Install Pinkoi App to enter. Admission is free!
▶ Preview the list of 132 participating vendors
There will be 132 brands from 8 Asian regions at the fair: Hong Kong, Macau, Taiwan, Thailand, mainland China, Japan, Malaysia, and Singapore. The list for local HKMO brands varies for the two days of the event. Check out the complete list of brands at the Market!
▶ Attend handcraft workshops at the market
This time, we're also bringing workshops to Pinkoi Market!
Join the Pinkoi team for a ticketed screen printing workshop to make limited edition Pinkoi tote bags.
Join 6 local Hong Kong designers for 6 Pinkoi Makers' Workshops, including weaving Japanese wicker baskets, portrait stamp carving, bookbinding, and more. Space is limited! Arrive early and find out details at the information booth.
▶ Free shipping during October 13–17th!
Can't make it to Pinkoi Market? Aww shucks! It's okay, we've got something for you. Browse the Free Shipping Promotion online at Pinkoi and get free Hong Kong and Macaul shipping for orders over HK$300! There'll be over 400 brands participating. Keep a close eye on the Pinkoi homepage, and we'll also update the link here when the promotion arrives! (You can also follow the Pinkoi Market Facebook event page (Mandarin) for updates.)
▶ Get your event map here
There are three vendor zones, an Eco Zone as well as Pinkoi Zone at the event. Vendors will shift a bit between the two days, so find out in advance where your favorite brands are by getting your event map for both days here:
☛ 10/14 Event map
☛ 10/15 Event map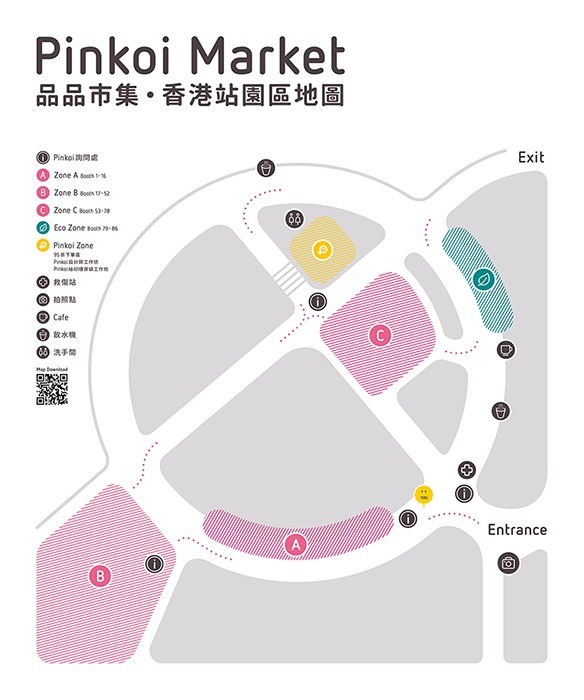 Save the date!
It's 10/16–10/17!  Grab your friends, get ready, RSVP on Facebook and go!
Pinkoi Market & Fairs Throwback
▶ ▶ Did You Miss the Show? Tour 2017 Pinkoi Market in Taichung with Us
▶ ▶ Pinkoi Meets City Zine: Taipei Day Walk
▶ ▶ Pinkoi at Maker Faire 2015