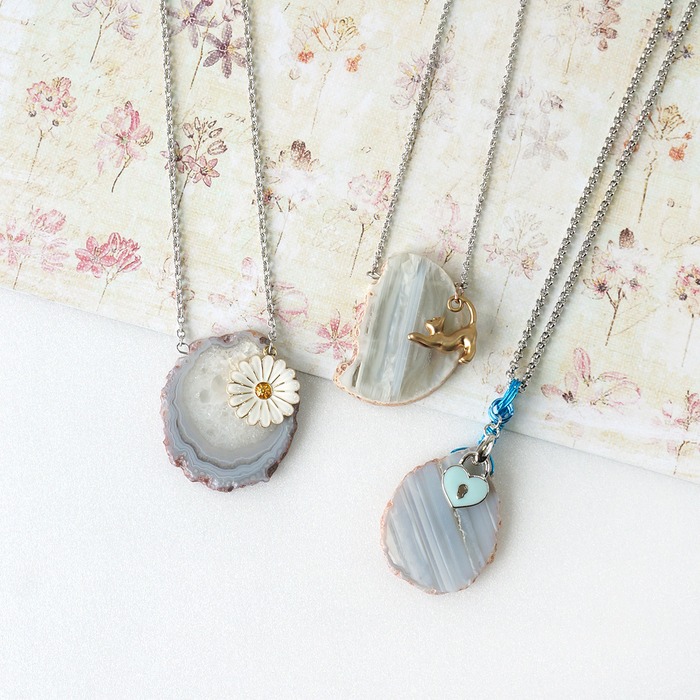 An aquamarine paired with an elephant charm, an amethyst paired with purple grapes charm, minty amazonites paired with color-coated steel chain…… Tree Craft Diary's natural gemstones are playful and full of stories. Designer Cindy draws ideas from her years of journaling to create jewelry that combines the beauty of nature, the mystical qualities of gemstones, and the pleasures of everyday activities.
Tell us about Tree Craft Diary. How did you start making jewelry with gemstones?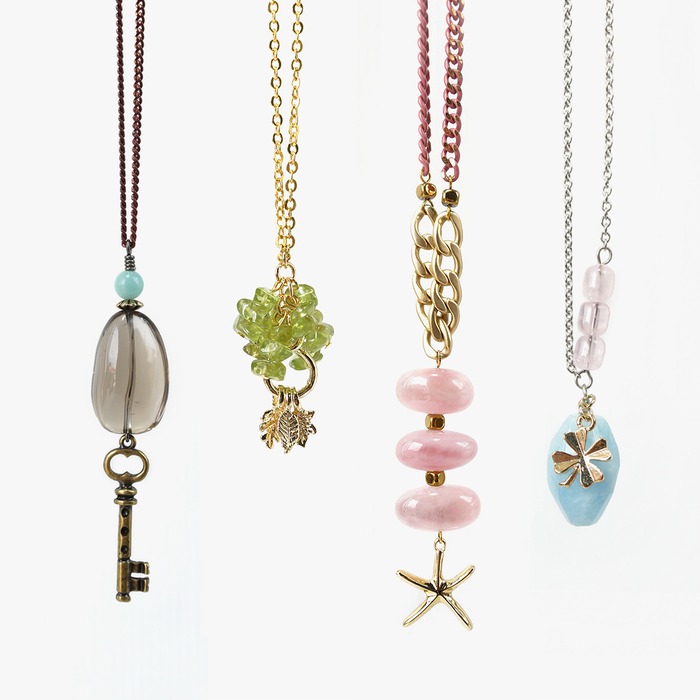 Since I was young, my passion has been making arts and crafts. After getting an industrial design degree in Malaysia in 2008, I worked as a product designer in Singapore. My creative juice kept flowing everyday, and I poured them into a diary. Eventually in 2012, I took a step forward and started designing jewelry for people who adore and seek the art in nature. That was the birth of Tree Craft Diary.
What is the message you want to send with Tree Craft Diary?
I hope my brand can bring joy and happiness to people, and deliver the story of each jewelry to the wearer.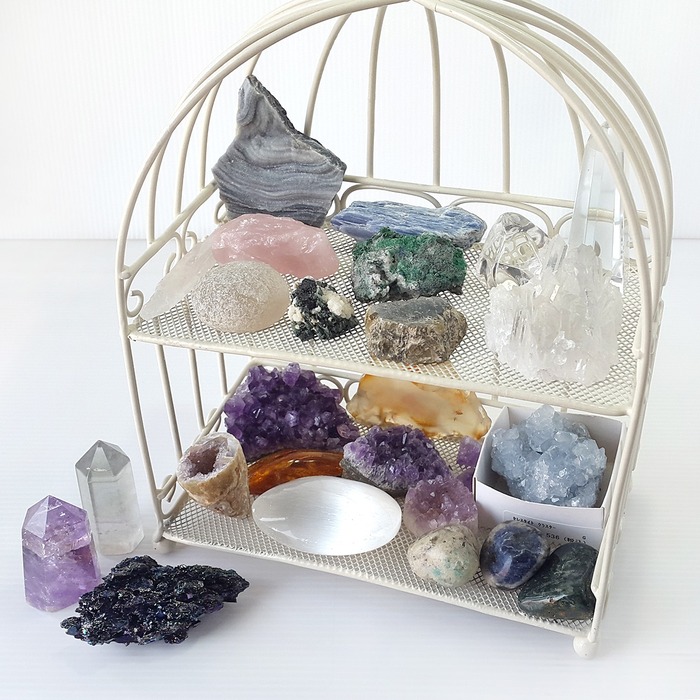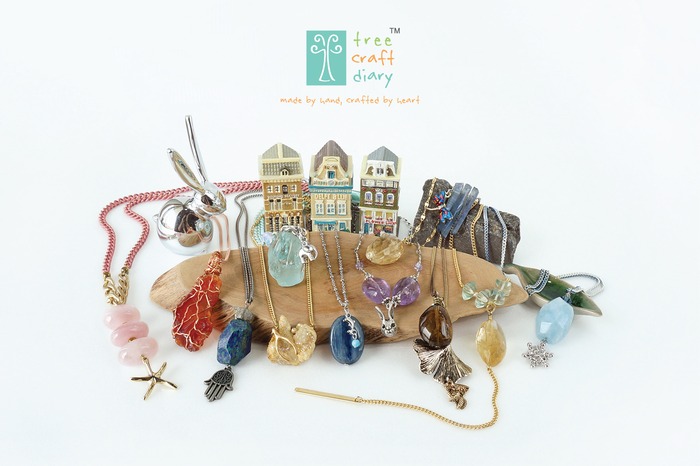 I believe the unusual beauties speak for themselves, and Tree Craft Diary's style is fun and OOAK. Tree Craft Diary emphasizes the characteristics of natural gemstones that come from the earth. By embracing both fashion and nature, I create unique jewelry that has a story of its own.
What are the most interesting facts about gemstones that you'd like to share with us?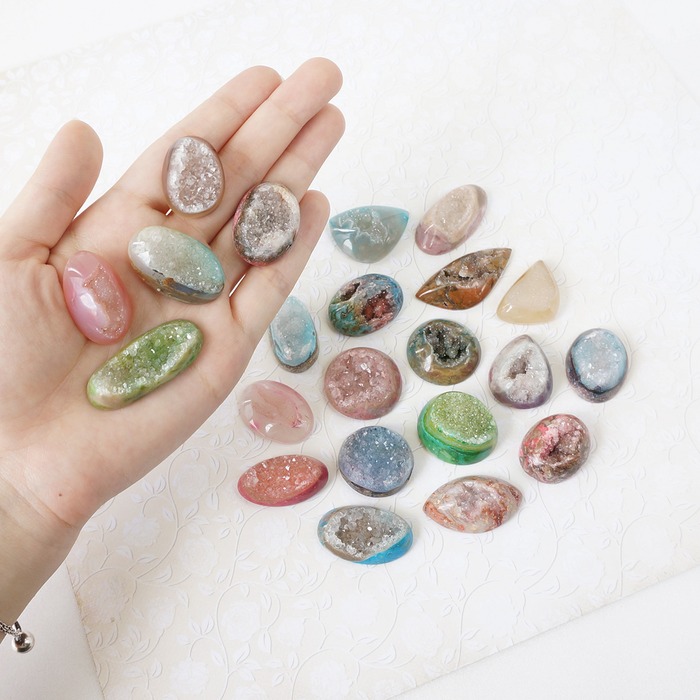 Gemstones are so fascinating. Their colors, properties, myths and legends are diverse and enchanting. According to folklores and stories throughout history, many gemstones are thought to offer mystic healing to its wearer.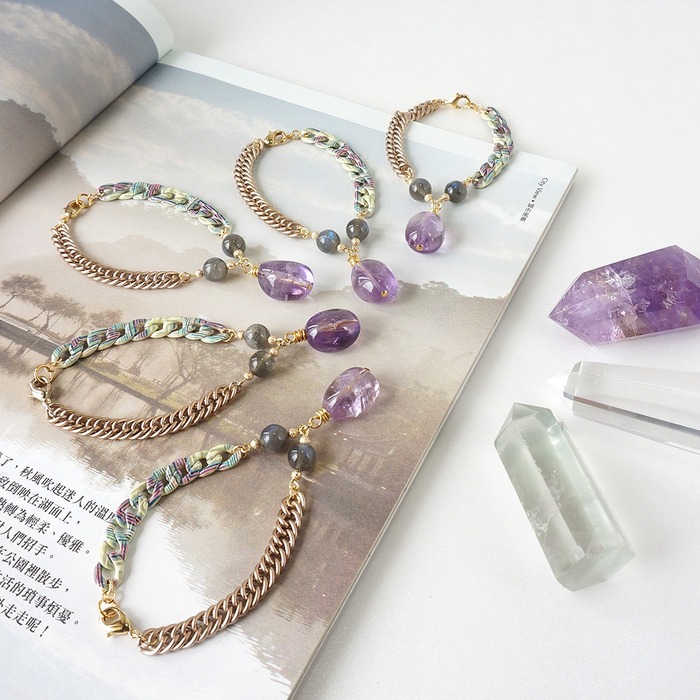 For example:
Amethyst, the "Stone of Spirituality and Contentment", is considered the gemstone of meditation, peace, balance, courage, and inner strength.

Citrine, the "Stone of Abundance and Joy", promotes success, abundance, and clear thinking.

Rose quartz, the "Stone of Power and Influence", brings deep inner healing, inner personal strength, self-love, self-trust and self-worth.
What is your creative process like?
Like the branches of a lush tree, inspiration never stops growing.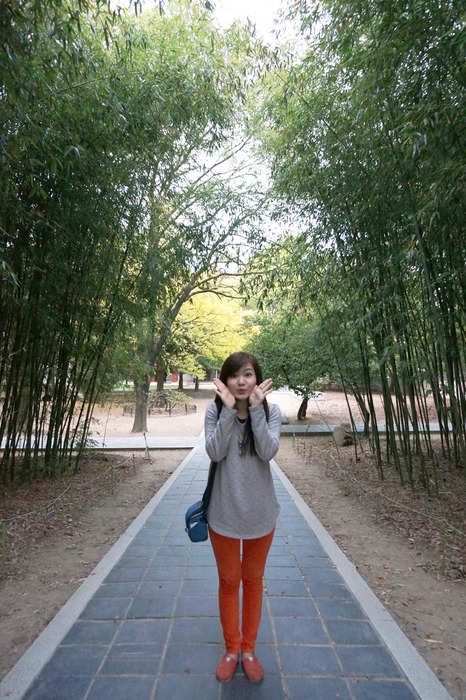 I am always evolving and trying new styles. I handpick each gemstone and hunt for intriguing materials all over the world to add new sparks to my latest collection.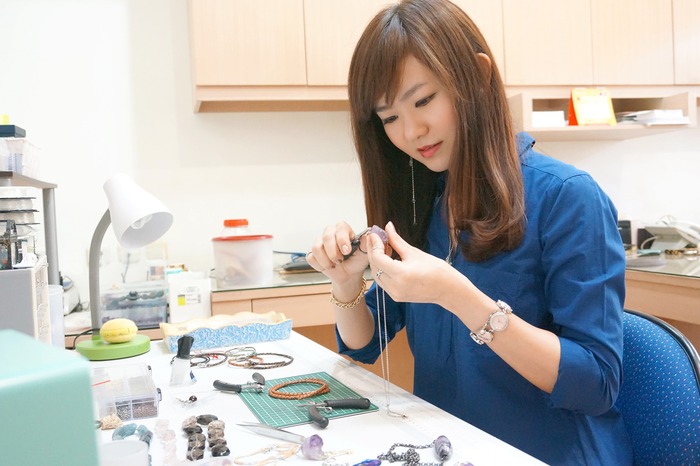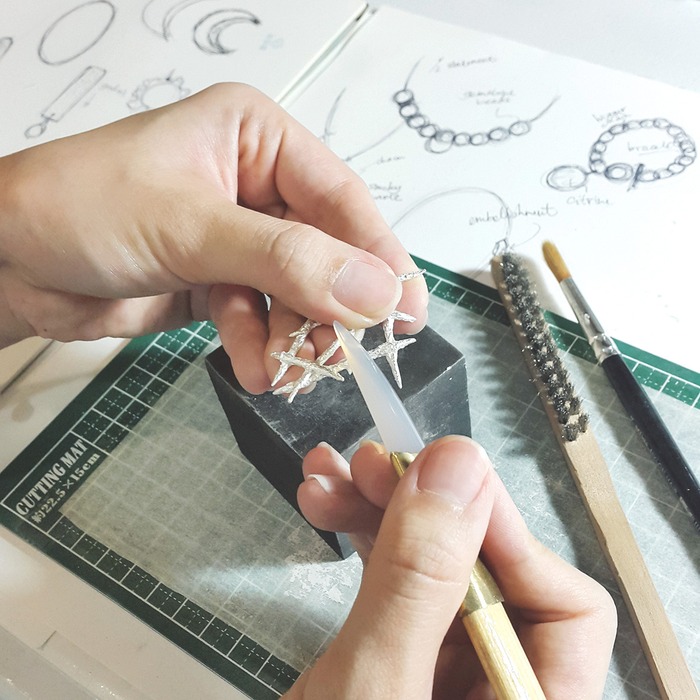 What does design mean to you?
I think design is something that pleases us, something that can make us happy.
When we appreciate a specific design, we are connecting with the product, as well as the designer's mind.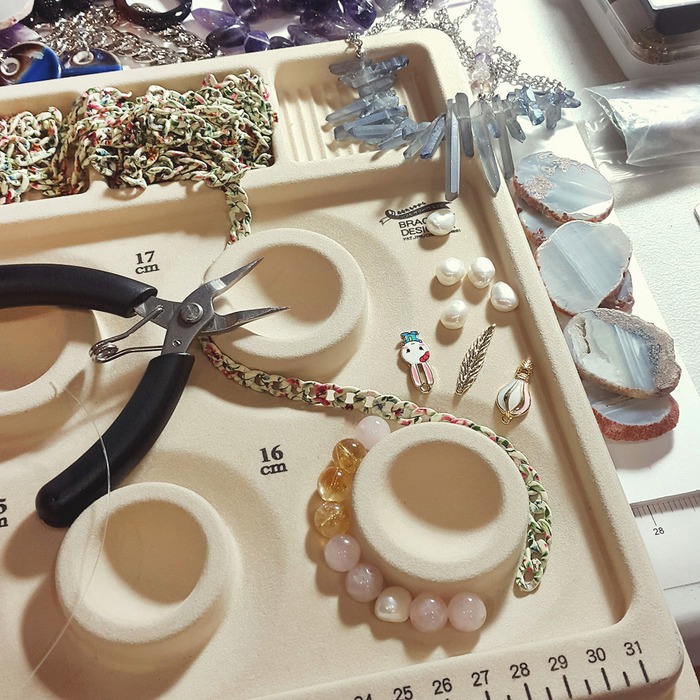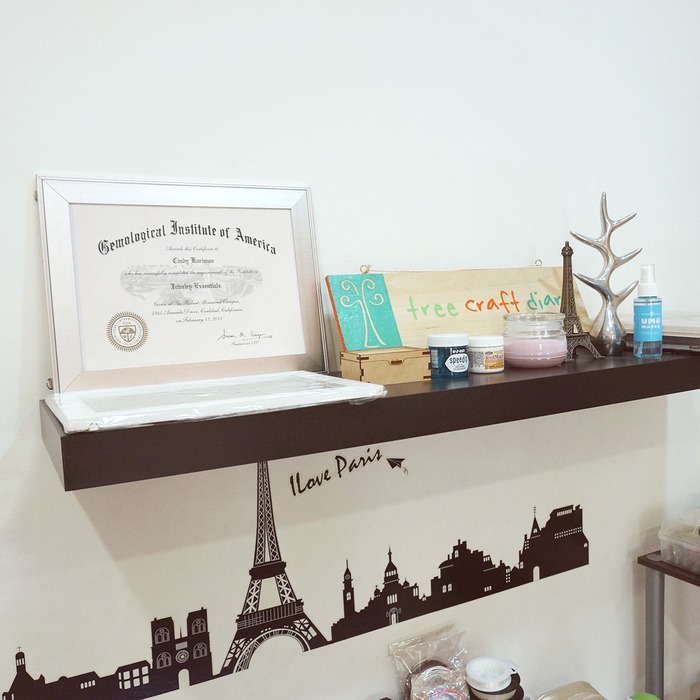 The most interesting thing about being a designer is that we can put a story or message in a product. And sometimes, people really understand the story or the message just by looking at the design.
What is your favorite piece of work?
Angel of Love and Ice Age are two of my favorites.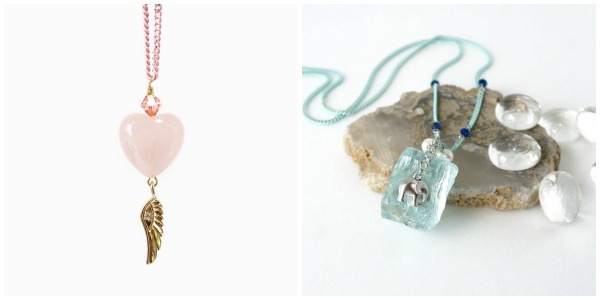 "Angel of Love" is crafted from rose quartz—the stone of love—and angel's wing charm. Lovely, isn't it?
The movie-inspired "Ice Age" is made of raw aquamarine stone with a small elephant charm. I love that icy look of the stone and the cool color combination.
Medium-long and long type of necklaces are getting more popular lately. I like to wear plain-color outfits, so that the accessories I wear can be the focal point.
Please offer some words of wisdom to up-and-coming designers.
We all learn by doing. Don't wait until your idea is perfect to start.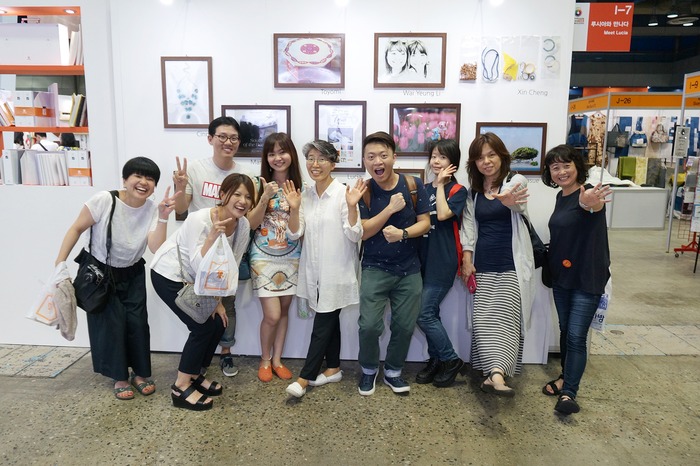 Trust your gut, take the first step and put it out to the world. You'll see how it blooms.
Featured jewelry shops
► ► ► Featured Shop | Bigyó Művek Glass Jewelry
► ► ► Featured Shop | Neve Jewelry
► ► ► Featured Shop | Takahashi Naomi Wire Crochet Jewelry
Edit: Melissa