Natural indigo dye is a world heritage, an ancient wisdom that is passed down from generations to generations. Different cultures have their own traditions and ways to generate the blue color from the green indigo plant.—Walk on the Wild Side
Nowadays, anyone can go online and purchase a shibori or indigo dye kit. But there's a reason indigo dye is so popular—the traditional craft has such rich and diverse backgrounds and laborious processes, and the hard work bringing them into contemporary beauty is seldom revealed.
From Thailand, China, and Taiwan, these amazing artists will inspire you with their unique concepts, admirable attention to details, and breathtaking artwork.
20 years of indigo dye back home in a Thai village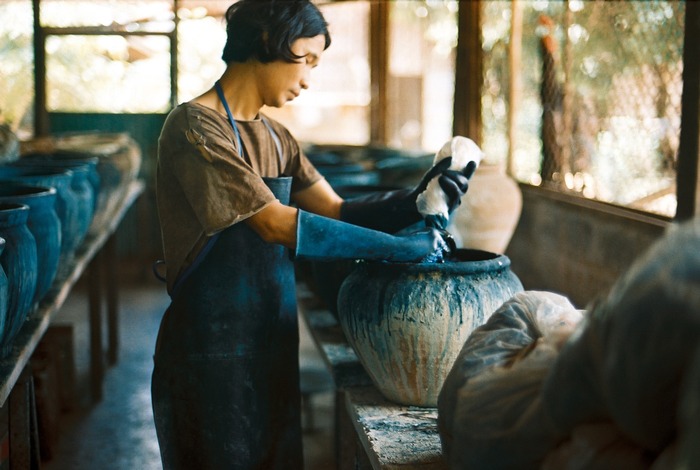 ▲ Nara at work.
Favorite indigo dye products: t-shirts and clothing
Style: patterns, stencil, and amusing ideas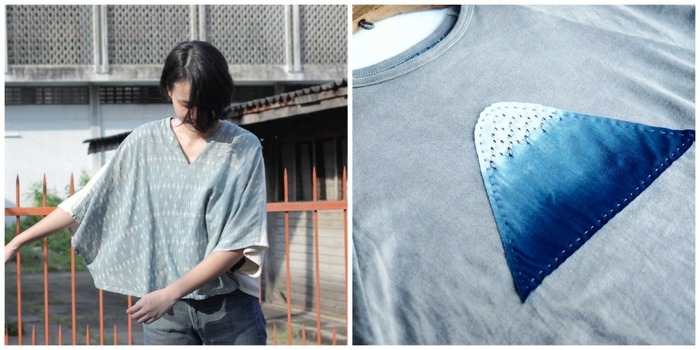 In a town in north-eastern Thailand (Sakon-Nakhon), indigo dye production has been taking place at Zazie's home for more than 20 years. But it was only in 2009 that Zazie and his wife became involved in the craft that his mother, aunt and grandmother had kept alive.
What is indigo dye at home like?
Convenient synthetic indigo is derived in laboratories through chemical process whereas natural indigo dye use fermentation process and the additional of natural ingredients such as ash water, lime and acidic fruits for preparing the dye bath.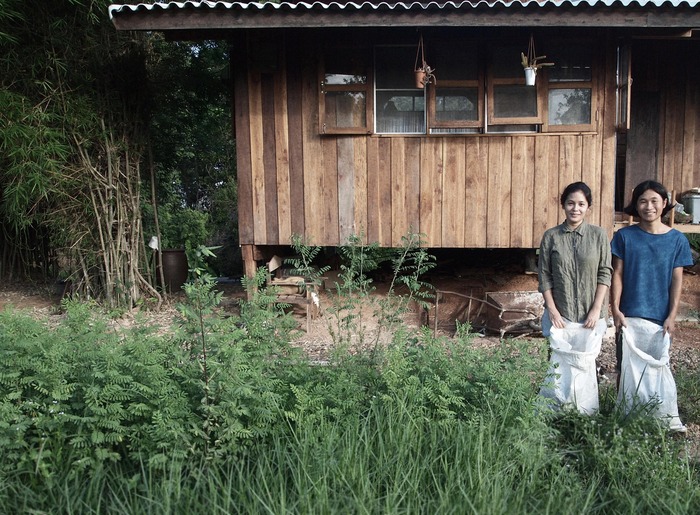 If you are growing your own crop of indigo, you'll need about 3 months to grow the plant and at least 2 days to extract the pigment, then at least a week to prepare the dye vat.

Nowadays, "instant indigo" or the "freeze dried indigo" has become really popular. It is extracted from real natural indigo leaves, but goes through chemical processes and comes in crystal form, which becomes dye by adding hot water and other agents, and marketed as natural dyes. But we think instant dyes are still very different from the natural dyes. Besides the uncomparable color depth and beauty, I also learned over the years is that when you wear a natural indigo dyed item, you will be able to feel the energy of the earth from it.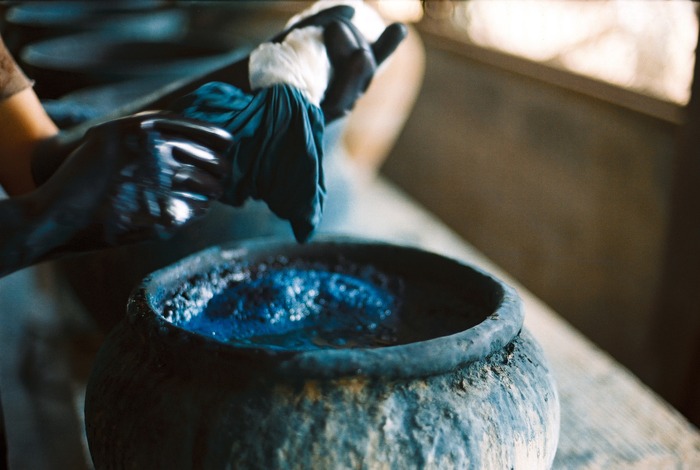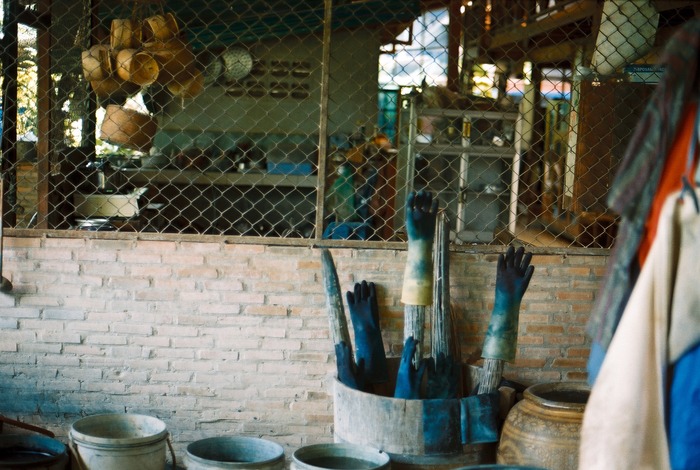 Source: Walk on the Wild Side
A one-person brand combining industrial design and psychology studies in Taiwan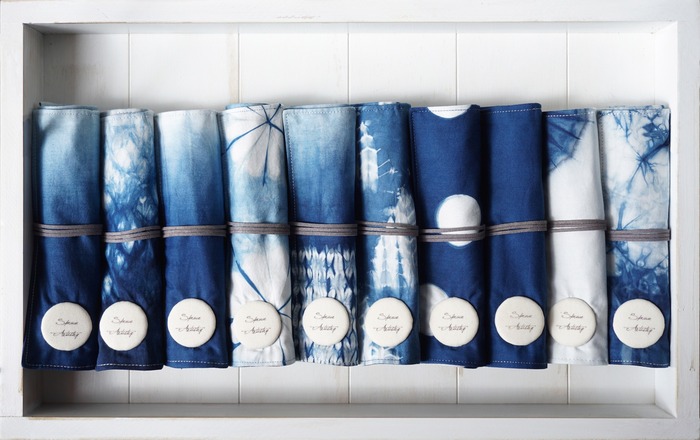 Favorite indigo dye products: shoulder bags, drawstring bags, headband, scarves
Style: shibori applied to product design
Spruce discovered indigo dye when she was studying industrial design, and began mixing it with other materials in furniture and product design. While she favors shibori folding, stitching and tying tie-dye techniques, her work stands out with a unique clean, modern appeal because of her design studies and research.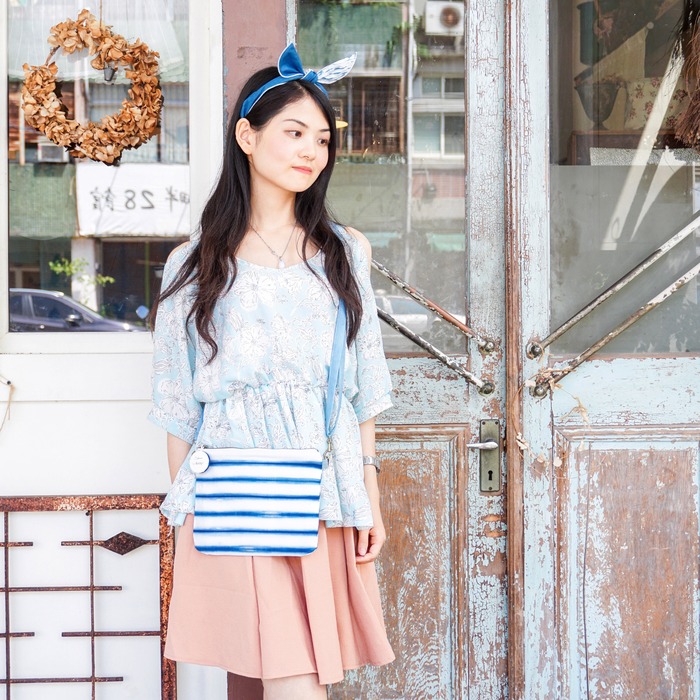 Source: Spruce Artistry
In graduate school, I studied people's psychological reaction to design elements in indigo dye crafts. Compared to brighter synthetic dyes, natural indigo plant dyes are more effective in giving people a feeling of calmness and affection.

Is indigo dye different in different regions? Culturally, colors has different meanings, so the noblest shade might be light blue in one country but dark midnight blue in another.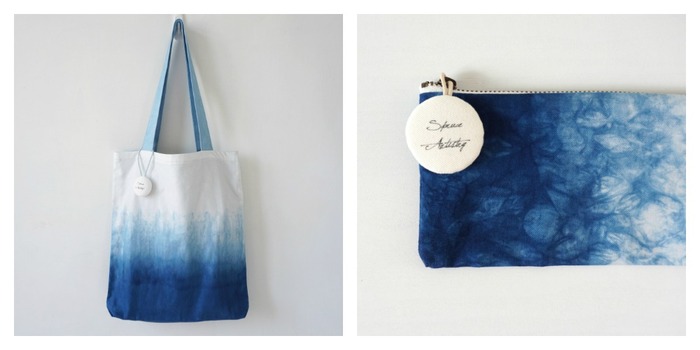 This customer's review said it all for me: "I love this blue, this indigo blue, that looks cool and distant but feels warm and understood." I would love for people to feel special with my creations. —Spruce
Cyborg, stray animals, Fujian Qing—indigo dye in Fujian, China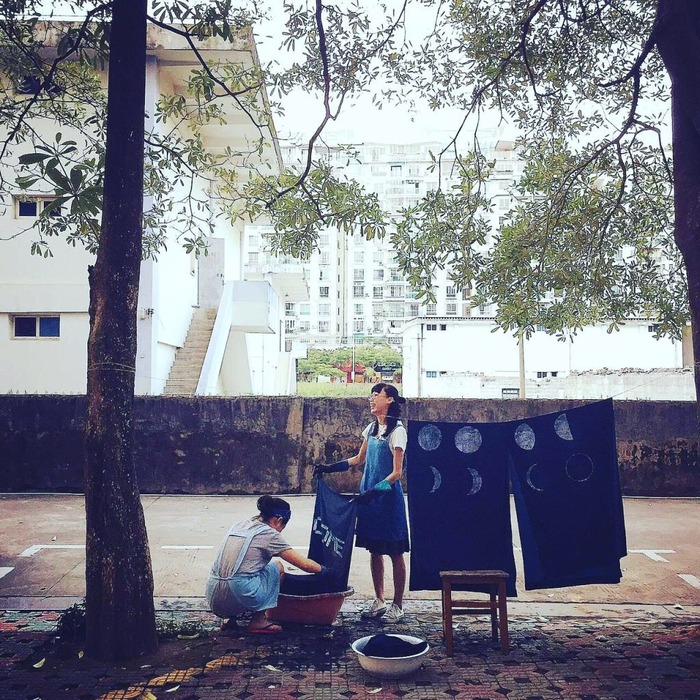 Favorite indigo dye products: pillow covers, scarves, home accessories
Style: patterns, gradations and celestial bodies for the home
For years, Fasti artists have been traveling in different regions in China, Taiwan and Japan to learn about techniques, history, and possibilities from other masters. Such dedication might have come from the fact that they were journalists writing a piece about plant-based dyes for the independent Salt Magazine in 2010. For the piece, they tried with their own hands at making natural indigo dye and discovered the Anxi town in the Fujian province used to be known for the local indigo dye fabrics, called Fujian Qing.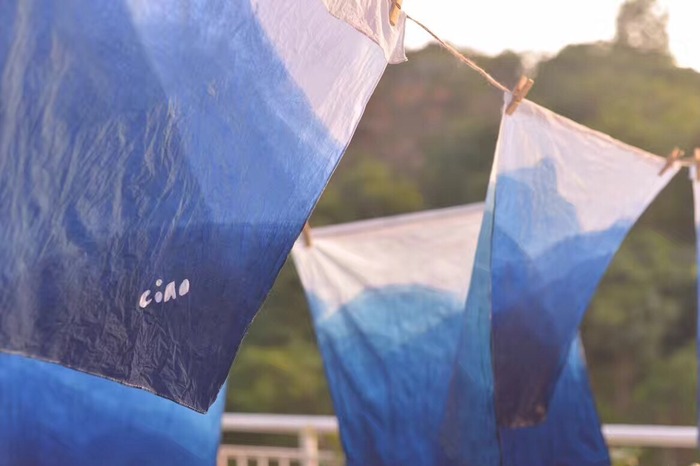 Indigo varies widely in each region. Every place has its own indigenous plants, temperature and humidity, climate and other things that affect the local indigo vat and techniques. Right now, all our indigo dyes are specifically Fujian Qing from the Fujian province. The significance of indigo dye is the proximity of the materials and processes to the land where it comes from. That's why we often say plant-based dyes are colors borrowed from nature.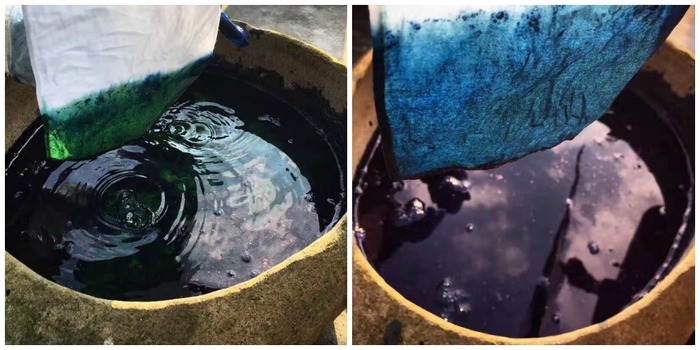 Source: Fasti of Natural Dyes
However, the lure of indigo dye craft is more than being earth-friendly. Fasti believes that handmade arts and mass production can coexist, because both are needed in our lives. The meaning of handicraft is in diving deep and expanding horizons through doing and working :"In a world that can be boring even with its worldly simulations, this brings up a sense of freedom and liberation."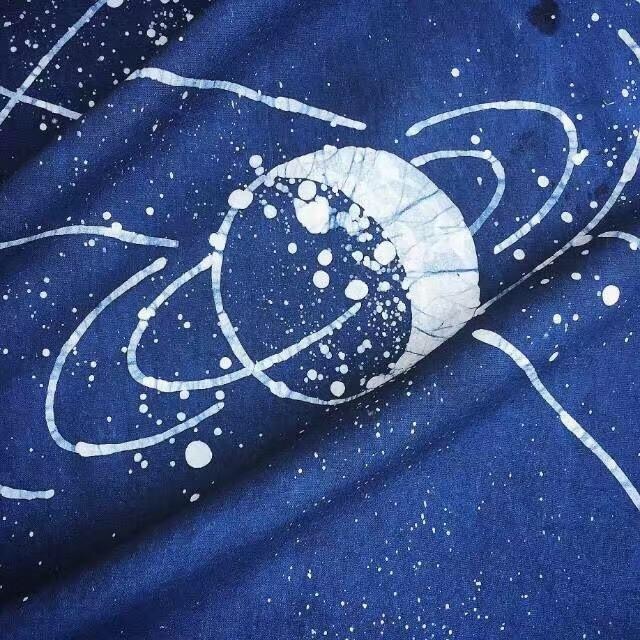 The patterns from traditional indigo dye are rich with local references but often not that wearable in the modern sense. We bring in other print techniques and play with designs we like. For example, being a sci-fi fan, I'm going to design a Cyborg collection, and since we've been working with a stray cat organization, this topic is on the top of our minds too.—Fasti
Peace and harmony in the universe through a universal craft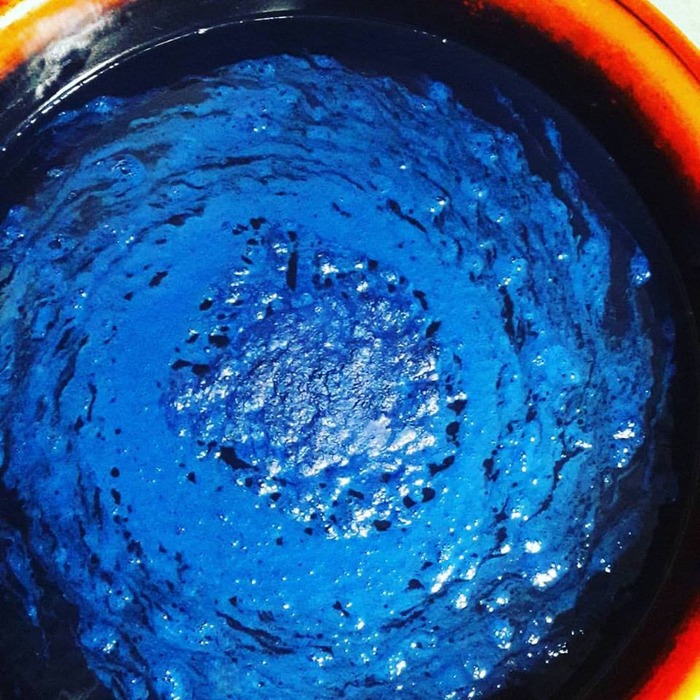 Favorite indigo dye products: t-shirts
Style: images and pictorial designs
As a fashion design student, Isis has worked with the usual chemical dyes before coming across natural plant-based dyes through government projects, and has since then found her calling answered in the environmental and heritage beauties of indigo and plant dyes.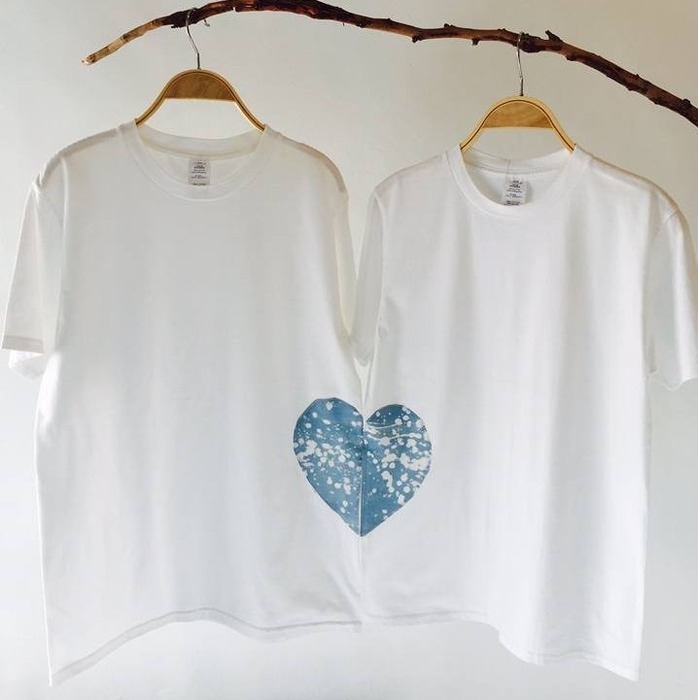 Taking the meaning of "living liberty" from the Sanskrit word "isvara," Isis created the brand Isvara with original natural, cosmic, and cultural themed patterns. The garments are made with natural materials such as cotton, linen, silk, wool, and wood fiber, as well as traditional Chinese resist dye techniques such as wax (batik), stencil and stitch resist, as well as tie dye.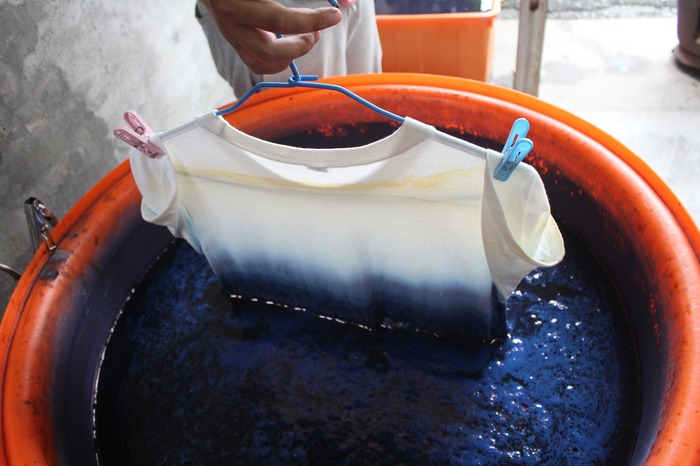 Source: Isvara
There is something universal about indigo dye—it's found in many cultures in India, Japan, Thailand and beyond. In China, traditionally, blue is the color for civilians. Personally, I identify with the humble appreciation of natural resources as the spirit of vegetable dye crafts.

There is zen in indigo dye. This is our "living liberty", our isvara in nature.—Isvara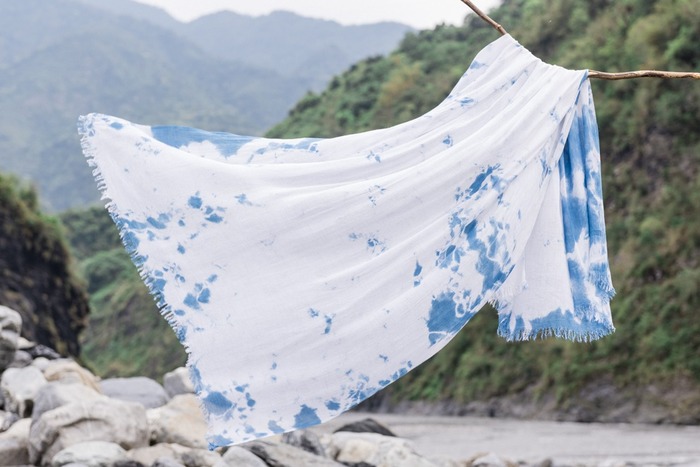 Hearing from Walk on the Wild Side, Spruce Artistry, Fasti of Natural Dyes, and Isvara reveals how differently everyone can relate to and interpret indigo dye crafts! What is your reason of loving it?
Indigo dye products and natural dye artists
► ► ► The story of Earth.er Natural Outdoors Clothing
► ► ► Color of the Week | Blue and White Porcelain
► ► ► Color of the Week | Midnight Indigo
Text/Edit: Melissa