Discover the physical storefronts of Pinkoi shops with Pinkoi Shop Next Door!
In Dadaocheng, the old town Taipei, business is as usual on Dihua Street for the dried goods merchants after the Chinese New Year hustle has wound down. We wandered just a few blocks off the main streets to the quiet residential Minle Street. Here, like everywhere else in Taiwan, street buildings are built with arcades: enclaved passageways that provides shade, ventilation and space for pedestrians.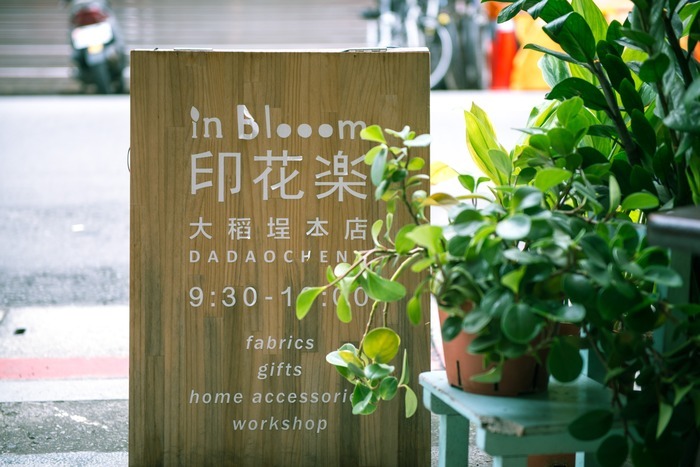 Here, InBlooom nestles in between an arcade section with a red tiles facade. This boutique and workspace is the home of three art students Wen Hui, Chiung Yu and Ama and their artistic brainchild, InBlooom. Through textile and pattern designs, they turn beauty into an integral part of our everyday living.
We arrived at this first location, nicknamed InBlooom Dadaocheng I, and the story of InBlooom began to flow.
How did you come up with the name, "InBlooom"?
We wanted a name that is immediately friendly and approachable. "In bloom" brings up the same happy feeling we have towards making fabrics and prints, so we chose this as our name, and put three o's in there since there are three of us. It echoes our Chinese brand name, which literally means happy printmaking. Also, we followed our culture's business traditions: we took most of our ideas to the fortune teller to pick a good one. We took naming seriously!
What is the brand message of InBlooom?
We want to be a voice for our country, our environment, and our generation. Our fabric designs reflect the impressions and the collective memory of Taiwanese.
Environmental issues are also at the heart of InBlooom. Our way of treating this serious issue is through design: we believe design has that firm but gentle way of storytelling that transform a serious topic into an emotional, relatable narrative. When people are attracted to the design, we are attracted to the story and the issue behind it. This can be much more captivating than directly addressing the issue.
For example, we had a collection raising awareness for Taiwanese local species such as Taiwan myna and black drongo. Recently, we started designing patterns and stories around broader ecological topics like mountains and oceans.
Where do you find your ideas?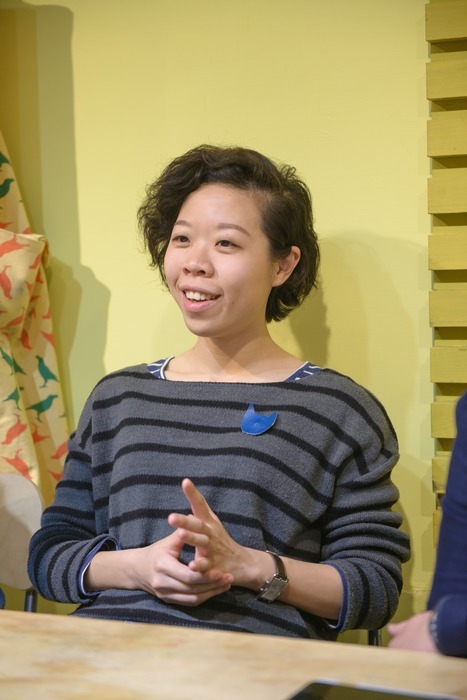 I believe inspirations come from rich life experiences. The more everyone in the team leads an enriching life, the more likely they're going to come up with great designs.—Ama, Design Director
Everyone here at InBlooom values life outside of work: we each have causes, interests and environmental issues that we care for and are passionate about. When we travel, whether local or abroad, the experiences feed our future creations. Even if they are not reflected immediately upon our works, they will turn up at the right place and right time.
Why did you decide to open a brick-and-mortar store since the beginning? Is InBlooom today what you imagined it to be?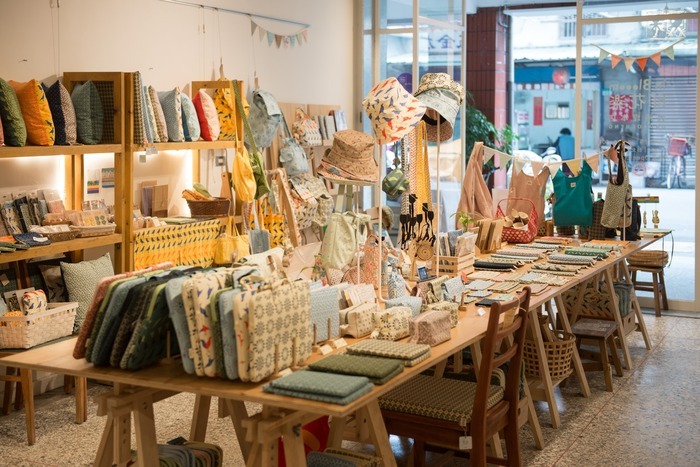 We are a lifestyle brand, and we wanted to demonstrate an ideal way of living.
We believe that it's necessary for a brand to keep expressing its core values, and we wanted to understand our customers' needs in person. Therefore, a physical store was what we needed.
We didn't have a grand scheme for the store designs; we only did what we could to create the space we wanted. Only after that, can we think about what's next? How can we grow? They are not things you can plan out far in advance. Changes come in stages as we keep discovering and improving along the way. To me, it's also the most interesting part of doing your business: you're always discovering yourself in new situations.
Why did you choose Dadaocheng to open your first store? Your second location is also in Dadaocheng. What's the difference between the two?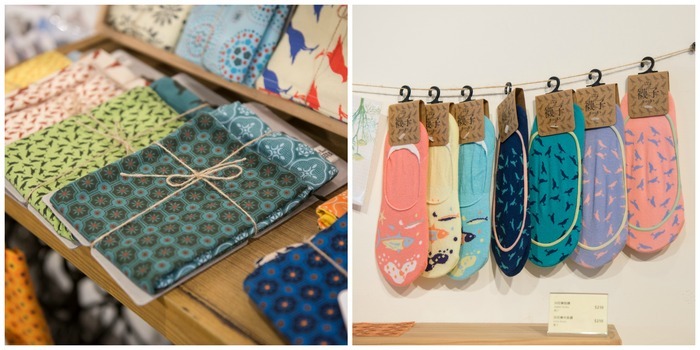 Dihua Street has a rich cultural background and is also a living history of Taiwanese architecture for the past century. Here you'll see old buildings and cottage industries (such as cane weaving, lanterns, fabrics, and handicrafts). It also has the biggest fabric market in Taiwan. We are also in the fabric business, so we wanted to start here and learn from the masters right in Dadaocheng.
Although both of our stores are in Dadaocheng, the "Dadaocheng I" store is further off the main strip, and visitors to this store likely know our brand well, so we try to keep a comprehensive stock of classic merchandise here for them who wandered this far. The Dadaocheng II store is in the heart of Dadaocheng where travelers pass by all the time, so we offer accessories that'll introduce them to the brand.
You also hold workshops in the Dadaocheng I location. Tell us about it.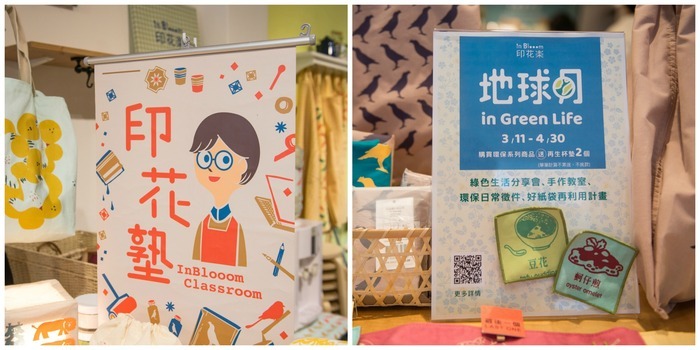 We were exploring ways other than products to share our mission, so we started InBlooom Classroom with art classes to educate the public about aesthetics living. We invite guest instructors with different expertise such as embroidery, weaving, etc. to offer different experiences.
For example, this March 11th to April 30th, we had an Earth Month campaign. During this time, we held classes for making fabric menstrual pads and cane weaving, and invited guest speakers for seminars. This time, we invited a speaker from Greenpeace to talk about how to "reduce" consumption.
InBlooom held the campaign between March 12th, Taiwan's Arbor Day, through Earth Day on April 22nd to raise awareness for the environment and ecology. We also joined in on their campaign and had a green day with InBlooom's products that are great alternatives for disposable products! Let's take a look.
What's your favorite part of the store?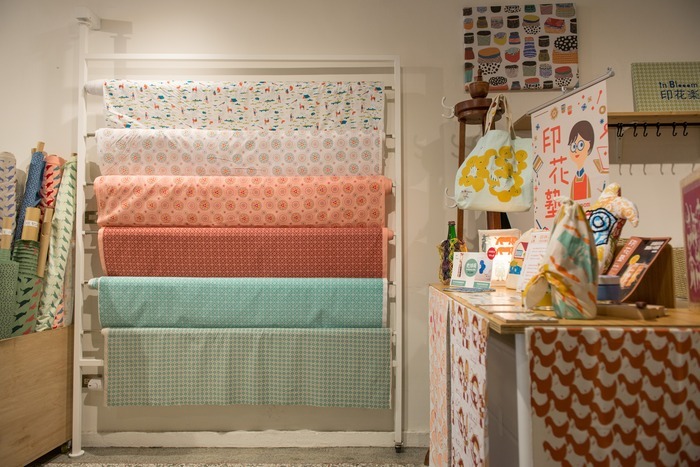 Ama: I love our fabric section. The rack showcases the fabrics very naturally. People nowadays don't have the opportunity to buy fabrics the traditional way, so we display them on the rack, and when customers wanted to buy by the yards or check out the patterns in its entirety, they can see the entire piece of fabric. It's very different from the regular retail experience.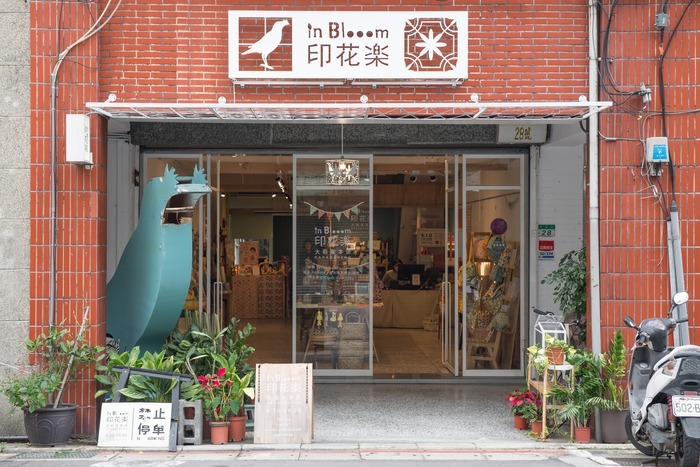 Chiung-Yu: I love our glass door storefront. It's open and transparent, and reflects our concept of being approachable. Even from the outside, you can feel our bright and straightforward visual style.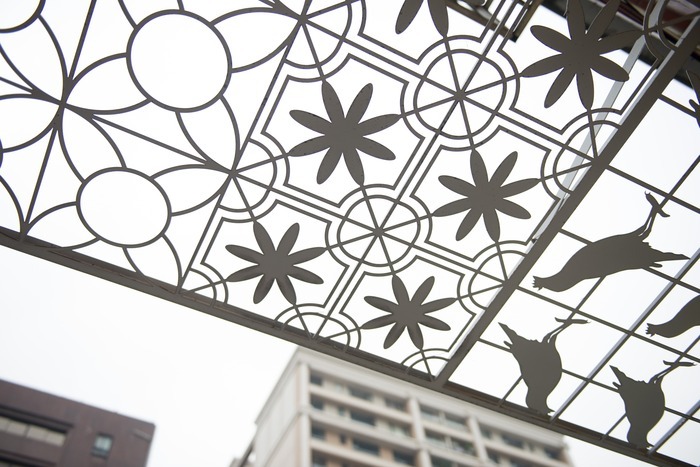 Wen Hui: I love the window grill decoration on top of our storefront. We asked the maker to make grills in our classic InBlooom patterns. In the daytime, the sunlight casts shadows in our patterns on the arcade. In the evening, the streetlights also sends shadows through the grills.
What is your interpretation of aesthetics living?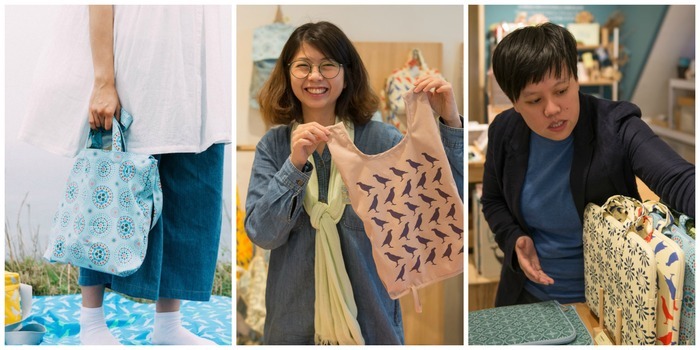 Ama: It's a way of living that's fulfilling for the heart and soul. It's definitely possible to live without aesthetic values, but you'll likely feel something lacking in spirit and heart. I think the process of realizing this is aesthetics living itself.
My recommendation: I recommend our outdoors collection: picnic mat and cooler bag. They are made with the same waterproof fabric. We developed this fabric to make it easier for people to enjoy beautiful fabrics outdoors.
Chiung-Yu: Be mindful of how you live. When you are more mindful about the things you use, the way you are living, you're on the way to an aesthetic way of living.
My recommendation: I recommend the electronic accessories: laptop sleeves and iPad sleeves. Most laptop bags or sleeves are a bit clumsy or limited in styles. Ours are light and pretty, and are delightful alternatives to the usual monochrome choices.
Wen Hui: Discovering beauty in unlikely places, and discovering happiness in details of everyday objects.
My recommendation: I recommend the shopping bag: You can roll it up and keep it in your bag, and spread it out when you need to use it. It looks tiny but it actually fits half a dozen beer! Now I always use this instead of plastic bags from the store. I highly recommend it.
How do you balance your friendships with professional relationships?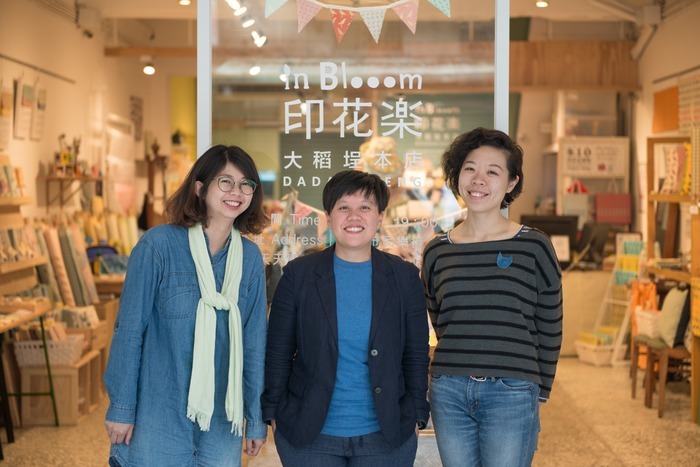 Trust is the biggest thing. We trust each other a lot.
We delegate pretty clearly so when our opinions differ, we do our best to respect whoever's in charge of the area. Till today, we've never had too many arguments or got stuck in an emotional rut. This is something to consider when you're picking your startup team, because good friends don't always make good coworkers.
What's your story with Pinkoi?
We started InBlooom about the same time when Pinkoi started. Pinkoi cofounders Peter, Mai and Mike approached us directly to invite us to join Pinkoi. Up to this day, we have a lot of respect for them, because they've really achieved something unimaginable back at that time. They dared to dream, and so now they've made their dream come true!
Pinkoi made design approachable for everyone, and made buying design products online a fun and friendly experience. We thank Pinkoi for creating something very valuable for designers. It gives every designer and creative a chance to make their dream come true.
After the interview, we put our hands on the fabrics and laid our eyes on the beautiful prints once again. They've become more than pretty designs—they've stirred up something inside us. Every pattern speaks of the mission to care for the environment, and the care and perseverance that Wen Hui, Chiung-Yu and Ama have for the people and their land.
Walk around Taipei and discover shops
► ► ► Shop Next Door | Yarnball Illustrations
► ► ► Shop Next Door | A Kind of Cafe
► ► ► Shop Next Door | TRAN Gender-Neutral Apparel
Translation: Melissa