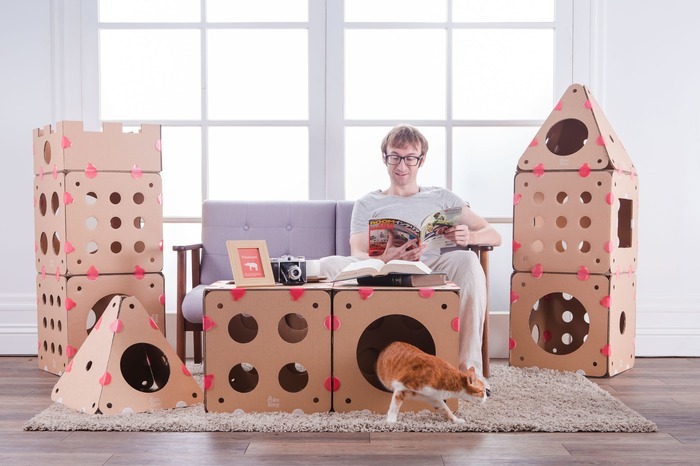 House cats and dogs have drastically different habits, for example, cats are usually more reluctant to go for a stroll. You can say most cats spend their lives inside a home. As professional cat people, we have the duty to make our homes as comfortable as possible for our kitties. Let's check out some homeware pieces that can turn your living space into cat haven!
♢ Pyramids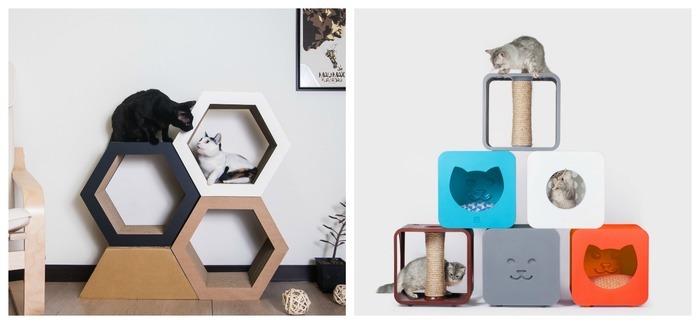 Wabi Life hexagonal nests|Studio Mango cat house
Like humans who strive to the top of the pyramid, so do cats!
Get some blocks back home, and play with different combinations to fit your home's needs. Wabi Life's hexagonal nests are super chic, and they suit a minimalistic household. Studio Mango's cat houses are full of surprises, it has a gym with scratching post, a bedroom with cushion, and a cat toy for our feline animals to play with!
♢ Tents

Huts and Bay diamond tent|Baby Love handmade tent
Like humans do with glamping, cats are taking over the trend too. Even if they don't like going outdoors, get a fancy tent for them so it looks like they're out and about, when in fact they're just getting some peace and quiet (as per usual).
♢ Single beds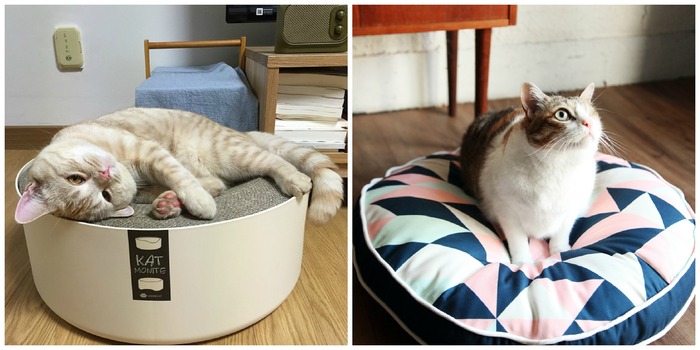 Ninikoni meditation cat bed|Wo Pet sleeping pad
Naps are the best invention in life…meow.
Not all cats like to sleep with their human friends, most kitties actually prefer to sleep alone, and have their own space. So get a comfy bed for them! Ninikoni's meditation cat bed comes from Korea, you just have to hide some catnip under the scratch board, and your kitty will immediately get on top of it and do some cat yoga. Wo Pet has some bachelor pads for cats that look ultra soft, too.
♢ Towers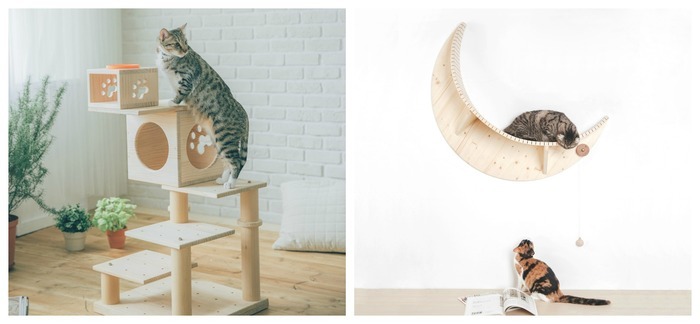 MiCHA dreamy staircase| My Zoo luna platform
Several cats that we've encountered in the past are probably all professional athletes in their previous lives. Does your cat like to bounce around in the house, and jump like she's training for an upcoming Cat'Olympics? In this case, build a staircase or tower for them so they have the time of their lives.
♢ Multi-functional furniture

True Wood Studio cabinet| META Design circular furniture
Want something that both you and your cat can use around the house? True Wood Studio has invented a cabinet functional for both humans and cats: It fits cat litter and a litter box, allowing your cats to have more privacy when doing their business. META Design brings us a set of super classy furniture that includes: a side table, stool, storage boxes, trays, and a cat house. With this sort of furniture, you can easily build a lively homespace to fit both of your needs!
We know we got your cats excited already, so let's start building a haven for them!
All About Them Cats
► ► ► These Cat Fondant Arrangements will Melt Your Heart!
► ► ► Cats, Bulls, and Party Animals Around the World
► ► ► Designtrepreneur | 2Pi Creative Pets and Design
Translation: Litta