There is no shortage of gorgeous bridal accessories in Hong Kong. To find the perfect accessories for your needs, we're here to share some up-close conversations with bridal accessories designers in Hong Kong who make head pieces and clutch bags.
Designer Lusana at Shmily specializes in bridal headpieces in refreshing boho styles using beading and embroidery techniques. Erica, designer of Luna Blue, has a millinery background and falls for delicate vintage designs as well as colorful silk flowers. Last but not least, the mother-daughter team at ANGEE W. makes beautiful clutch bags that will make a bride and her bridesmaids proud.
✔ Hair combs
✔ Hair pins
✔ Tiaras
Shmily: See how much I love you. Designer Lusana speaks of love with stunning bridal headpieces through fine crafting skills and attention to detail. By using techniques such as dyeing, beading, embroidery and lacquer art, she makes each bride easily the most beautiful woman in the world on their big day.
What is your most iconic bridal headpiece?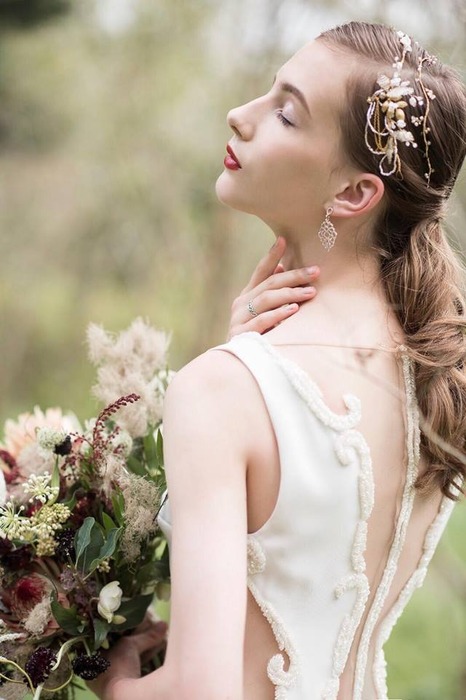 The Boho Like Rain collection.
In this collection, every headpiece is made of two to three flower wreaths that can be used together or separately. The collection uses freshwater pearls, crystals, Japanese glass beads and hand-dyed flowers in different drapings to create layers and styles. It's a very delicate collection.
When we were working on this collection, the goal was refined elegance. Therefore, we chose to use the smallest materials, such as pearls and glass beads as small as 1–1.5 mm. In the end, it matched gorgeously with the bride and turned out wonderful in photos. It was worth it!
"Something new, something old, something borrowed and something blue." I think this is very romantic and is a meaningful blessing for the bride. I strive to make pieces that are durable with a classic style so that you can pass them down through the generations to your daughter, granddaughter and even further.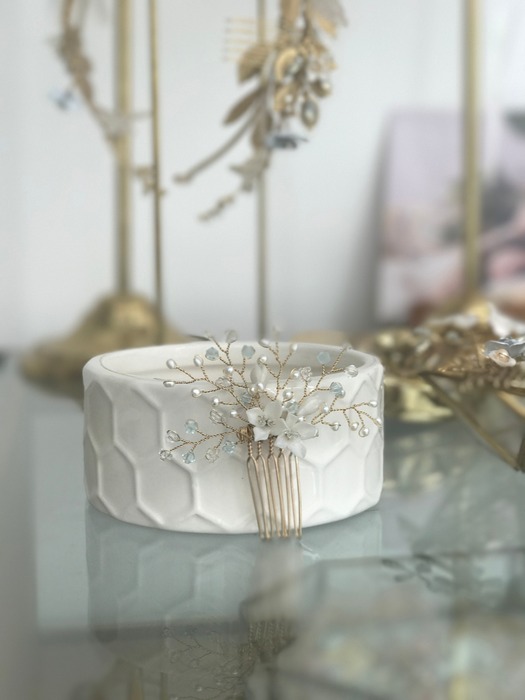 My personal favorite recent piece has been this type of hair comb. It's small, elegant and comes in different colors, which makes it suitable for use even after the wedding. Just pair it with a ponytail and a dress, and you'll look beautiful. This comb is made with Swarovski crystals, freshwater pearls and handmade clay flowers.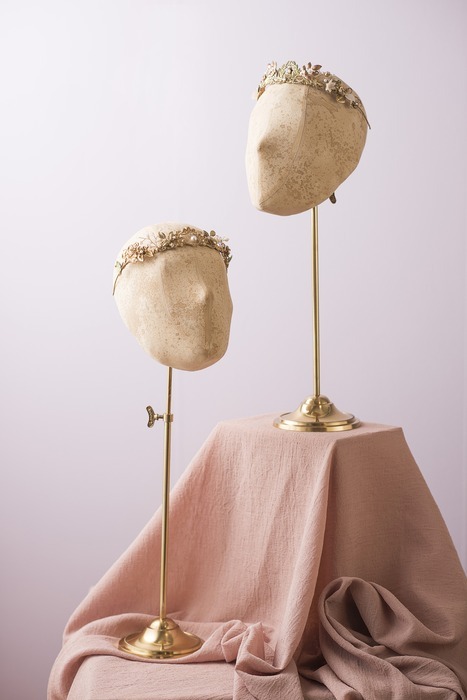 Thanks to Lusana's obsession with jewelry making and collecting materials from all over the world, you'll also find designs like the Pink Rose Tiara from the Ornate Victorian Collection made with imported Victorian era vintage materials, only available for rent to local Hong Kong customers.
♥ Visit Shmily online shop
♥ Check out reviews for Shmily
✔ Tiaras
✔ Wreaths
✔ Hair accessories
✔ Boutonnieres
Luna Blue is a distinctive brand featuring elegant hair pieces full of vintage influences combined with a hint of nostalgia. Designer Erica learned from the famous milliner Laura Apsit Livens in the UK, practicing centuries-old hat-making techniques and taking days to make just one hat. She brings these learnings to Luna Blue bridal accessories. This crown was the first product she made upon returning from England to Hong Kong.
"Anyone who chooses handmade is a friend. They appreciate the beauty of small-batch handmade crafts and have an understanding of how crazy and naive us designers have to be to choose this path."
Luna Blue accessories are simple but detailed, just waiting to be a part of your story. From ironing and patching to stitching, they are entirely made by hand. It takes a full day or two to finish a piece, before it goes through additional inspection.
I love designing bridal accessories. When I sew, I am reminded of the day I got married myself. Making these accessories takes me back to those beautiful memories. I always try to make these accessories perfect, which is very time consuming, but it's because I used to be a picky bride myself and wanted every detail to be perfect.
♥ Visit Luna Blue online shop
♥ Check out reviews for Luna Blue
✔ Clutch bags
✔ Customized print photo linings
In 2008 Angee made a beautiful handmade clutch bag for her daughter Vincci to wear to her best friend's wedding. Since then, this mother-daughter team has made thousands of customized and personalized photo clutch purses for brides, bridesmaids and their mothers to wear on their special day.
Mother Angee has worked for many international fashion brands in her thirty plus year fashion industry career, while Vincci loves designing with local and exotic materials, an influence from their ten years of living in Mauritius, an island east of Madagascar.
I was born in Hong Kong, grew up in Mauritius, studied in Canada and moved back to Hong Kong. My mother likes feminine, sparkly designs, and I like to look for fabrics that echo the patterns I see in my photos of nature. We both love Mauritius—the welcoming people, the diverse culture and handicrafts, and the tropical weather. We call Mauritius home.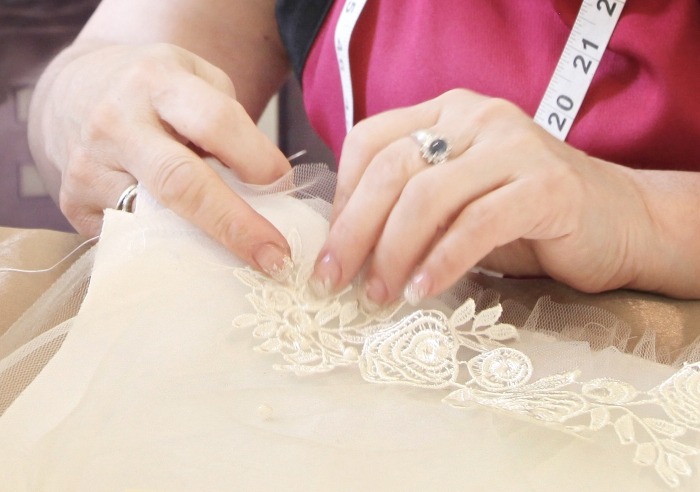 We also love the fact that Mom can stay busy after retirement!
With their love for traveling and discovering design elements from nature and different cultures, Angee and Vincci have made bags in many different styles that have delighted sisters, mothers and daughters.  
♥ Visit Angee W. online shop
♥ Check out reviews for Angee W.
Does Shmily, Luna Blue or Angee W. speaks to your personal style? They are all excited to take part in perfecting your big day. Get ready to discover more bridal designs from Hong Kong!
Wedding ideas
► ► How to DIY Your Wedding: Tips from Pinkoist Zoe's Outdoor Wedding
► ► Alternative Wedding Bouquets: Dried Flower & Brooch Bouquets
► ► Featured Shop | Ariel's Bouquet and Bear
Photos for Shmily: courtesy of Natalie the Smiley Photo
Translation/edit: Melissa