I need weekly spreads plus a day per page, B6 size that fits in my shoulder bag, a simple design that's office-friendly, but with some personality that hints I'm a cat lover.
We know, we know. This is why the search for the 2018 planner can be hard, even with the countless indie Korean, Taiwanese and Japanese planners at hand. So let the web tell us what their favorite 2018 planners are!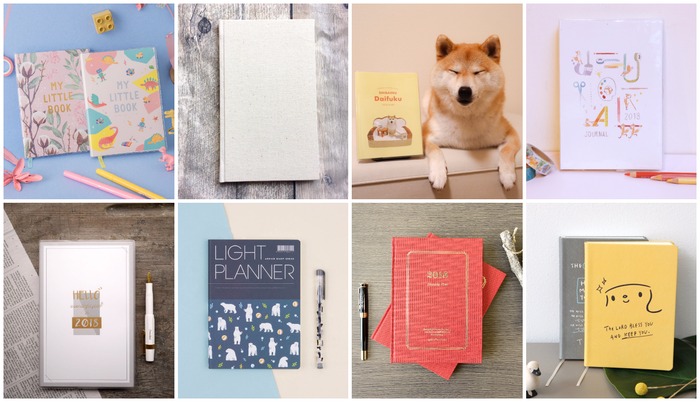 Listed from light and compact to thick and sturdy, here are some of the most popular planners that'll meet your 2018 planner needs.
♥ Quick little sizing index:
A5 is book-sized, easy to lay flat and write on. (14.8 x 21 cm)
B6 a bit smaller than A5, easier to toss in your shoulder bag. (13 x 19 cm)
A6 is a pamphlet size that you can flip and hold with one hand. (10.5 x 14.8 cm)
My Little Book is an undated monthly and weekly planner with playful full-color printed pages and a matte pvc jacket, designed by an illustrator. You can also buy a set of two, for you and for your BFF.
Pages: 96p
Thickness: 1 cm (179g)
Size: B6 (13 x 19 cm)
Brand: Taiwanese planner brand and illustrator Wwiinngg
This is a lightweight monthly planner with lunar cycles, memo pages and—this is what matters—photo prints of Daifuku the shiba inu! From the shiba zakka store Daifuku Shop, this is an early new year's greeting to a new year filled with smiles and fortune (essentially what daifuku means).
Thickness: 0.6 cm
Size: B6 (13 x 19 cm)
Brand: Japanese shiba inu merchandise brand Daifuku Shop
This journal from stationery and paper developer brand Leatai is a dated monthly planner with mostly ruled pages, hardbound with fountain-pen friendly Taiwanese Mui Kai paper.
Pages: 160p
Thickness: 1 cm
Paper: 80g paper
Size: A5
Brand: Taiwanese planner brand Leatai
4. (A6) 2018 Kagura Weekly Techo is a palm-sized blank canvas for you and Asitano's to customize
From fabric and paper artist Asitano Techo's growing line of handmade planners, the Kagura Weekly also has tons of free customization options, from local holidays and calendar ranges to cover and bookmark designs to your choice of ruled or grid pages. Check out Asitano's tenugui designs to inspire your own planner cover!
Thickness: 1 cm
Size: 10 x 17 cm, a bit slimmer than the pamphlet-sized A6.
Brand: Japanese planner brand Asitano Techo
The Light Planner has monthly plans and 2 days per page layouts. Choose from Ardium's adorable prints or office-friendly faux leather solid covers. Check out the Monthly Planners that don't have the daily layouts, or the undated Daily Planners that has detailed daily schedules per page.
Pages: 160p
Thickness: 1.5 cm (278 g)
Size: B6 (13 x 19 cm)
Brand: Korean planner brand Ardium
This planner is a treat for those who love foxes and colored pencil illustrations! It is filled with Hello Studio's signature fox illustrations, including a colorful fox horoscope contacts page, as well as a free fox washi sticker sheet! The paper is fountain pen-friendly too.
Pages: 160p
Thickness: 1.2 cm
Size: B6 (13 x 18.7 cm)
Paper: 80g paper
Brand: Taiwanese brand Hello Studio in collaboration with Dimanche
This Gracebell undated planner has mostly weekly layouts with the biggest space for Sundays, as well as pages for bible reading plans. It also has coloring and meditation pages exclusive to the Hello Jenny planner!
Pages: 208p
Thickness: 1.2 cm
Size: B6 (12.6 x 18 cm)
Paper: 100g paper
Brand: Korean planner brand Gracebell
Stationery brand W2 Design is always up-to-date with the newest workspace and writing habits, and this planner is another good example. The A5 size is designed for thinking and writing at the desk, pull-out calendars make scheduling easy, and project layouts separate details from goals.
Pages: 296p
Size: 13.5 x 21 cm, slightly slimmer than A5
Paper: Fountain pen-friendly Bachuan paper
Brand: Taiwanese planner brand W2 Design
Picking a planner is a big deal and that's why we shop around until the last minute, but the clock is ticking! Choose your 2018 planner once and for all, and let the 2018 big dreams begin!
Get ready for new beginnings!
► ► 5 Types of Planners to Achieve Your Goals! Which is for You in 2018?
► ► Stationery Lovers will Love Unwrapping these Gift Sets for Christmas!
► ► Top 10 Asian Planner and Japanese Stationery Brands for Planner-Holics
► ► 5 Ways to Celebrate Yourself This New Year's Eve
► ► 4 Joyful New Year's Resolution for Design Lovers
Text: Melissa