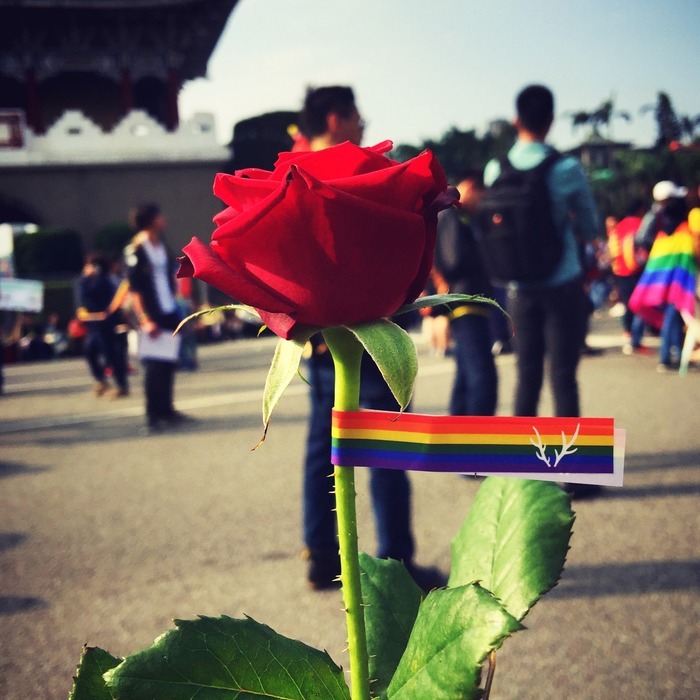 Source: Ponchi & Paco
What is Love? Gender and marriage equality is a long, ongoing journey, and since many in Taiwan has been pushing for conversation about it, we invited 6 designers from the LGBT and the allies community to share their definitions as well as creative expressions of "love". Let's hear from the brands Hsing Chueh, Monkey Cookie, Ponchi & Paco, 1212 Design, Punndle and Freedom Witch.
Visual designer Ken started his brand Hsing Chueh outside of his nine-to-five in 2015 to let his creativity flow freely and fully—to raise uncomfortable questions with fashionable, artistic designs.
What is love?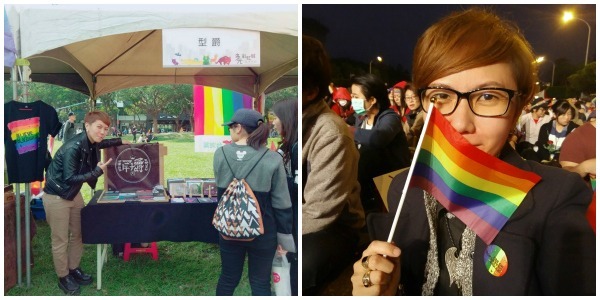 Source: Hsing Chueh
Love is to give, to care, to share and to connect. It's the best thing that could happen in life between two people. Love knows no gender and no race; all love should be treated with equal rights and respect.

Love can be romantic, it can be impassioned, and it can even be ordinary. Love is the answer to all things, and the foundation of a family.

All love is love; our love is just the same as your love.
How do you support LGBT rights with design?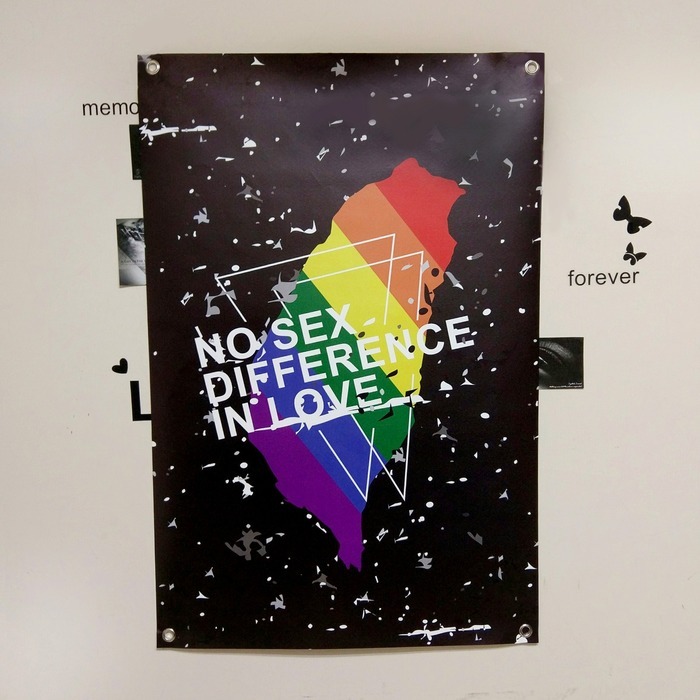 This poster combines the beautiful LGBT pride flag with Taiwan, showing how our island is full of love. Speckles and tears show the journey for marriage equality will likely leave us with scars and blisters, but with love and will, we will go on.
On the front is the slogan, "No Sex Difference in Love". I look forward to the day where Taiwan finally embraces marriage equality.
Ellen Tseng's illustration brand Monkey Cookie is about friendly, affectionate black and white drawings reflecting the moments in life. Full of imagination and thoughtful words, her drawings connect people with each other.
What is Love?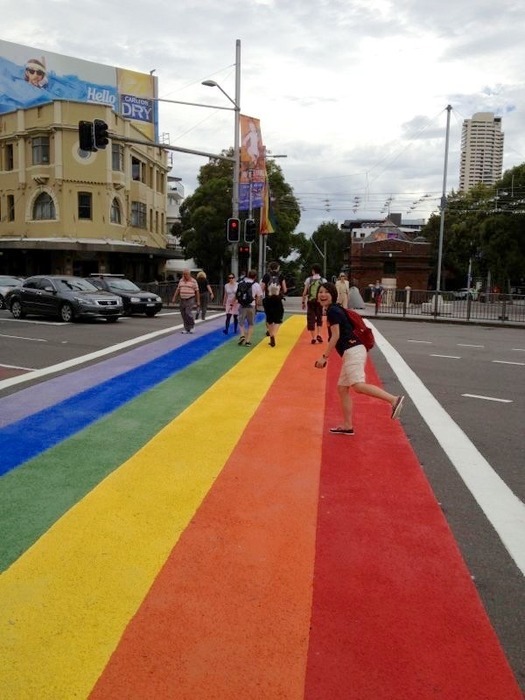 Source: Monkey Cookie
▲ Ellen at the rainbow crossing at the Sydney Gay Pride Festival.
Love is joyful, love is free; love is the peace we find in our hearts. There are many kinds of love existing between family, lovers, friends, coworkers and strangers. Love cannot be controlled, but love gives us the courage to be ourselves and become the best.

Love is genuine and comfortable, free from lies and deceptions. Love is like sunshine; it brings us joy, warmth and confidence. Love is compassion, understanding, and kindness. Love is contagious.

I think Tagore once said, love is the byname of understanding. If you wish to be loved, you have to learn to love yourself, and know what's right for yourself. This way, you'll have more compassion and understanding for others who need love just as we do.
How do you support LGBT rights with design?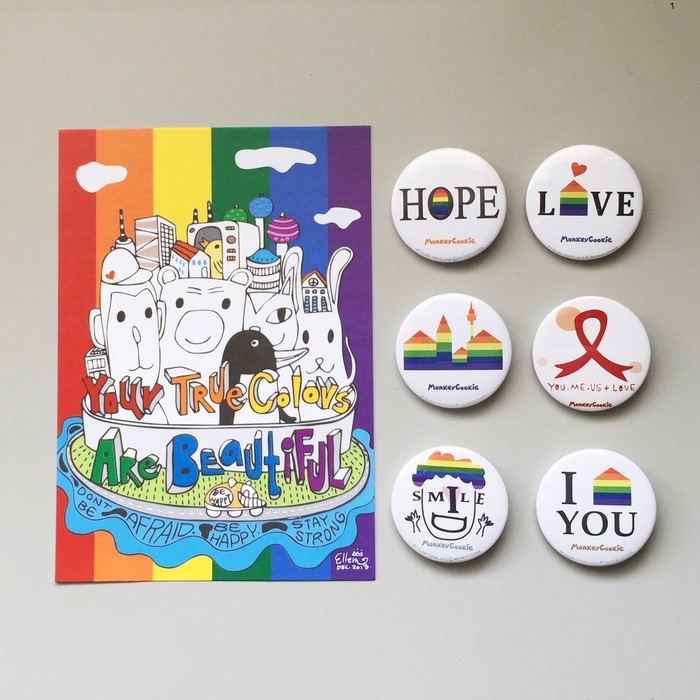 The rainbow flag stands for sunlight, nature, life, healing, harmony, and spirit—all the things that love is. I hope this rainbow collection can bring more hope and support to our lives. With more positive energy, we have more faith for a better future. I hope that we can open our hearts a little more, and treat the world and ourselves with a little more kindness and compassion.
Ponchi & Paco began with Ponchi's writings and Paco's drawings. Without limiting themselves to certain styles or medium, Ponchi & Paco's creative world is simple and genuine, full of stories of life.
What is Love?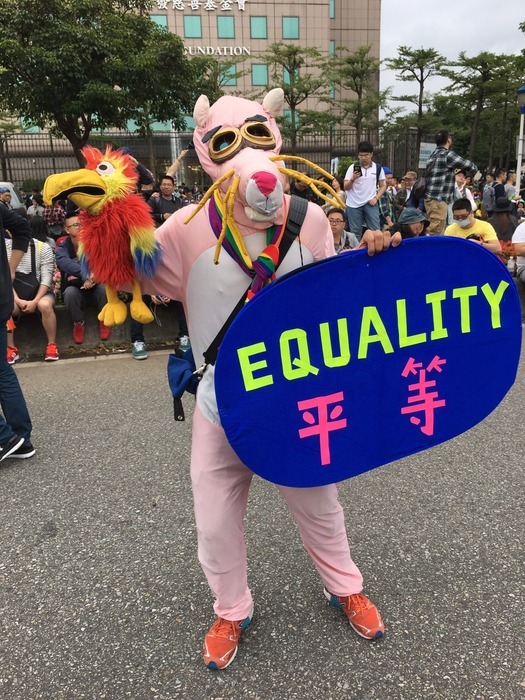 Source: Ponchi & Paco
▲ At the December 26th demonstration outside of Legislative Yuan, I saw this man dressed as Pink Panther. It was a hot day and he left me with a strong impression. At the Ketagalan Boulevard march, I finally found the opportunity to take his photo.
When I was young, I thought love is a fairytale. I thought two people would live happily ever after without having to spend time together or understand each other. Then I grew up and learned how rare it is for two person to fall in love with each other. Finding love is already a long journey for anyone, but we have to face something worse: even if we finally found that special someone to spend the rest of our lives with, more tests and trials are thrown at our faces. The person we were born as, the gender we were born with, becomes the reasons we're attacked for.

Look beyond our bodies and into our souls, and we are all just human beings, not defined by gender, forms, or even weight. Our souls are free to love without restrictions. Why is it that one's body and gender become the obstacle to the connection we find with a soulmate?

Is love a privilege? I think any two souls in love should be free to love. Is marriage a privilege? I think any two people willing to say "I do" should have the rights to marry.
How do you support LGBT rights with design?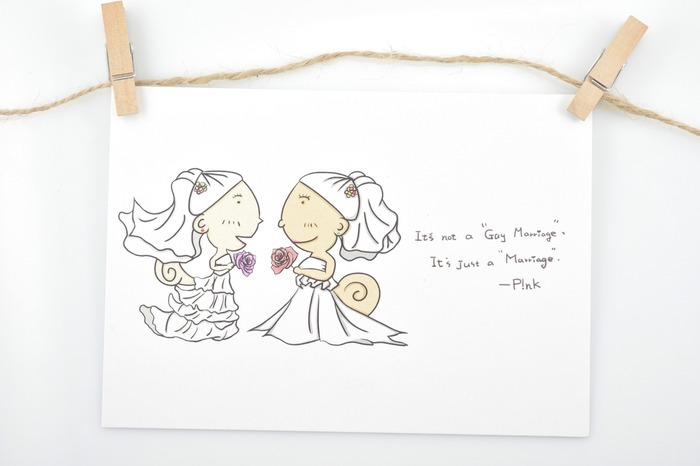 Falling in love is easy; staying in love is hard. If two beings are committed to spend the rest of their lives each other, we want to show our firm support and help make marriage equality a reality.
Our thoughts are written on our postcards, able to be sent along with our support and our messages. Send them to the future where marriage is an equal right for all; send it to the person you love.
"Play with design and enjoy life" is at the heart of 1212 Design. Starting with patterns filled with light-hearted dark humour, 1212 Design turn them into products, and bring fresh energy to their lives and to those around them.
What is Love?
Our world is constantly evolving, and now more people can understand that with love comes compassion and connection. Once you've truly experienced love, you understand that love is not something you can easily deny and let go of.

We hold hands because our hearts are next to each other's. We come out, into the daylight, because our love is strong and reliable. We love each other, we want to stay with each other, and it would be our greatest joy to receive blessings and support to do that.

The beauty of love lies in compassion, company and care, understanding. Love is powerful; powerful enough to drive away darkness, and initiate change.
How do you support LGBT rights with design?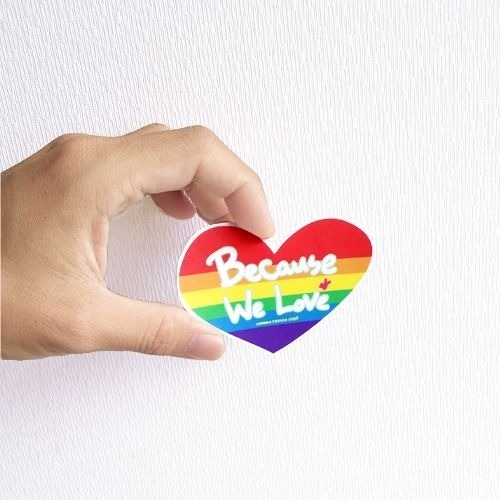 Many people ask why we want to be with someone of the same sex, and this is my answer: "Because we are in love. Simple as that!"
Sexual orientation is a natural part of human, just like arms and legs are. We all have the desire to love and be loved. Ignoring or rejecting us of these inherent human conditions does no one good. If we really want peace for everyone, we need to acknowledge and respect everyone's right to make their own decisions, and understand them. Only then, can we bring real harmony to the world.
Punndle came from a traditional thread processing factory in Tainan, Taiwan. Punndle uses threading originally reserved for industrial purposes, and creates objects that highlight the refined, approachable texture of traditional threading. The design delivers an emotional connection to people who lay their hands on the renewed idea of woven threads.
What is Love?
Love knows no gender, no age; love only knows the person you love. Gender and orientation has never been a big part of my upbringing, so I've never really thought of men and women as different beings. I didn't grow up with the idea that men can only love women and women can only love men. However, most people find this hard to accept.

I have tried dating girls before, and that is how I know I couldn't do it!
How do you support LGBT rights with design?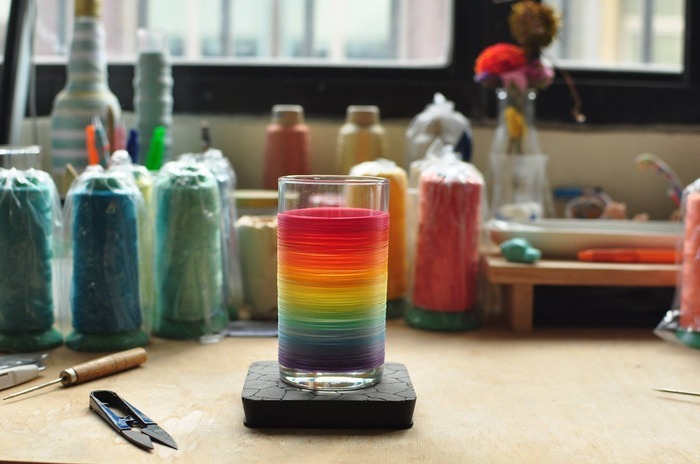 I think that the rainbow flag is not just a symbol for the LGBT community—it's a symbol for the diversity and all varieties within the human existence. The rainbow is a flag for everything that is cross-border; it symbolizes our hopes for not just gender equality but more importantly, our definition of freedom. Through the cups and glasses we make, Punndle wish to bring this symbol to everyone in the world. May hope be filled to the brim and we can all raise a glass to freedom!
Ruby started Freedom Witch with occult and handmade products, and now her creations are mostly about social issues. She is a firm advocate of women's rights, and believes that women should be free to seek happiness, under their own will, and have control over their bodies. Now Ruby hopes to destigmatize the stereotypes of the LGBT identity and push for marriage equality with her products.
What is Love?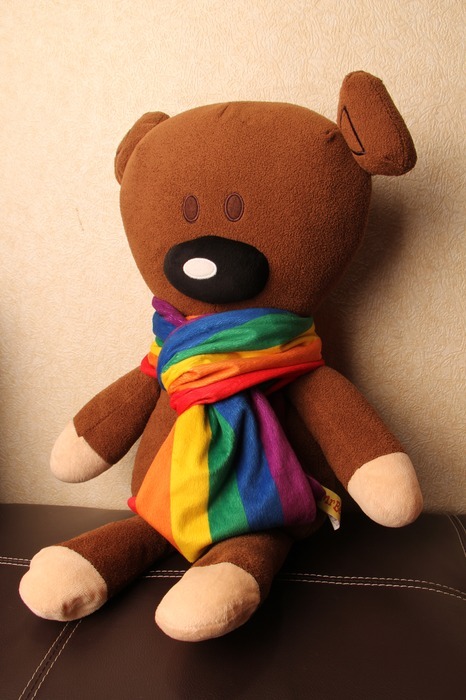 Source: Freedom Witch
When I'm feeling down, my LGBT friends can always cheer me up; when I'm happy, I always think of my LGBT friends first. They're the ones who understand me the most.

My LGBT friends strive to see the full spectrums in this world: They do the best they can to understand differences between us all, and put in lots of effort to speak up for the minority.

For the LGBT community, love has no boundary. They may love men, women, or both, or neither. I support marriage equality and LGBT rights, because love is love and all love is equal.
How do you support LGBT rights with design?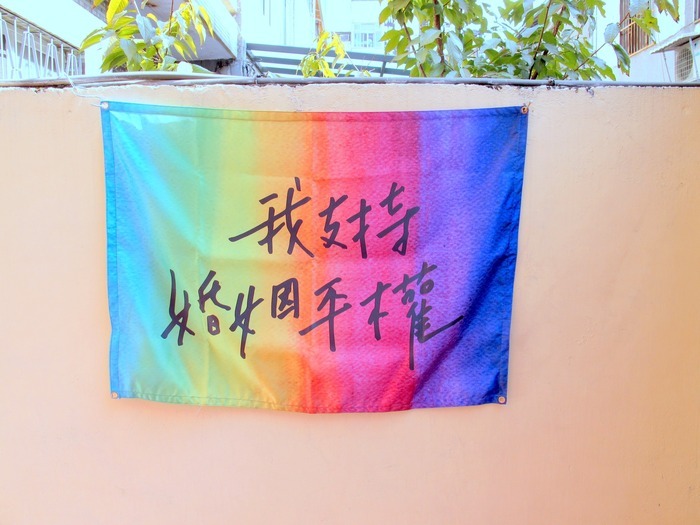 Marriage equality gives LGBT people the fundamental right to form a family. We hope to see more people raising the rainbow flag, defending the fundamental rights, the freedom, and the dignity for the LGBT community, because these are the rights we all born with.
We worked with Ms. Yi-Chia Chen for this rainbow flag. In the beginning, we put it online for people to download, but then people had problems printing it out and also cardboard printouts are hard to carry, so we decided to make flags instead. They are much more easier to carry and they can be sat on. Compared to traditional fabric flags, satin flag is more versatile and easier to clean too.
We hope the stories from the six designers have given you newfound strength of the rainbow flag!
Freedom to Love
► ► ► 6 Love and Equality Quotes to Inspire Everyone
► ► ► 8 Weddings in Movies Celebrating the Rite of Passage
► ► ► Find Style and Freedom with Androgynous Looks
Translation: Melissa