In Asia, weddings are quite often the parents' big day just as much as the newlyweds', if not more. Now, DIY wedding has become more popular not only in the west but also in Asia where it has its own tweaks and arrangements. Last year, Pinkoist Zoe had the outdoors DIY wedding of her dreams, and she is excited to share how she and her husband built it from scratch. From decorations to planning advices, you can learn from her experience!
First, a greeting from Zoe: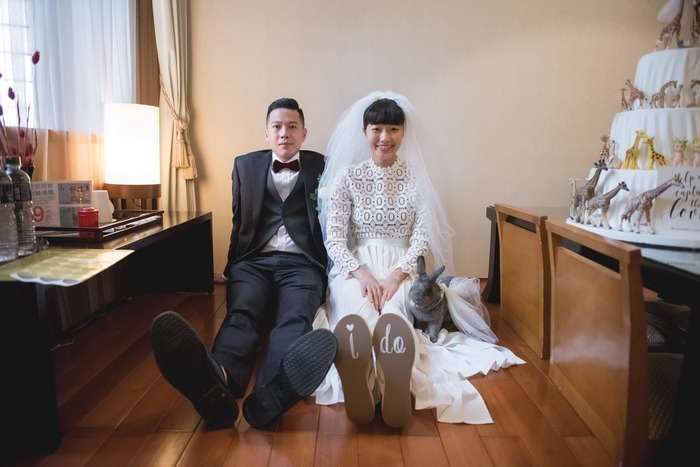 Hi guys, I'm Zoe of the Designer Relations team at Pinkoi. As a fervent giraffe collector, I met my husband-to-be at my friend's toy shop. We were there for work reasons, but it was love at first sight which blossomed into the tomb of love. Just joking there! Yes, love blossomed and after two years of relationship, we decided to get married and started planning our wedding together.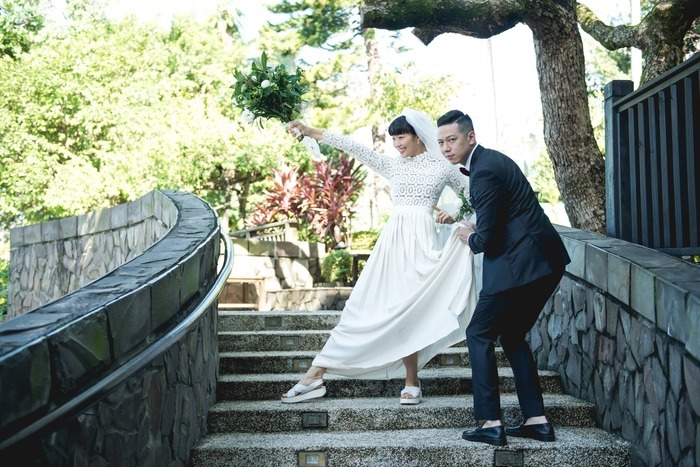 What is the significance of a wedding to you?
I think marriage is a promise. It gives me a sense of security that this person and I are committed to exploring life together for the rest of our lives.
As for the wedding, we see it as a creative process the two of us share, and a lovely beginning to our marriage. In the end, wedding is a visible outcome, but its true meaning is in the experiences we create during the process. And we are lucky that our expectations for the wedding are similar, and want to invite our friends and family to our "creative project".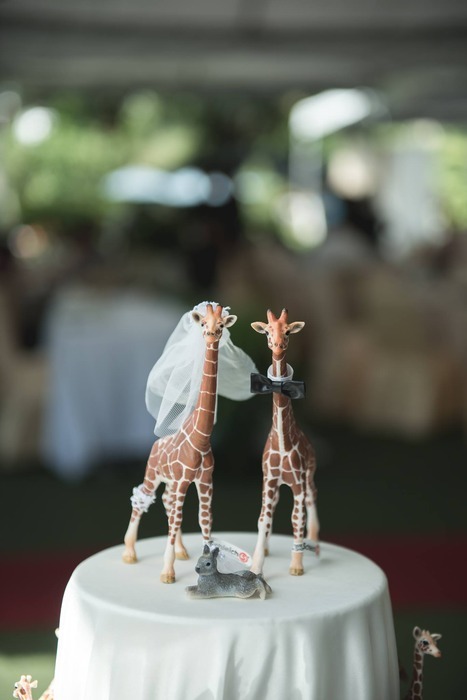 Why do you want to do it yourself?
Maybe because we were influenced by the western weddings in movies and on the web. We thought it was ideal and wondered if it was really possible in Taiwan to invite friends and family to enjoy a sunny afternoon at our wedding. The usual hotel ballroom package is not really for us.
What's the benefit of planning your own wedding?
First, we can create the exact wedding we want. We actually started with a list of the things we don't want: we don't want a wedding MC, we don't want a photo shoot standee, we don't want the business-card-sized wedding photos, no sticky rice in our menu, and no cleavage.  
Second, since we design our own wedding, we have complete control over where the money goes and whether it's worth it. We have a limited budget so we're careful where each penny is going towards. For example, within our limited budget, we only spent roughly US$260 on the wedding bouquet and floral decorations. We came up with the perfect decoration without fancy imported plants and flowers.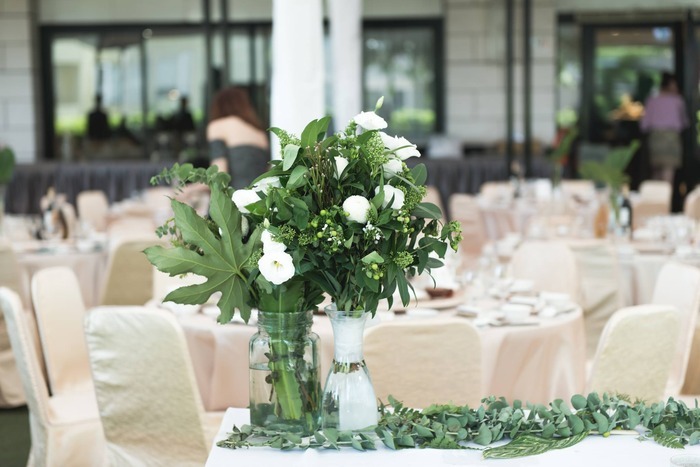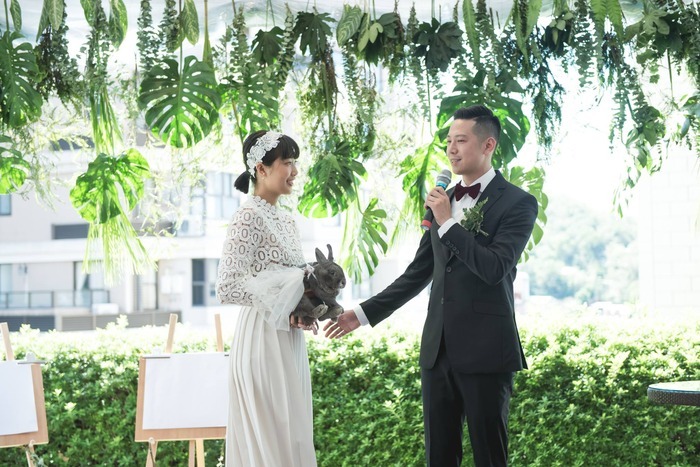 Since we control the budget, there's no one to blame if things didn't turn out to be perfect. We hear a lot about newlyweds nitpicking after the wedding, but since we planned for this experience, all the good and bad are going to become a part of our wonderful memory.
The third benefit of DIY wedding is that we equally share the happiness of a beautiful wedding. After attending or seeing photos of the wedding, many friends and family told us that it was very special, a lot of fun, or "the most ______ wedding" they've been to. At moments like this, all the stress melts away, and we felt it was totally worth it. 
What are some important things to keep in mind for a DIY wedding?
The first thing to do is to make sure all of your parents agree to this. A DIY wedding is not just a matter between you and your husband. It's important to get your parents' support before you proceed. It's not very good to let the young people have fun at the cost of the parents' discomfort and disapproval.
Also, it's too easy to keep increasing your budget for a DIY wedding, because naturally you want to do everything your heart desires! So my first advice is to compromise because you can't fit every idea into the time and money budget. Some might suggest extending the wedding for more fun and games, but no. Consider the elders, the toddlers and everyone who came out of town—it's best to stick to the schedule for the usual 2.5 to 3 hours.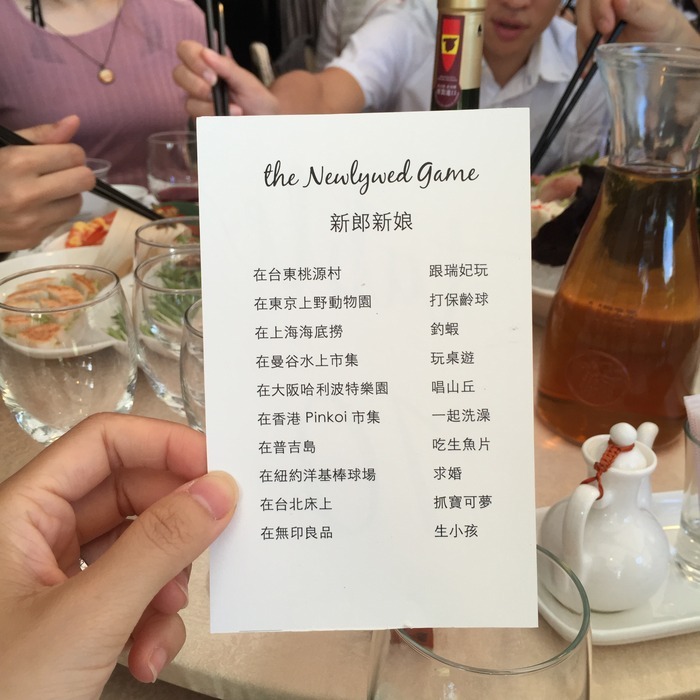 After you've decided what to keep in the wedding, the next step is to turn them into a realistic, economical plans within the budget. I have an example of doing this: my wedding cake. It's simply amazing, if I do say so myself!  
Ever since I saw a cake with giraffe decorations on Pinterest years ago, I've vowed to have a giraffe cake at my wedding. After we decided to get married, I went and found out that a three layer wedding cake costs about US$160! We thought about it, and decided since our venue already provides an ice cream cup dessert for every guest, we could forego the cake and make a fake cake instead. 
Our hearts were set, so we began to create our fake cake. I looked for styrofoam to make the body, and went to a fabric market to find a fabric that drapes and looks like frosting in the sunlight. In the end, this "cake" only cost a third of our original budget. On the night before the wedding, my whole family helped me put together the three-layered cake, and topped it with the giraffes.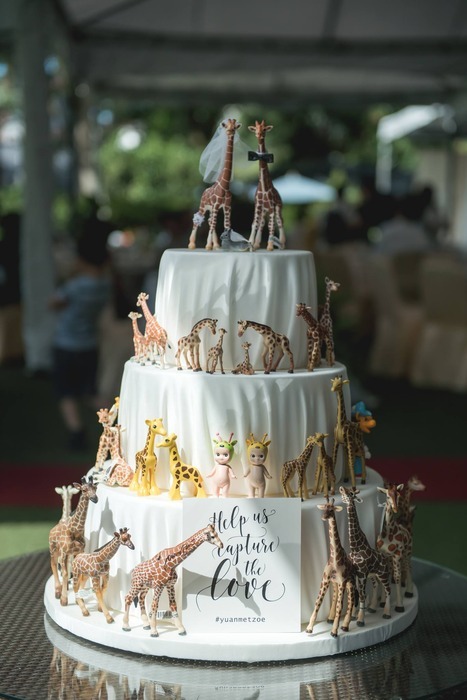 Another big advice is to not worry about the prep time. Some would wonder, "I work full time. Is it really possible to plan my own wedding with only afterwork and weekend hours? Perhaps I should take a month off to do this." Don't stress yourself out! With the right attitude, you don't need a year or even half a year. Just lock down the time-sensitive tasks, like sending out wedding invitations, and the rest will come into place. We only spent one and a half months of weekend and afterwork hours to plan our wedding.
Then, double check if your wedding venue can carry out your plans. For example, for my sister's wedding, we had trivias using screens and projector as guests answered holding up signs. I wanted to do that in my wedding too, but being outdoors and having the noontime sun, it's not ideal for guests to participate. So, I accepted the fact that projecting trivias isn't right for us. We adapted it and held a drawing trivia on the stage instead.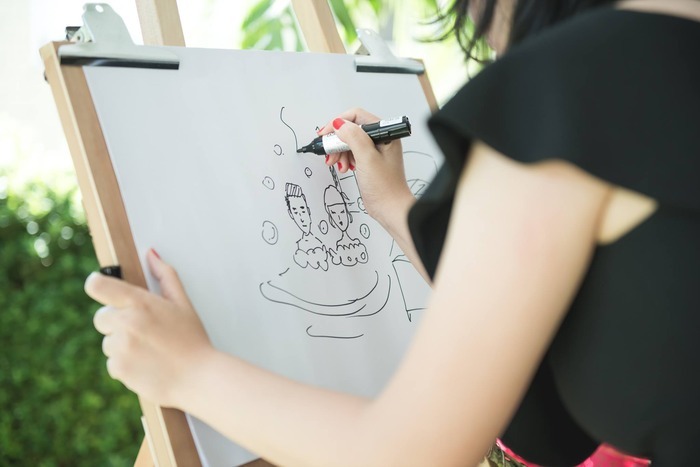 The experiences we designed for wedding guests 
A theme throughout
We both like plants and had it as our theme for the wedding. We used monstera leaf plant and ruffled fan palm as main visuals on both the wedding invitation and our xibing (traditional Chinese wedding cake) placard designs. They matched our reception planter decorations really well.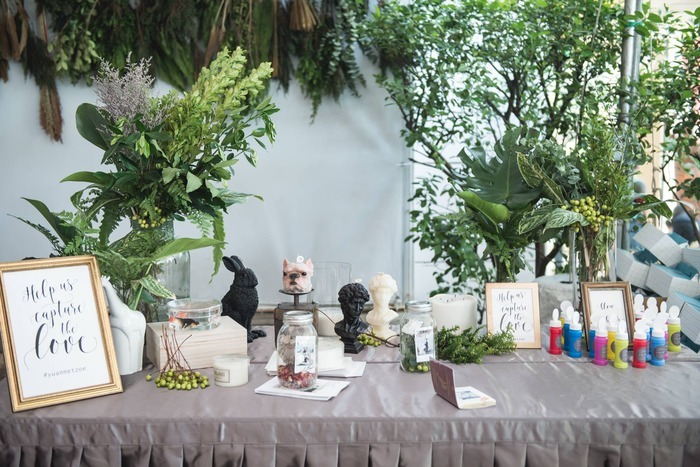 ▲ The reception table
Hashtags and GIFs
We provided a designated hashtag for guests to post on Facebook and Instagram so that all the photos are organized into one place. Common wedding hashtag may look like these: #THECHANGSWED, #YTZXWedding2016, #YuanZoe16, etc. In the end, we chose #yuanmetzoe.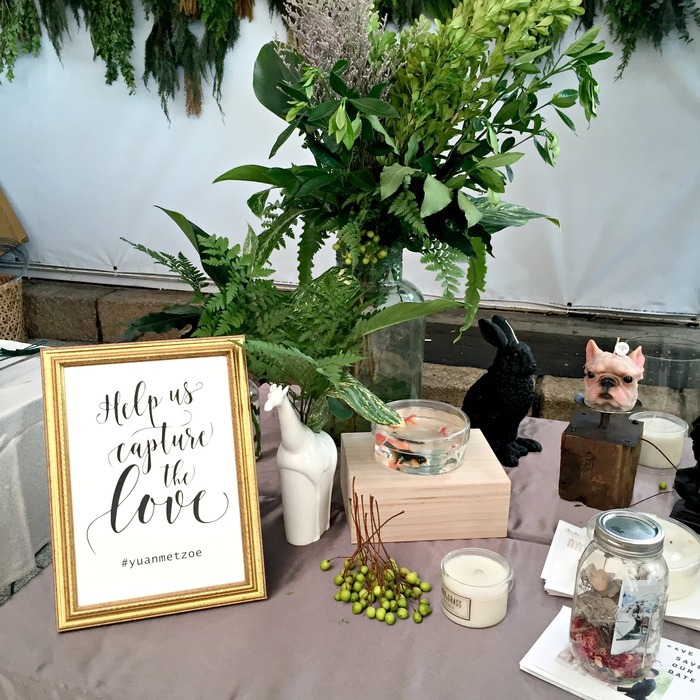 Source:ohmoimoi
Crafty Polaroid wedding photo album
We made an album by exporting our wedding photos as Polaroids and putting them into an album we got at Safari World, the Thai photography studio where we took our wedding photos. There are many online services to print Polaroid style photos for less than US$1 each. It's a budget-friendly choice!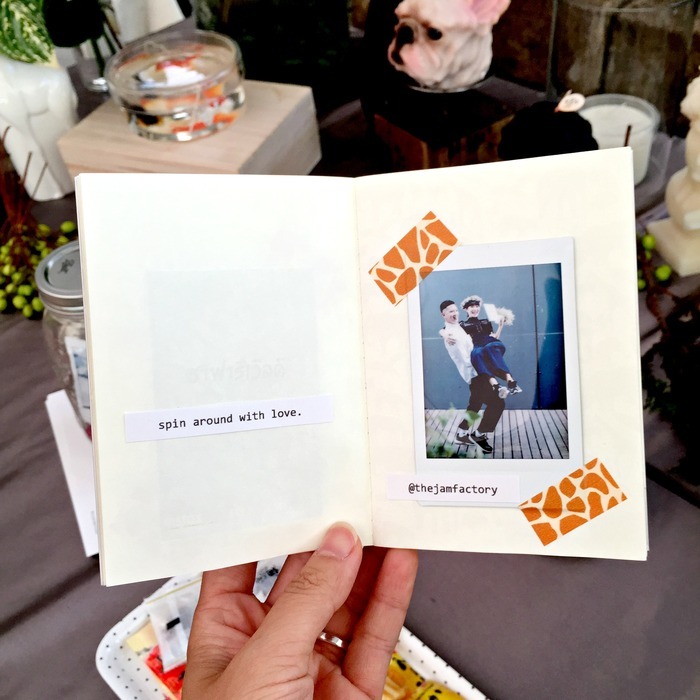 Source:ohmoimoi
One-of-a-kind wedding cake
Our faux wedding cake was decorated with 16 year's worth of giraffe collections, and put together by the whole family on the night before, making it extra special.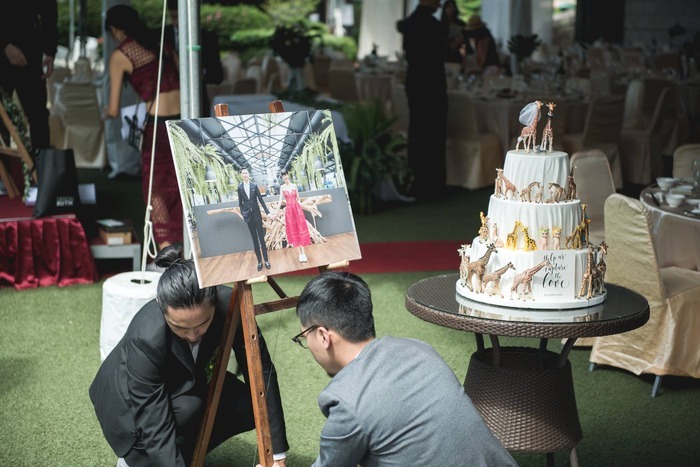 Sign a Jenga Piece
Instead of the traditional guest signature cloth common in Chinese weddings, we had guests sign Jenga pieces to help us build memories together.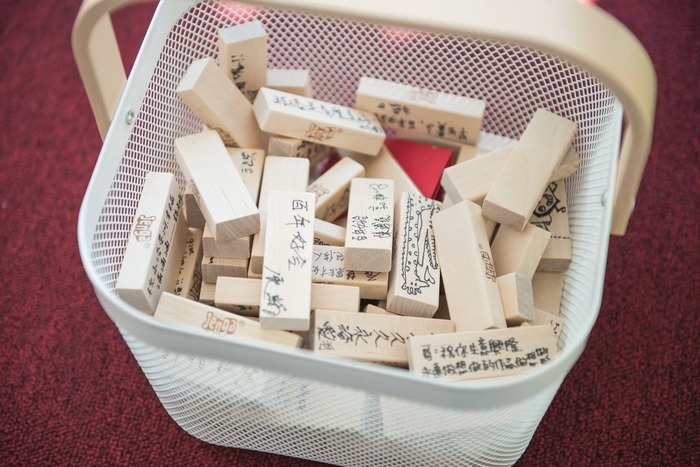 Mason jars decoration
We put dried flowers and eucalyptus leaves along with Polaroid prints in mason jars, and they make great decorations!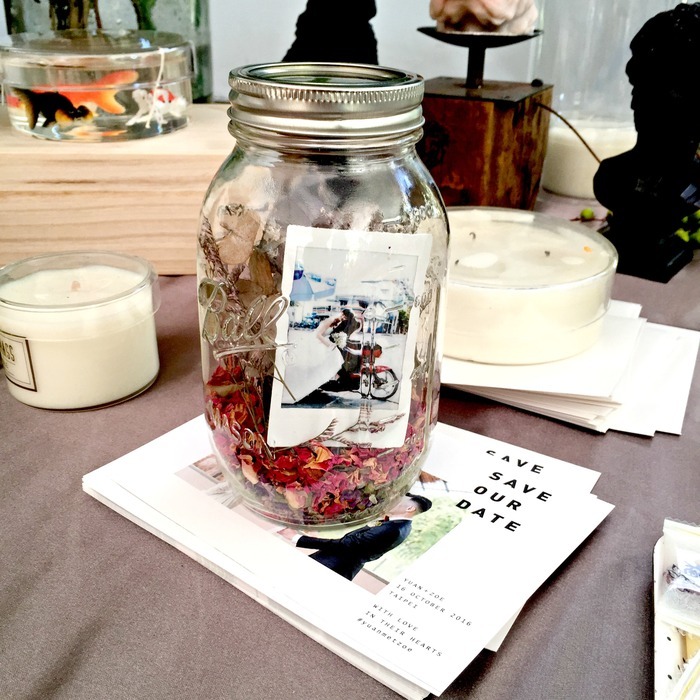 A bouquet for every lady guest
Throwing the bouquet can only make one girl feel special, but I want every guest to feel the love and share the joy of with her own bouquet! Therefore, we prepared several leafy bouquets so that a lot more fun and joy are added to our group photos.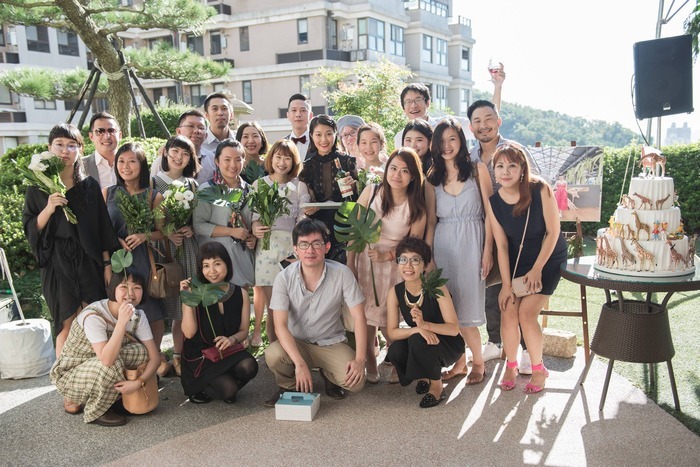 ▲ The Pinkoist squad
What are some final advice for the bride and groom-to-be?
I'm lucky that my husband isn't an emotional person. Even though I kept firing the f-word during the stressful planning, he never picked a fight with me. Instead, he would say, "You're really silly, Zoe. We're planning our wedding and we should be the happiest people of all! Why put yourself in such anger? We should be happy all the time." Thinking back, these words were the absolute truth!
Do not get emotional and fight with each other because of your wedding! Don't use hurtful language on each other. Remember, every bit of it is part of the memories you are creating. Enjoy the creative project that you only get to do once in a lifetime with each other! Best wishes to you all!
Wedding season inspirations
► ► ► 8 Weddings in Movies Celebrating the Rite of Passage
► ► ► 10 Romantic Summer Dresses for Every Special Occasion
► ► ► Featured Shop | Ariel's Bouquet and Bear 
Text: Zoe
Translation: Melissa