Once a Bullet by AOI swimsuit grabs your attention, you won't be able to take your eyes off of it! Known for fashion-forward styles in various cuts and silhouettes as well as stellar customer service, Bullet by AOI is a graduated "Army of Interns" hailing from New York's Parsons School of Design. Now based out of Thailand, they bring you a swimwear fashion show every summer. It only helps that Thailand is hot year-round, providing the best stage for Bullet by AOI's swimwear designs and testings.
From 2018's sneak previews to the story of the Army, designers Mintz and Chung are sharing with us all you need to know about Bullet by AOI swimwear!
1. Sneak peek, please! What should we look forward to from Bullet by AOI this summer?
We definitely stepped out of our comfort zone.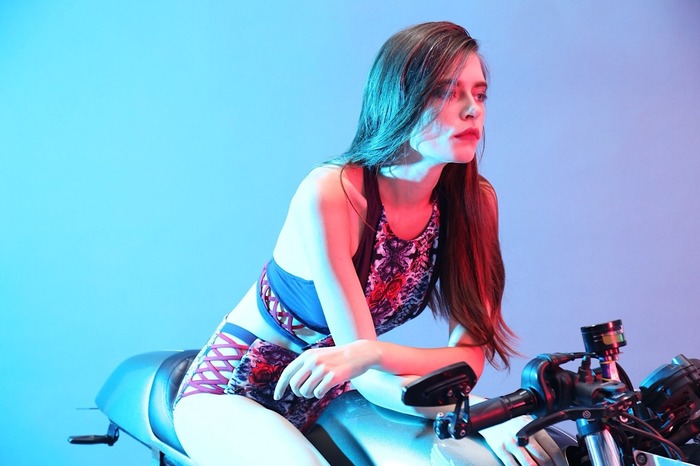 Our Spring/Summer 2018 collection is all about prints and new silhouettes. We want to show a more mature side of our brand. Sexier, more grown up and sophisticated, but still young and trendy. We also experimented more with embellishments. We definitely stepped out of our comfort zone for this collection.
2. Tell us more about Army of Interns! Who is Army of Interns?
Army of Interns started after we graduated from Parsons The New School for Design in New York. The name is actually an inside joke about us interning at different companies during our school year. When decided to start a company, we thought that this name will represent our hard-working young souls that strive to bring new and fresh ideas to the industry.
As for the "signature hardware" we're proud of, Chung came from a family that have been making jewelry for generations. Therefore, he really appreciates the craftsmanship of creating hardware. All of the hardware in our swimwear are hand-lasered with our brand name. We try to put as much detail as possible into our designs and crafts.
3. What new designs or trends are you looking forward to the most this summer?
The 2018 color of the year of is Ultra Violet. Therefore, we are so excited to play with different shades of purples and prints. And since we are working with swimwear, we want to create floral designs with a more masculine feel because we're planning to branch out into menswear in the future.
4. How does your swimwear complement a woman's body and style? Any tips on choosing the right size for international customers?
Our designs uses several materials, prints and colors to create illusions that emphasize and complement a woman's body. We also like to explore with different ways that our customers can wear our products. It's always nice when they can get two or more styles from one product.
It's the same with sizing. Most of our products have adjustable closures. The tip for choosing the right fit for your swimsuit is to choose fitted over going up a size, because swimwear usually expands a little bit more underwater. Therefore, it's best to get a fitted one, or you can always consult our customer support. We're always here to help.
5. How did learning at Parsons influence your designs?
Parsons didn't influence our designs; instead, it influenced the way we work. We have a systematic way of creating a product, from finding inspirations to trend research to R&D to finishing. We also learned to differentiate our design and marketing by separating our beauty products from our more functional products.
6. Which is your best-selling swimsuit and why?
Our best sellers are the Classic Collection. With the monochrome color palette, it's easy to style, it's minimal and modern, and it can be worn both in summer and fall. The Collection includes four different styles for different types of women including bikini, cropped, with sleeves, and one-piece.
7. Tell us about how beach days are part of your lifestyle.
Since Thailand is always hot, it seems like every day is a summer day. Also, Mintz swims every morning—it's a part of her workout routine. Therefore, almost every time we have new designs, we will test it out in the water. Our pool days influence our new designs and they're also a part of our routines.
8. You have so many cool swimsuits! How do we choose the right one?
First, we always recommend our customers to choose our swimwear by the silhouette. It really depends on your lifestyle. If you are a serious swimmer, we usually suggest our Parallel Line set or Starry Night suit, since these are our two most fitted and comfortable ones.
But if you want something that shows a little more skin and is good for a light swim, our Tear Diamond set is also one of our best-sellers. They come in many colorways: solids, brights and prints.
And of course, if you have more questions, our team is very familiar with our brand's sizing, production and silhouettes so you can always send us your questions and concerns. We always include pictures of genuine customer reviews and detailed shots that may help you decide your purchase.
Beachwear is here!
► ► Featured Shop | Maillot Co Swimwear
► ► Thai Swimwear Brands are Killing it! 9 One-of-a-Kind Swimsuits from Thailand
► ► 6 Styles to Cover Up at the Beach over Your Swimsuit
► ► 8 Picture-Perfect Beaches in Thailand for your Maillot Co. Swimsuits
Edit: Melissa