If you don't already own a summer scarf, Siwa-arporn will make you want to get one and many more! Featuring the iconic Keukenhof garden collection, ocean and monsoon themes and also the latest Indigo Blue patterns, Siwa-arporn scarves are versatile and come in many styles and colors. Finding your favorite would be like trying to find your way through a garden maze with flowers in full bloom.
It's inspiring to learn that designer Siwa runs her own brand and creates beautiful sketches, experimental processes and photography by making the most of her surroundings. It seems as if she can turn every travel experience into a physical piece of creativity. Now, we finally have the chance to take a peek behind the scenes and listen to Siwa tell her own story!
Siwa comes from my name Siwaporn. Aporn in Thai means fabric that can be worn.
1. What is the most classic piece of work from Siwa-arporn?

▲ The Keukenhof Scarf in black
We have three scarves that can all be considered classics:
1. The Midnight scarf. This is our first scarf and can be called our bestseller of all time due to the perfect combination of gradient borders, pencil animal drawings and watercolor. We use the designs from this scarf in our logo.
2. The Classic white scarf. This one has a soft white color tone created from watercolor paintings of jasmine flowers and can be used by everyone for every occasion..
3. The Keukenhof Black Scarf, the scarf that made Siwa-arporn well known on Pinkoi. This scarf has vivid colors and so many flowers. Most people buy this scarf because it makes you look stunning in photos!
2. What is your favorite botanical to use in your designs?
I love to use classic flowers that have a good meaning. For examples, everyone knows to give roses to someone you love on a special day. Instead of a real rose, they can give our scarf, which will not wither and can be used in different ways.
Jasmine is another flower we use a lot because it is the traditional Thai flower for Mother's day and it also has a great scent. Moreover, the color of jasmine is white so it is easy to blend into every scarf design.
Hydrangeas are my favorite flowers. I saw them in Hokkaido and fell in love with their beautiful color gradient. When put on fabric, the color shades really nicely!
3. How do you turn a concept into paintings and then into collages and patterns?
Let's take the Love Bird collection for example, which we created for both Valentine's Day and for our summer collection.
First, we tried to find elements that represent both. We chose flamingo, the bird of love and good relationships that lives in areas with abundant water and plants.
Then we drew couple of flamingos with romantic elements such as hearts, flowers and ivy.
After that, we take photos of the drawing and put them into the computer, using Photoshop and Illustrator to create the scarf.
When creating a scarf, we're concerned with what kind of overall pattern customers will love to use. We decided to put flamingos on the bottom and ivy on top. As a result, the scarf can be folded to show the ivy and flowers side or the flamingos side.
We made three color themes for this collection: pastel, violet and black.
4. What are your favorite inspirations?  
I travel a lot to many cities to find inspiration for my work. One time we visited Hokkaido and went to Asahiyama zoo, which inspired us to create the Safari scarf. At the Tomita Farm, famous for lavenders, we saw dried flower aroma oils and decorations in a shop, which inspired us to create the Provence scarf by taking photos of dried flowers and arranging them into a design.
When we studied graphic design in the UK, we saw the works of artists who created their work from sequences of photos at Tate Modern, our favorite museum. That inspired us to make the Landscape Collection which includes the Everest, Arctic, Blue Everest, and Sahara scarves.
5. Where in Thailand did you take your photos?
We took most of our lookbook photos in places we are familiar with, such as our neighborhood alley or backyard garden, since we use a lot of time to create the photos.
For the Love Birds scarf, we took photos in front of my house and the model is my sister!
We took photo for the Amazon scarf at the garden in our condo which has a beautiful green area and a pool that we used in our summer collection.
6. Do you suggest styling the scarves folded or spread out?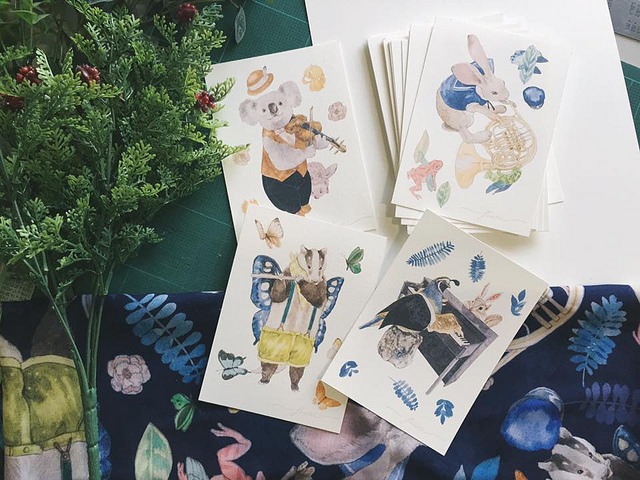 1. Some of our scarves, such as the We Are Happy Animal scarf, can be used in 4 different ways because we put different elements in each corner.
2. Scarves that have an abstract pattern are good for wearing in a crumpled style, which makes the colors more interesting and more sophisticated. For example, the Everest scarf or the Monsoon scarf.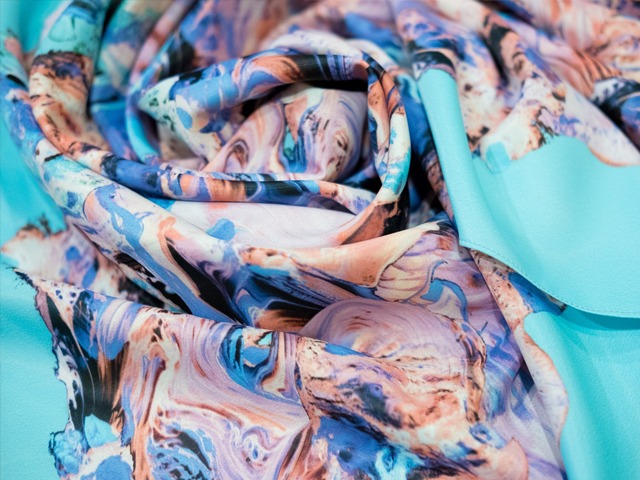 3. The scarves that have a fully printed story are good unfolded because this creates more impact. For example, when the Caribbean scarf is unfolded, you will see the star in the center.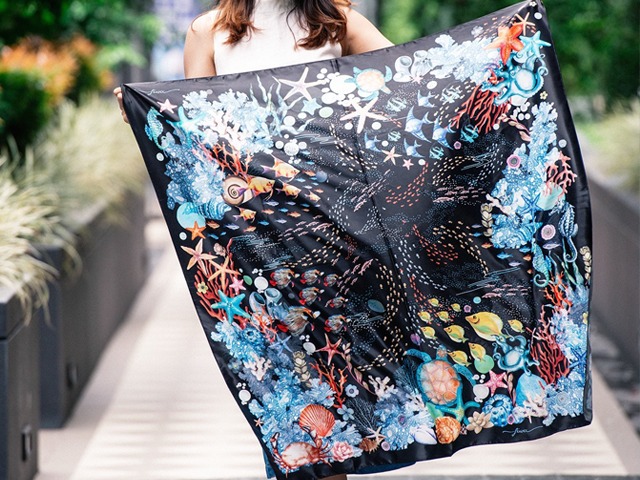 7. How are the scarves printed and how do we care for them to make sure the beautiful prints last?
After we design the scarf and transfer them into digital files, we print the scarf on specific papers using eco-friendly ink that is not harmful to the skin.
Then, we cut the scarf fabrics into sizes that we want. We have two types of fabrics, Japanese chiffon for watercolor patterns and Thai satin for solid patterns. After that, we transfer the ink from the paper to the fabric by heat, piece by piece.
Finally, we sew the borders by hand and put the scarf into our handmade packaging.
Taking care the scarves is very easy: just hand wash them in warm water; the color will not fade!
8. Is there a customer story that touches your heart? Please share it with us.
I can think of two stories that happened recently.
We have a lovely customer who buys almost every one of our collections. Last Valentine's Day, her daughter wanted to give her one of our scarves as a gift. So, her daughter was saving money everyday and surprised her with our Safari Scarf! I was very impressed and very happy too.
Also, last month a customer from Japan came to buy many scarves from us in Bangkok. He told us that last year, he bought a scarf from us, and when he returned home to Japan, his daughter gave him a gift—which turned out to be same scarf that he bought! At that time, neither of them knew about Siwa-arporn, but now they are our lovely VIP customers. We are very pleased and am so glad to have met them.
Both stories inspire us to continue making more beautiful scarves and patterns that can bring joy and happiness to our customers.
More Featured Shops of women entrepreneurs
► ► Cocomojo Luxury Bags Founder Interview: Wendy Mak's Magical World
► ► Featured Shop | Makers Gonna Make Comfy Apparel
► ► Featured Shop | Maillot Co Swimwear
► ► All-Natural Clothing and Bags from Thailand | Featured Shop: Katji
Edit: Melissa