Ah, love. The mysterious, transformative power that shows us the amazing spectrums of life!
February is approaching, roses are blooming, and surely love and romance is on your mind. What is the heart asking from you?
Whether you're single, taken, or rather-not-say, Evelyn's tarot reading can show you what your heart truly desires this Valentine's Day.
Based on your intuition, pick one card that attracts you the most. It will point out how to create the love life you want!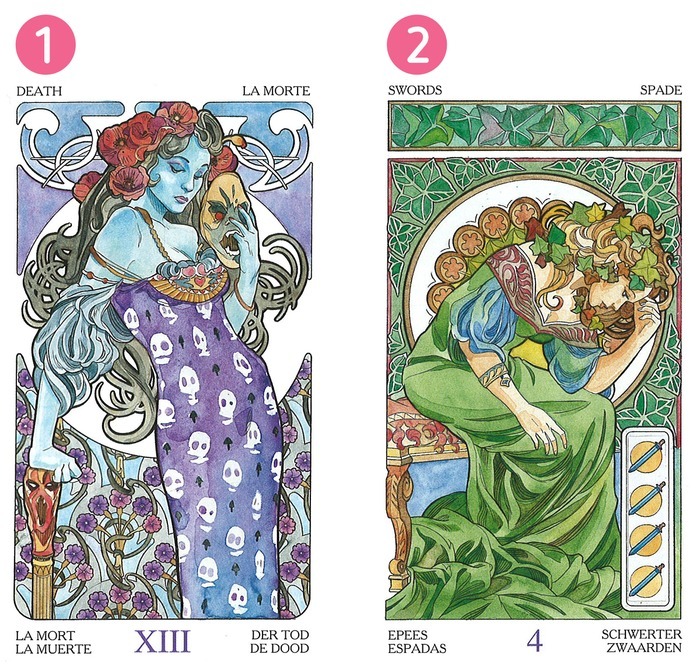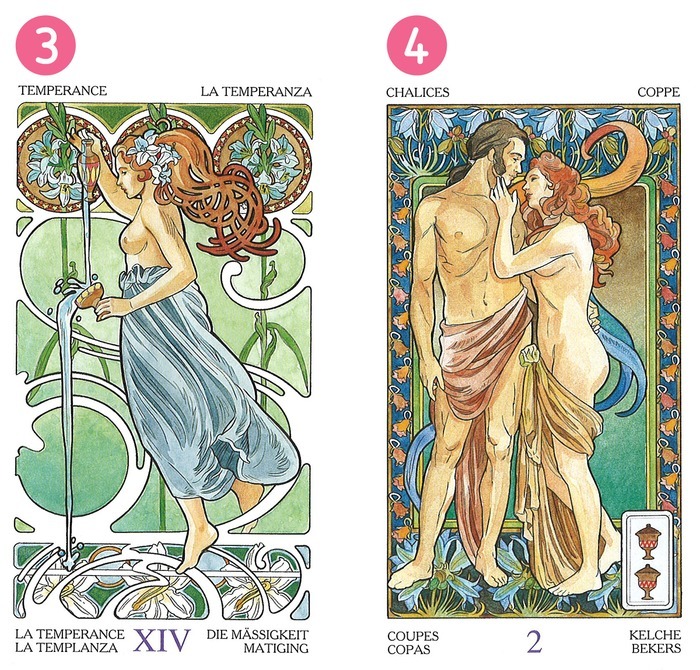 ➊ If you've chosen… Death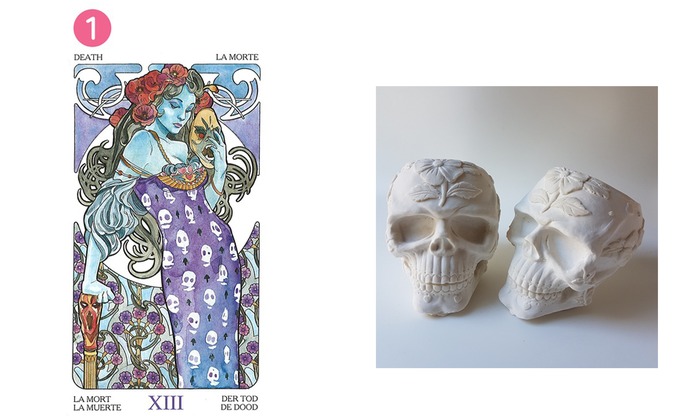 Shown: Skull Diffuser
If you're in a relationship:
You might need to freshen up your relationship! To do this, try to lighten up, relax and surrender to what life has to offer. Do not resist change; instead, go with it. Just like a caterpillar transforming into a butterfly, you need to let your relationship evolve to enter the next stage. Care for yourself and believe in yourself! Sometimes, it's not that the others who are changing—it might be you who is growing and therefore developing new perspectives.
If you're single:
Let go of the past, whether it's been good or bad. When you're willing to say goodbye to the past, the universe will know that you're ready for new things and new people to enter your life. Before they arrive, take some time to get yourself together, and detox from the inside out getting rid of all the things you don't need. Then, you'll look your best as you look forward to new beginnings, like a spring flower eager to explore the new world.
➋ If you've chosen… Four of Swords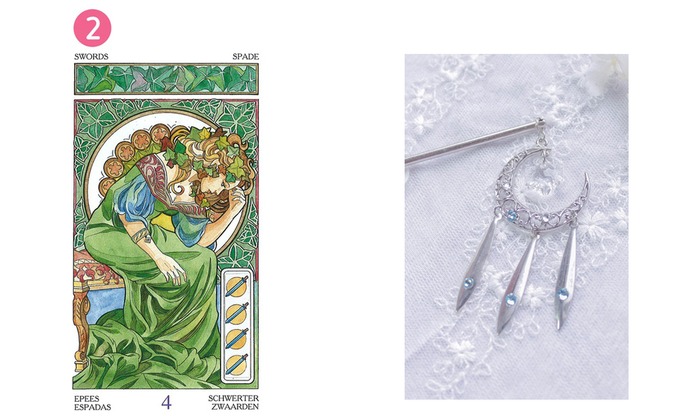 Shown: Ice Blades Hair Pin
If you're in a relationship:
Are you getting too comfortable? Seems like the sparks are fading between you. Don't turn a blind eye to it either: your significant other needs your attention, and ignoring it or running away will only continue to keep the relationship stuck in a rut. Do you remember what he/she is passionate about? Arrange a surprise and assure your S.O. that love is still flowing between you. A relationship needs constant refreshment to remain healthy and alive.
If you're single:
Have you been hiding out for a long time, lost anticipation for romance, even reluctant to put in some effort? Staying in your own little world is no way to find romance! Get yourself together and head out so that people can meet you. Also, it's possible that someone nearby has feelings for you, but you still need some time to think it through. If that's the case, take your time until you are ready to let love in!
➌ If you've chosen… Temperance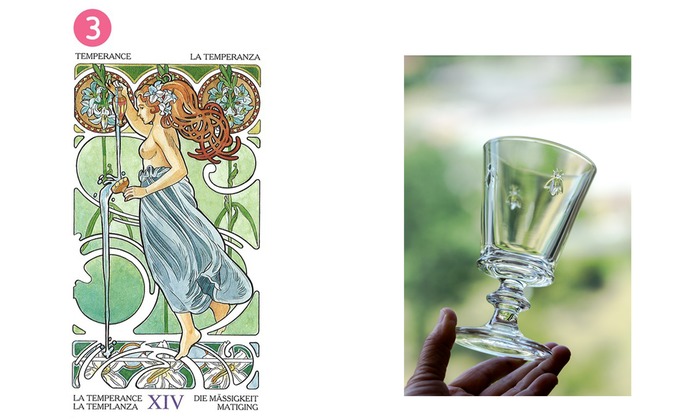 Shown: Carved Bees Glass Goblet
If you're in a relationship:
Go on a coffee date with each other, and have a good talk over something sweet. Your relationship has room for improvement, so don't overlook the importance of communication. Be sure to make time specifically for each other. If there's something on your mind, speak up. You have to understand each other to truly accept each other, so learn how to communicate your feelings honestly. Writing a letter to each other or going on a date to do something you both enjoy will help you take your relationship to the next level. 
If you're single:
Is it important to you that conversations flow freely between the two of you, and you prefer starting out as friends? You are observant of details that tell whether or not you are for each other. Thoughtful observations can be important for coaxing friendship into love! Before the fated one enters your life, use your time wisely to work on yourself, and be patient. When you know what you want in a relationship, you'll naturally identify the one out there in the crowd.
➍ If you've chosen… Two of Cups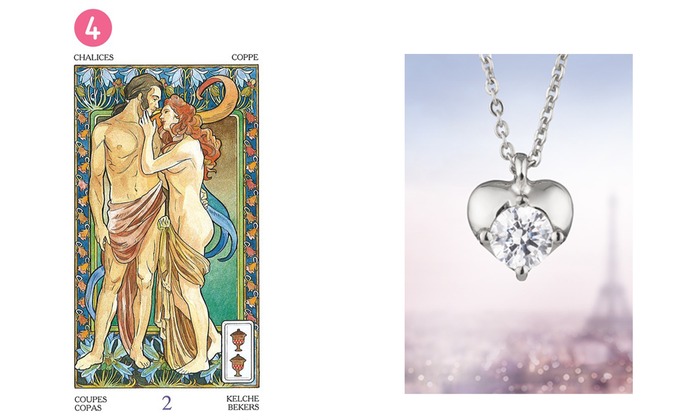 Shown: Swarovski Necklace
If you're in a relationship:
Aw, how sweet you are! No matter how long you've been together, it's as if you're still on your honeymoon. You are everything to him, and everything you do is significant to each other. You probably even smile without noticing when you think of each other. Enjoy this tender relationship! No gift is as important as you being next to each other.
If you're single:
Who are you thinking of right now? Chances are, there is already someone in your life who keeps you hanging on to your phone, waiting for the next text message. Romance is in the air, and you're only that close to being official. If you're too shy to be the one to bring it up, give a hint so obvious that anyone can pick it up!
About Evelyn's tarot deck, the Tarot Art Nouveau
Isn't this tarot deck beautiful? The delicate curves and colors draw you into the lush, romantic imagery of art nouveau from the end of the 19th century. Since we're doing a love tarot reading, Evelyn intentionally chose this deck with gorgeous Alphonse Mucha style illustrations to have us feel surrounded by love and romance.
We chose a card too. Now all we have to do is open our hearts and enjoy the lessons of love! Happy Valentine's Day!
Open your heart and believe <3
► ► 10 Heart Themed Valentine's Day DIY Ideas for Office, Home and Dates
► ► Feeling Unromantic? Consider these Valentines Who Need Your Love Too!
► ► Tips for Two: What to Wear on Valentine's Day
► ► 7 Long Distance Relationship Gifts that Keep Your Love Strong
► ► Love in the Cosmos: Qixi, the Oldest Long Distance Love Story
► ► Top 10 Romantic Movies to Watch Again for Valentine's Day
Text: Melissa