Stationery may be a tricky category to gift: they are inexpensive, paper thin, and a little too easy to buy and use up, so they are often considered commodities rather than presents. Well, that's not the case anymore!
Stationery is special for those who love it (just count the numbers of brand-new journals we've collected on the bookshelf). Here, we have a good number of stationery gifts that are packed with variety, functionality, and artwork—not to mention free gift-wrapping! So yes, with the right combination, stationery makes an impressive gift!
If you know someone who loves paper and stamps more than gadgets and jewelry, look no further—their gift is here!
If they love variety packs…
The fox stickers in this Hello Studio set is printed on washi paper, and the matte finish fits right in on a journal page. So fun and relaxing to decorate with!
Set includes: 1 pack of fox candy, 1 Christmas card, 1 fox washi sticker sheet, 1 canvas pouch.
Packaging: inquire designer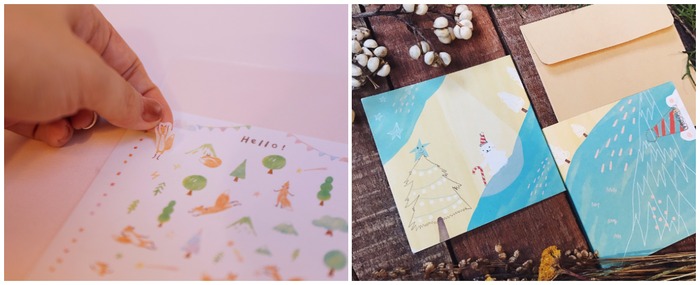 This value pack is filled with Paulina Paulinum's feel-good illustrations in planet theme.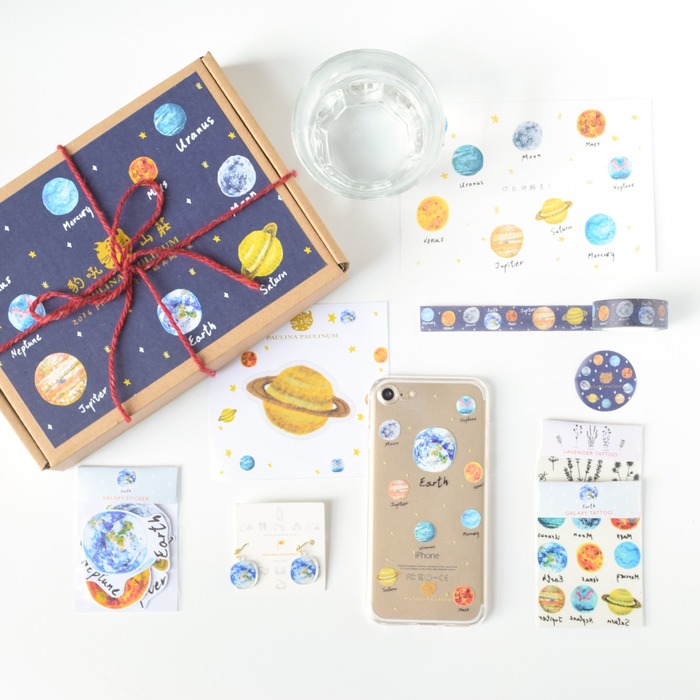 Set includes: Phone case x1 + earrings x1 + paper tape x1 + temporary tattoos + postcard + planet sticker pack x1 + static cling sticker x1
Theme: Planets
Packaging: gift-ready space theme packaging (or inquire designer)
See also: Garden Postcard 13-Pack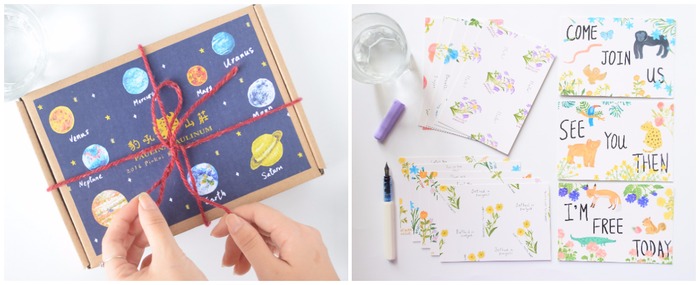 Everything about cats you can think of is in this 11-piece cat stationery variety pack with a focus on stickers. Every sheet and every postcard is in different designs.
Theme: Cats!
Set includes: 1 notebook, 2 postcards, 4 sticker sheets, 2 uncut sticker sheets, 2 washi tapes
Packaging: gift-ready packaging
Out of the three  Yohand holiday sets, we love the cute idea of including socks in a stationery pack in Set B!
Set includes: 2 postcards, 1 brooch, 1 large die cut sticker, 1 sticker pack, 2 pair of socks
Packaging: holiday gift-ready theme packaging
See also: Yohand Girl Washi Tape 5-Pack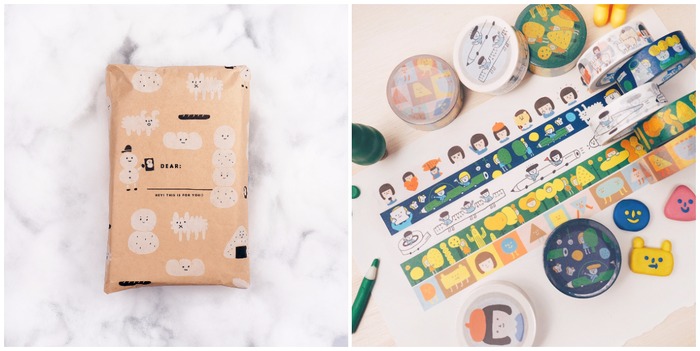 Choose from one of three Lonely Planet's washi tape themes—cityscapes, alien plants, and mixed prints—to go with their 2018 table calendar.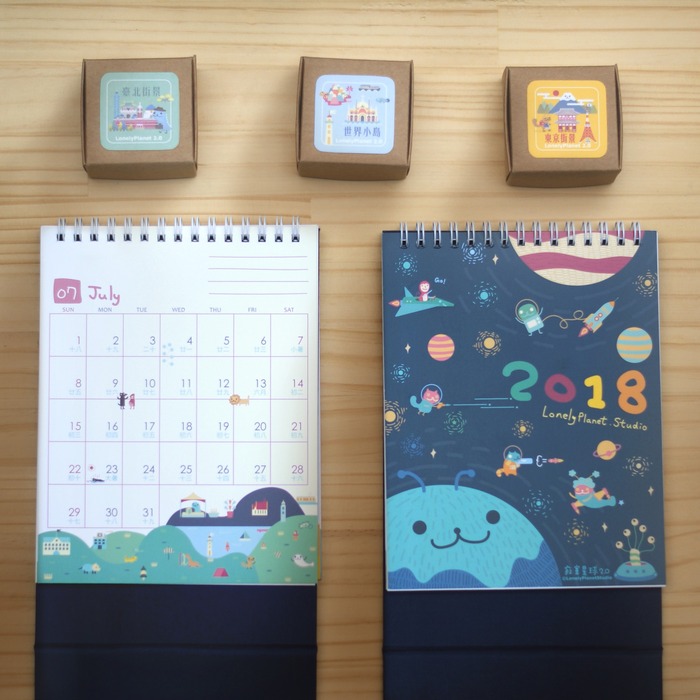 Set includes: 3 washi tapes, 1 table calendar.
Packaging: holiday gift wrapping
See also: Calendar and Postcards Set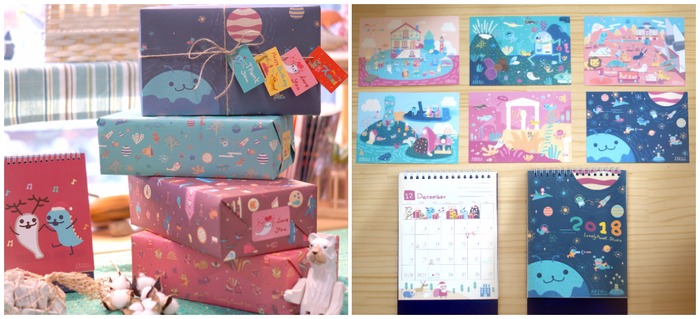 If they love specific stationery…
Drawing inspirations from the guests at La Dolce Vita's stationery shop in Changhua, Taiwan, La Dolce Vita offers this satisfying tin of 30 girl stickers.
Set includes: 30 girl stickers
Packaging: Beautiful branded tin for you to wrap
See also: Go all out with the 140 piece set!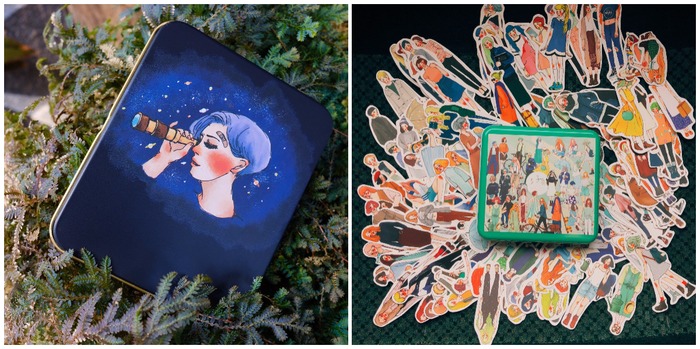 In this set from Meow Meow Star, you'll find 12 different themes of girl stickers, from head-to-toe styles like kimono and daydreaming to portrait themes like garden florals and coffee shop.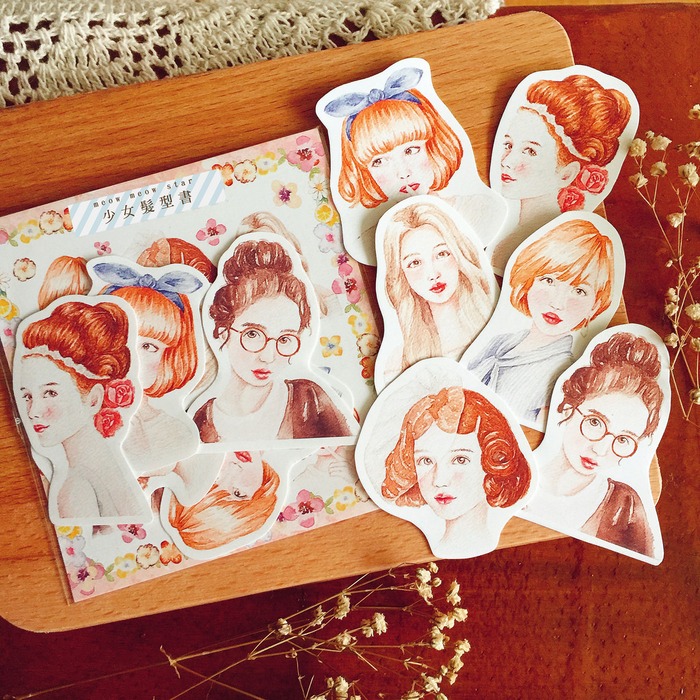 Set includes: 12 die cut sticker sets (total of 107 pieces)
Packaging: gift-ready packaging
See also: Animal Variety Pack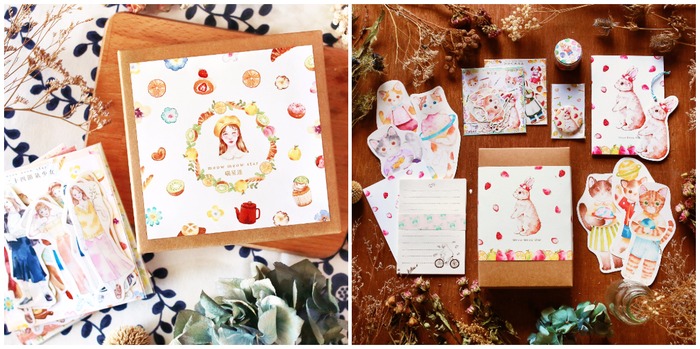 You'll find 4 rolls of popular wide 3.8mm garden theme Hoppy washi tape in this beautifully packaged gift box!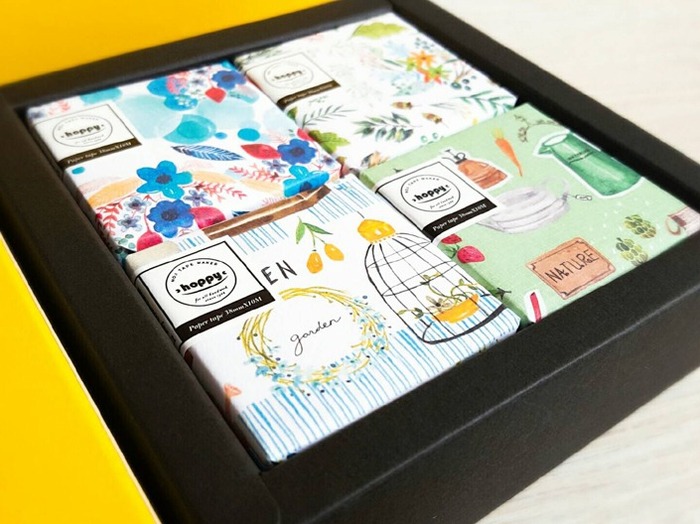 Set includes: 4 packaged washi tapes
Packaging: beautiful branded box for you to wrap

If they love functionality…
B'nottee's undated 2018 planner is a set of four quarterly planners, so you'll only have to carry 3 months with you at a time. Plus there are stickers for the dates and for Malaysian holidays.
Set includes: 4 quarterly planners, 1 2018 calendar stickers sheet (66pcs)
Packaging: wrapped in designer handmade fabric.
Have you ever heard of teabag postcards? Offered by the Taiwanese tea brand 7Teahouse, this is a set of four bags of tea in the size of postcards, available for mailing. It features tea from the four regions of Taiwan.
Set includes:4 packs of teabags for mailing
Packaging: free holiday gift-ready packaging
If they love you…
Make them a handmade explosion box packed with surprises and your memories together! This 3-layered box is choc-full of 10 details, inserts and a center box for you to customize.
Set includes: a pre-made 3-layer explosion box
Packaging: The explosion box is a packaged gift!
See also: 4-layer Explosion Box
These gifts should satisfy all the stationery lovers on your list! To browse more, browse all free gift-wrapping stationery products on Pinkoi!
Remember, for stores that offer holiday gift-wrapping, be sure to double check their individual policies and options!

Season's greetings! Buy gifts on Pinkoi by budget, shop personalized gifts, choose from Pinkoi's beloved classics, and give gifts worth remembering!
Plus, every day until 12/25, play our scratch game and win cash rewards for all your holiday shopping.
Unique paper goods for this Christmas
► ► 5 Christmas Gift Wrapping Ideas with Winter Holiday Washi Tapes
► ► 10 Unique Christmas Cards People will Really want to Receive!
► ► 15 Serious, Hilarious & Most Wanted Secret Santa Gift Ideas Under $25
► ► Christmas Shopping Done Right! Indie Asian Brands that Ships Under $5
► ► Top 10 Asian Planner and Japanese Stationery Brands for Planner-Holics
► ► Planner Girl Top Picks! 10 Must-Buy Stationery and Sticker Brands
Text: Melissa