Tartines are easy to make, beautiful to look at, and especially appetizing in the warm weather. The best part is it takes just a few ingredients to fully savor the produce flavors. With superfood as ingredients, like figs, kiwis, artichokes and more, you only need bread and five minutes to make a delicious and nutritious open-faced sandwich for brunch and picnic!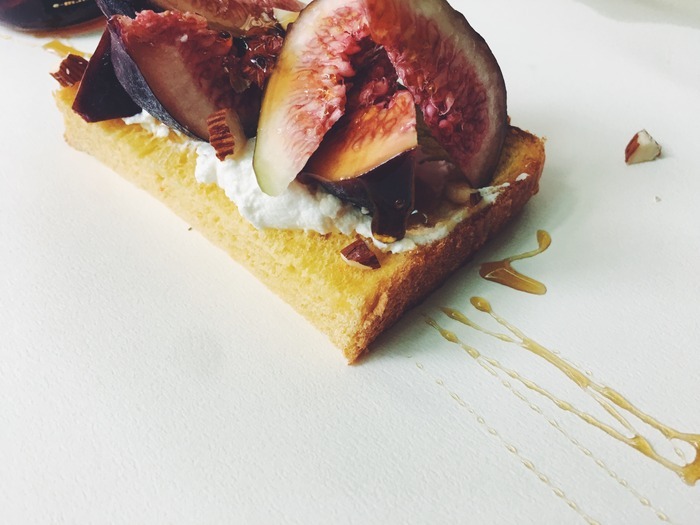 These two tips about bread and cheese will get you started:
1. Bread: Freeze any portion of bread you can't finish right away. When you're ready to eat, just cut a few slices, spray on some water and toast for five minutes. They'll taste like a fresh loaf!
2. Cheese: Cheese is often an essential in tartines. Soft cheese like ricotta lasts shorter in the fridge, so finish it as soon as possible. Harder cheese like Grana Padano lasts longer as long as you wrap it tight or put it in a sealable bag or container.
1. Chocolate Kiwi Ricotta Tartine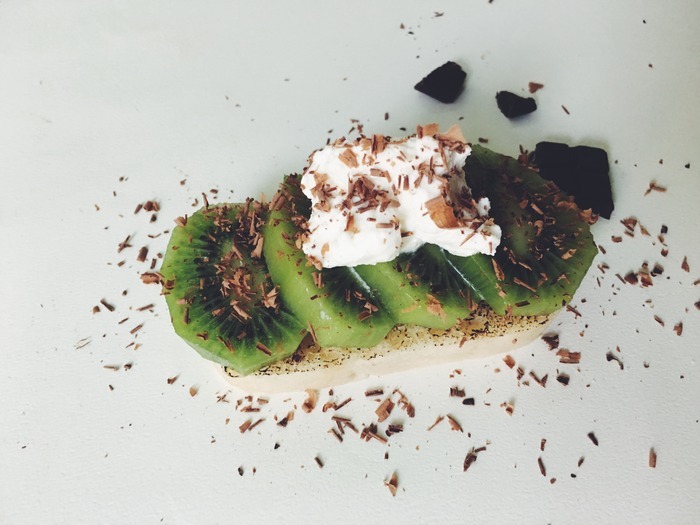 Ingredients: Chocolate (chopped or shaved), kiwi, ricotta cheese, challah
Kiwi's superfood nutrients:
Vitamin C, pectin, tannic acid, vitamin B complex, more vitamins, diverse micronutrients, dietary fiber.
☆ Tip:
Fresh, soft bread pairs best with fruit ingredients. Toasted bread might be too crunchy against the soft fruit slices.
2. Smoked Salmon with Tartar Sauce Tartine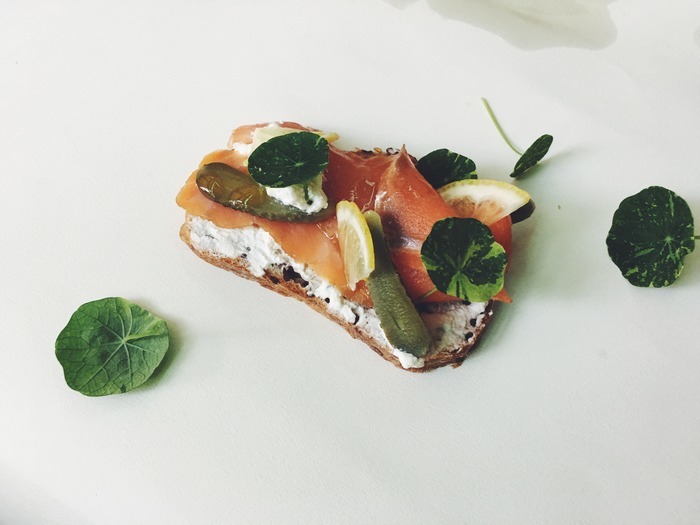 Ingredients: smoked salmon, lemon slices, green tea-infused cornichon, tartar sauce, Nasturtium leaf
Salmon's superfood nutrients:
Proteins, Omega-3 fatty acids, calcium, iron, zinc, vitamin B complex.
☆ Tip:
Tartar sauce in its simplest form is mayonnaise, egg, relish, and minced onion blended well. Store in a clean jar and it'll keep 3 to 5 days.
3. Serrano Ham Tartine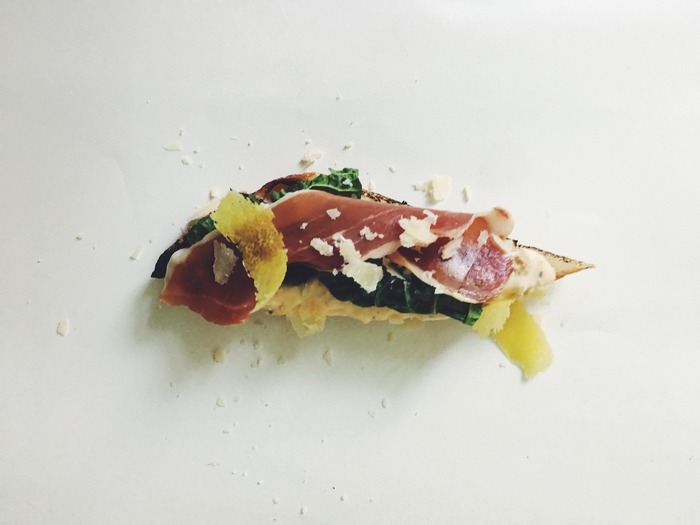 Ingredients: Serrano Ham, kale, Grana Padano cheese, lemon zest, ricotta cheese
Kale's superfood nutrients:
Rich fiber, potassium, vitamin C, vitamin B6, calcium.
☆ Tip:
It's ok not to finish the vacuum sealed Serrano ham at once; just pack it tightly with plastic wrap. But it's still a good idea to eat it fresh when it taste the best!
4. Fig and Mascarpone Tartine with Truffle Honey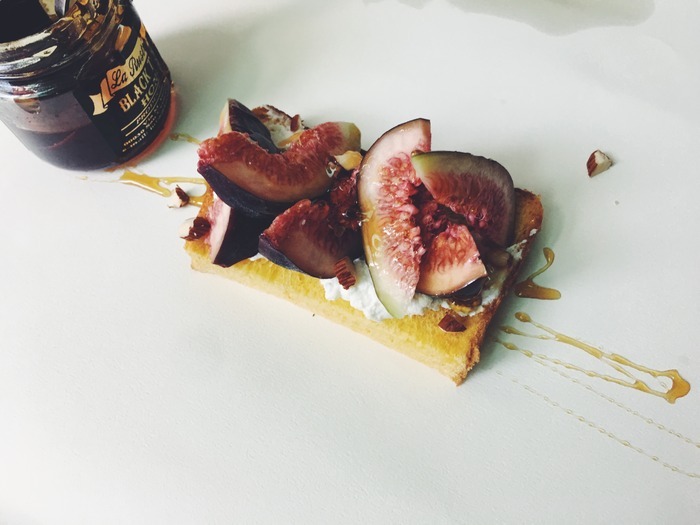 Ingredients: truffle honey, fig, mascarpone, chopped almonds
Fig's superfood nutrients:
Citric acid, quinic acid, carbohydrates, proteins, amino acids and cellulose.
Honey's superfood nutrients:
Mineral salts, vitamins, microminerals and amylase, oxidase, reductase, glucose and fructose.
☆ Tip:
Grab the figs when they're in season! Drizzle a little honey over figs cut in half—they taste heavenly. Mascarpone pulls everything together with its velvety cream aroma. You can also use ricotta as an alternative.
5. Spicy Anchovies and Artichoke Tartine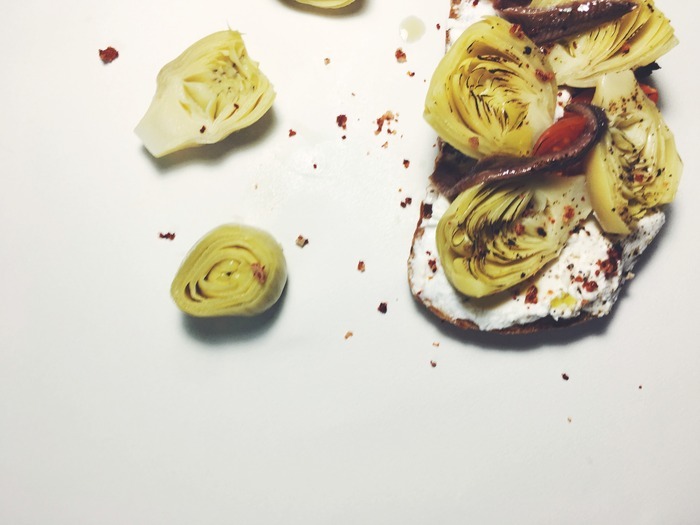 Ingredients: artichokes, anchovies, cherry tomatoes, red pepper flakes, sea salt, ricotta cheese
Artichoke's superfood nutrients:
Rich cynarin, silymarin, bitter principle, polyphenols, caffeic acid
☆ Tip:
Artichokes are very healthy, but it can be a hassle to prepare. Canned artichokes marinated in salt and olive oil do keep a similar texture and possibly more flavors.
Anchovies are very salty, but you can always ask if there are low-sodium anchovies available. As people get more health-conscious, more low-sodium anchovies from Europe has become available that are more gentle for the palate and the body.
With these superfoods, it's easy to make a simple meal that's packed with nutrients. Which one will you be making?
Springtime appetite
► ► ► The Proper Way to Make Cold Brew Tea
► ► ► Make Your Own Pomelo Tea and Spread
► ► ► 5 Dishes from Asian Moms that Define the Taste of Home
Text/Photos: P&P Food
Translation/Edit: Melissa