Valentine's Dayis not just reserved for your significant other. Be open to signs of love, and you'll find that it is all around! Here, we have 4 designers from Hungary, Malaysia, and Korea who want to talk to you about love!
Whatever is happening in your love life right now, their stories will help you to affirm your belief in love and help you to cherish all of your relationships for a sweet Valentine's day.
"Maintaining a long distance relationship requires a lot of trust and belief in each other."—Kaze
Anyone who's been in a LDR knows that every success story lights up hope for another couple. Kaze runs her shop, PeeknBoo, from Malaysia, but she found herself in a long distance relationship with someone in Spain. 
I met someone who put sunshine and rainbows into my life every day. Happily, we are in love. We are currently in a long-distance relationship (Malaysia – Spain).  Love knows no distance, does it? 🙂
Maintaining a long distance relationship requires a lot of trust and belief in each other. You tend to feel insecure when you are in a long distance relationship. There are stress, doubts and fear.
"If you are in a long distance relationship (LDR), my advice is to have a lot of patience, trust and faith."
Instead of worrying and stressing your partner, plan your next meet up together, make a Netflix day or surprise them with handwritten snail mail.
What Valentine's Day gift do you recommend from PeeknBoo?
Because you are purrrfect in every single way 🙂
Tell us how you make your long distance relationship work!
We met when he flew to Malaysia during his birthday for a solo trip. We decided to go for a casual dinner date. My first question was, "Where are you from?"
He said, "I work in Spain but I am from Latvia. Do you know where Latvia is?"
I answered "Yeah, I know where it is."
He was shocked and stunned. And that is where it all began.
"Take only memories and leave footprints"—this is what he often tells me.
And so, we planned to explore a country that we've never been to and start counting the memories we make.
Long distance lovers, you are not alone! Keep the faith, just like Kaze.
?
"We have been together for about ten years, and we also work together almost full time. We live in perfect cooperation."—Atti
We envy any couple who can say this with such confidence, especially a couple who also works together, because you know, work can be stressful.
Meet Miska. Miska is a cat. More accurately, Miska is the name of Atti and Nelli's cat, as well as the name of the couple's enamel jewelry brand.
If you have similar interests, you can understand each other easier, and talk to each other a lot. Our relationship is very deep, and we live in perfect cooperation.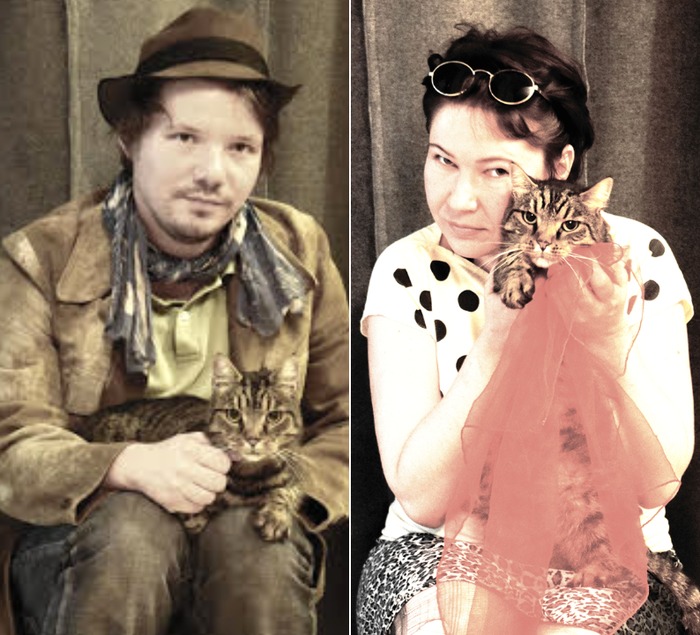 I think our love is the main origin of our creativity. We complement each other perfectly both in our work and in our love life. It is important that we do what we really like and what we are best at. But please spend free time together when not working too. It's also important to organize things to do together. For example: go to the theater, cinema, to a concert, to an exhibition, to the zoo, 🙂 etc.
What gift of love do you recommend from Miska?
Because watermelon is loved by everyone. And it's sweet, round and fine like love.
Atti and Nelli can spend almost 24 hours together and still live in perfect cooperation—perhaps this level of love is something we can all aspire to.
?
"Love is free, freedom is love. Love is my religion."—Beverly
Beverly is the artistic designer of clothing brand and cafe BevC in Malaysia. She and her S.O. had known each other for a long time before they began a relationship, but "there are still a lot of things that we're still discovering and learning about one another."
This is meaningful because they are embracing one of the biggest differences that a couple can have: religion.
"We have different religions. We celebrate each other's imperfection. We complement and support each other in what we do."
Marriage is not my priority. It is not that I am against it, but it is not part of my immediate plans. But if it happens, it is also fine. Enjoy life 🙂
Behind the intensity of BevC fashion statements and the couple's portraits is simply a happy couple who each fell in love with their best friend.
"January has passed and we're now entering the month of love! This is the 7th month we're together. ?" 
Things are going great for the both of us. We've known each other for 11 years, but we're still discovering many things about each other. This is the interesting part about being in a relationship! You can never get enough of each other's company as you go through your daily lives together.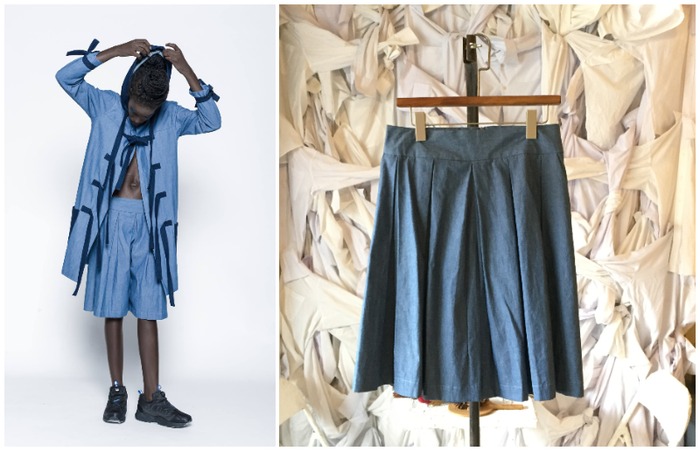 If there's something Beverly recommends from BevC, it would be the Gentleman Pleated Skirt Pants.
Because it's unisex and stylish. I'm much more interested in everything that happens in between. For me, a woman should be handsome. And I think a man wearing a skirt is sexy. Handsome is the new sexy. 🙂
"My religion is love. Every heart is my temple."—Beverly
And we believe in this—inner guidance for wherever you are in your love journey and your life in this world.
?
"We argue a lot when we work, but we also put a stop to it very quickly, because we know too well what each other is going through."
In the adorable world of Korean studio Raccoon Factory, you'll meet Starfy the morphing starfish and Wanggooma the grumpy yam. Usually, the colorful cartoons are all we see of designers Kwoni and Lee, but this time they're showing their faces to share some lessons learned as a couple working together.
Kowni and Lee met through the mutual admiration of each other's work. They began sharing a workspace in 2015, and officially launched Racoon Factory in 2017. "Dating and working together was hard at first because we couldn't separate our work and love relationships clearly." says Kwoni.
"Sometimes hard feelings arise from our personal relationship, even though we were supposed to be working."
"But the good thing is, we always have each other at our sides."
We argue a lot when we work, but we also put a stop to it very quickly, because we know too well what each other is going through, and why we say the things we do. Before, we did everything together from beginning to end. Now, we divide and conquer.
"It's important for us to learn how to respect each other's time, and give each other strength."
If you're also struggling in a double relationship like this, look at it like Raccoon Factory do:" It's hard, but it's also very fun!"
Or perhaps write a card filled with love with their Elephant Starfy Card Set.
We believe nothing brings more joy than writing a letter to someone you cherish. This is how we designed the Elephant Starfy Card set. Elephant Starphy would be so happy to share your happiness with someone you love!
Whether you are long distance lovers, business partners, old friends, or have just recently met, there are truths that we can learn from Kaze, Atti, Beverly and Kwoni's stories that we all share in relationships. The most important thing is, don't forget to tell your beloved "I love you!," loud and clear!
Happy Valentine's Day!
Valentine's Day specials from us to you ❤️
► ► Top 10 Romantic Movie Quotes for Valentine's Day
► ► Valentine's Day Gift Ideas Based on Your Relationship Stage
► ► 2018 Valentine's Day Gifts Edition: 5 Personalized & Unique Gift Ideas
► ► 8 Basic Feng Shui Tips to Attract Love with Peach Blossom Luck
► ► Hello, Romance! Evelyn's Love Tarot Answers Your Heart's Burning Questions
► ► Life is Sweet with Camila Valdez's Giant Desserts
Photos: Peek n Boo, Miska, BevC, Raccoon Factory
Edit: Melissa