Chinese New Year gifts used to be my mother's biggest headache. There's too much etiquette to consider in one festive red box! Does this brand suite their tastes? Will they think, "ugh it's apples again"? Would they know we picked it up last minute in the local supermarket?
But now, we have so many more creative and presentable Chinese New Year gift choices that suit a multitude of tastes for young and old, for Chinese as well as those who don't celebrate. From food and tea to trendy snacks, there's something for everyone from different parts of the world.
For your family, friends, neighbors, and coworkers at home and abroad, here are gifts from the most popular brands offered on Pinkoi. There might be shipping specials to your area too, so read on!
✔ Tea gift sets from young designer brands
✔ Specialty Taiwanese fruit snack gifts
✔ Chic and gift-ready Chinese New Year packaging
✔ Western sweets as Chinese New Year gifts
✔ Trendy Taiwanese snacks people are talking about
1. Classy tea gift sets make an impression
Popular brands like Wolf Tea roll out new tea sets with attractive traditional chic twists on Chinese New Year packaging.
The Tea Tins and Couplet Gift Set includes a baozhong tin, boxed jinxuan and oolong tea, two couplets printed on washi paper, and instructions in Chinese, English and Japanese. More discounts available for orders over 10.
Lomoji "connoisseur of herbs" touts "Chinese medicine without the smell". This Chinese Herbal Wellness Tea Set includes herbal blends that helps with fatigue, lack of sleep, dull skin, and digestion. Good health is a great thing to wish for during Chinese New Year, so include a warm message asking the recipient to take care of himself/herself.
Deng Deng Tea is so Taiwanese that each tea is tied to a Chinese New Year value such as union, success, prosperity, etc. What's more, you can get the Matsu temple oracle experience by drawing poetic fortunes (printed in Chinese and English and included in the package). This nostalgic practice is still common in many Taiwanese families.

2. Taiwan's specialty fruit snacks for every generation
Taiwan's refreshing "perfume lemon" variety is seedless, fragrant and the least bitter, making it a great choice for making lemon drinks and dried fruit snacks. Straight from the family farm, Grandpa's Lemon Chinese New Year set is not only a hip gift, but also a nod to family ties and agricultural roots. You'll find dried Taiwanese pineapple slices in the shape of a blooming flower too!
Formosa Black Bear is the official mascot of Taiwan, and of Tastes Sweety Dried Fruits. Since this Chinese New Year is the year of the dog, the packaging and dried fruit slices are in shiba inu theme because shiba rhymes with wealth, and the name of each fruit also rhymes with a lucky CNY greeting: pineapples for luck, tomatoes for fortune, mango dogs for prosperity, and guava for happiness. Remember to wish your recipient wealth and good fortune with this set! (Oh, and the pink bears are super adorable.)
Yuans' Family is all about traditional wood-fire dried mangos, and offers their original golden layered mango bricks that are perfect for serious gift giving and Chinese New Year greetings of fortune and prosperity. They look golden and have the taste of a gold standard!
3. Western sweets as Chinese New Year gifts
Dulcet rhymes with "Thank you so much" in Chinese, and the Wine Infused Jam Drop Set is a uniquely colorful tasting and cultural experience to gift in a box. Add the jam drops to the oolong tea included in the set. Snack on the red and white wine infused jellies in iconic Taiwanese fruit flavors like lychee, passion fruit, pineapple, dragon fruit, kumquat, etc.
Looking for a different Chinese New Year experience? The French Style Chinese New Year Set is a collaboration between Grassphere and LALOS Paris bakery, presenting three non-caffeinated herbal tea blends, strawberry rose meringue and sea salt toffee. It's a fine gift for any type of gift giving occasion.
Healthy food is one of the most preferable gifts during Chinese New Year, and that includes turmeric, which is said to still be the superfood of 2018. It's also a specialty product of Damu Farm from central Taiwan (read the Damu Farms backstory). This "Vitality" Turmeric Gift Set includes a turmeric powder and a turmeric brown sugar jar, complete with a logan wood spoon.
4. Honorable mention: Trendy Taiwanese foods people are talking about
Some of these might only ship to certain areas in Asia, but they're too cool to miss! Send these to family and friends within the shipping zone!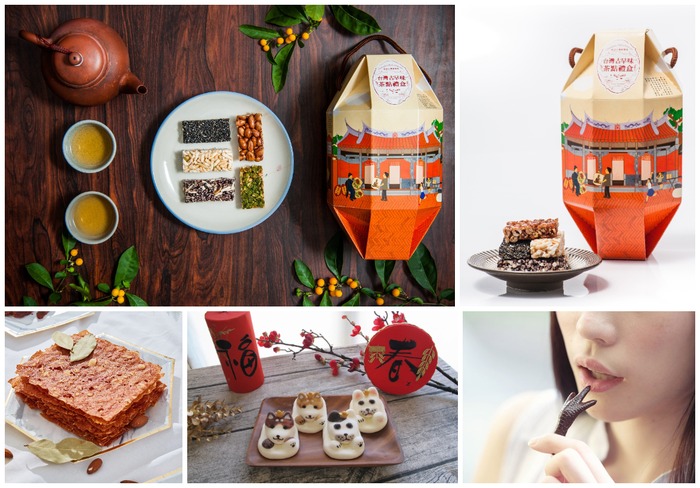 With these three types of Chinese New Year gifts, nine popular brands, and four local treats, your family and friends will have their stomach full and hearts warm throughout the New Year. See the entire selection here in one page!
Make this Year of the Dog memorable!
► ► Woof! Who & How to Give Red Envelopes in 2018 Chinese New Year
► ► 5 Ways to Celebrate Chinese New Year Abroad
► ► 7 Snazzy Ways to Dress Red for Chinese New Year
► ► Trad to Rad: Chinese New Year Greetings Redesigned
► ► Corgi Puppies Galore! 20+ Corgi Designs & Gifts
► ► Everything You Can Find in Shiba Inu
Text: Melissa