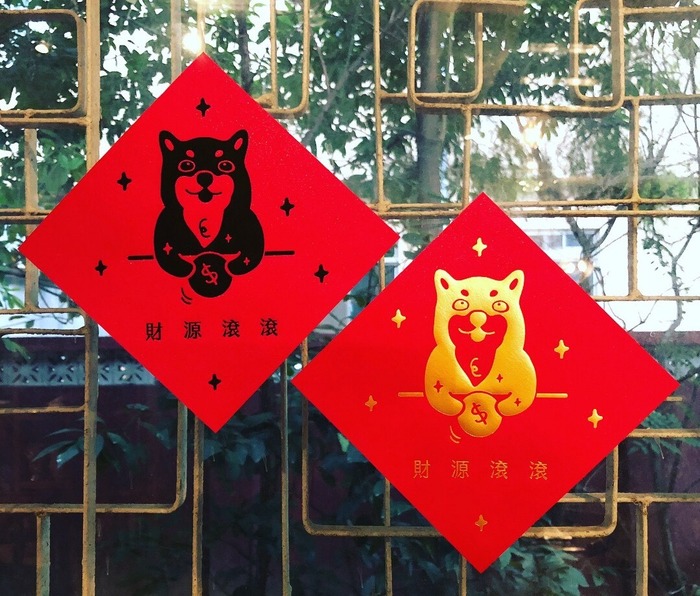 The one Chinese New Year decoration we can't live without (which is also the easiest to do) is spring couplets! And since this is the year of the dog—tons of doggy designs and doggie rhymes.
There's still time to buy some of the most creative dog-themed Chinese calligraphy couplets to decorate your home and office. Do you know what designs are in style this Chinese New Year? Let's find out!
What are the most popular Chinese New Year couplets this year?
Shiba is in the spotlight! Not just because they're the best, but also because chai (shiba in Mandarin) rhymes with cash!
Zhao Cai Jin Bao Shiba Red Envelope | Shiba is Rich Small Couplet
Chinese New Year couplets are either one-word or one-phrase blessings written in calligraphy, often with a creative twist to rhyme with the animal zodiac of the year.
French Bulldog Couplet | Dogs Greeting Chinese New Year Card
So, "旺 Wang!" is what you'll see and hear the most this year! The dog's "woof" is exactly what "good fortunes" sounds like in Mandarin.
Dog Goes Woof Couplet  |  Fat Dog in the House Couplet
Dog butt is obviously a favorite! The fatter the better (fat implies wealth!)
Handwritten Calligraphy Year of the Dog Couplets
Corgi, husky …  here's a parade of your favorite dogs, and all the dog-related Chinese New Year blessings you need! See descriptions at Dear Honey's shop.
What if I have a cat household?
No worries—there are cat couplets just for you!
Treat a cat right: the reward will last you a long time.
What's a good style for offices and businesses?
Welcome the Fortune | Lots of Fortune Calligraphy
For any type of business, the key is to have couplets that says something about money! As for styles, we suggest cheerful, colorful couplets for businesses and elegant designs for offices, such as papercut and traditional calligraphy styles.
I've done this before. What can I do differently this year?
2018 Dog Year Greeting Card (Set of 3)
We've seen a postcard-couplet trend: postcards that double as couplets. They're printed on square cardstock, designed by illustrators, and are perfect for both keeping and gifting.
Union for NYE Postcard | Bang! Set of 5 CNY Cards
Also, there are several paperless choices.
Functional, reusable items are creative ways to show the importance of Chinese New Year. For example, the wooden magnets above, and CNY-themed tableware, pillow, and fabric couplet below.
"Spring" Hand-painted Dish | Gold Ingot Pillow | Lucky Cat Felt Couplet
How about smaller Chinese New Year decorations?
Use mini couplets and Chinese New Year-themed washi tape to decorate your office, planners, or even your cookie jar! (You want the cookie jar to be always full, don't you?)
Kid's First Calligraphy Couplet Washi | Taiwanese CNY Washi Tape
Put couplets on doors and walls, as well as containers (of things you want more of) to welcome wealth and prosperity!
Hurry, the year of the dog only comes around once every 12 years, so buy the decor of your choice and set up your space for the cutest and happiest Chinese New Year yet!
Get ready! 
► ► Your Red Envelopes Guide for 2018 Chinese New Year
► ► 5 Ways to Celebrate Chinese New Year Abroad
► ► 7 Snazzy Ways to Dress Red for Chinese New Year
► ► Trad to Rad: Chinese New Year Greetings Redesigned
► ► Shiba Inu Makes You Rich 柴源滾滾
► ► Best 2018 Chinese New Year Gifts for Family & Friends Home and Abroad
Text: Melissa