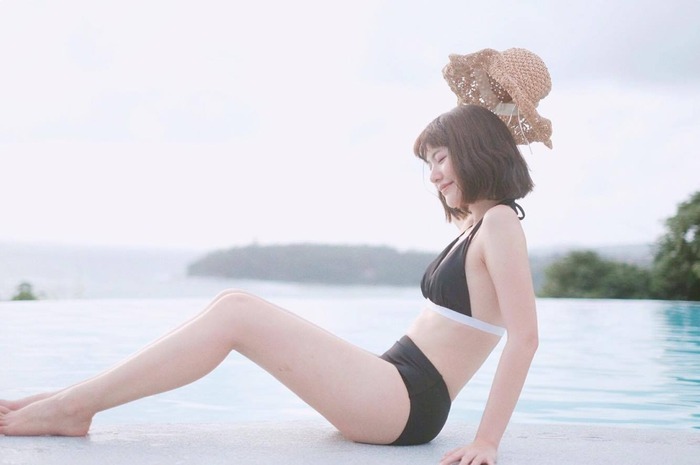 Styles are exciting to look at, but when it comes down to making the purchase, you want a swimsuit that you'll feel confident in. That's why you need a style that compliments your body!
Therefore, besides recommending the popular swimwear brands, we've also found a few swimwear designs for your body type so that you can shop for not only fashion but also comfort and confidence.
1. To balance out your big bottom
Ugh, me and my big butt!
★ Choose a swimsuit this way
▲ "Donut" Collection | "Hot Summer".
Deep-v swimsuits shifts your attention upwards and away from your bottom torso.
▲ Wimbledon Skirt One Piece. A mini skirt cuts out your curves and makes your bottom seems smaller.
▲ Ayu Two-piece. An eye-catching top move the gaze upwards as well. Try showing off your shoulders or use bright colors to balance a bigger bottom.
2. To salvage your small chest
I love my body, but how I wish I had some more. :'(
★ Choose a swimsuit this way
▲ Sexy Back Set; Capsule Rolling Toy.
Small chest, don't care. Show your confidence with a stylish bandeau.
▲ Dream Catcher Bikini. Bikinis make your body look curvy—especially with bold patterns!
▲ Yum Dork One-piece; Crossback Collection.
Instead of focusing on the front, the popular low-back and dropped-armhole cut is the sexy style everyone is going for this summer.
3. To support you curvy girls
They say I'm lucky, but let's just be realistic here.
★ Choose a swimsuit this way
▲ Velvet Crescent Moon; Blanca Cut-out Two-piece.
A higher back provides better support.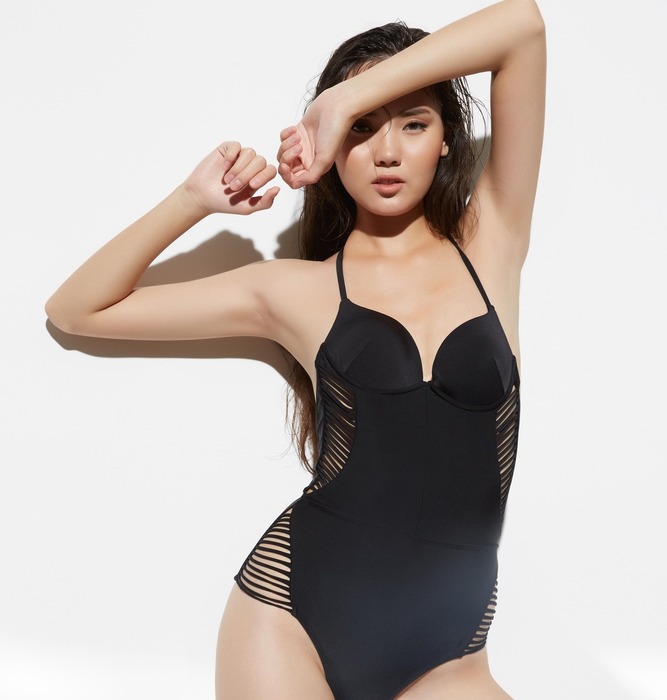 ▲ Ingle Side Straps One-piece. Underwires, halter and tie-neck tops have good support even if you want to bare your back.
4. To create more curves when you don't have much
I am too thin/too boxy/athletic! At least let me look feminine on the beach.
★ Choose a swimsuit this way
▲ Anne Ruffle One-piece; Little Garden Swimsuit.
Ruffles and drapes can unexpectedly create curves and feminine shapes.
▲ Maya One-piece Rash Guard. A visually interesting mix of prints, shapes and cutouts is like contouring for your body.
▲ Anne Two-tone Swimsuit. We're loving the teardrop cutout here that accentuates an attractive waistline from any angle.
5. To hide your muffin top
I can bear some things, but love handles are unbearable at the beach.
★ Choose a swimsuit this way
▲ Au Debut One-piece; Yellow/Navy Tear Diamond.
Contrasting colors with a bright pop of color on the top will make people forget your muffin top!
▲ Center Ruched Polka Dot Swimsuit. Ruffles and folds conceals the extra meat you're so self-conscious about.
▲ Suzy One-piece. One-piece swimsuits with creatively placed cutouts and ruffles will break up the bulge you think is there.
With the perfect swimsuit for your body, you'll enjoy every beach activity whether it's chilling and daydreaming or partying and making a splash. Make sure to find your favorite suit and get ready to have all the fun you want!
View all brands and our swimwear tips
► ► 6 Styles to Cover Up at the Beach
► ► 10 Beloved Swimwear Brands from Thailand
► ► The Best of Thai Beach Days & New York Styles
► ► Featured Shop | Maillot Co Swimwear
► ► Maillot Co's 8 Favorite Picture-Perfect Beaches in Thailand
► ► I Wanna be on Vacation! 9 Tropical Fashion Finds for Summer
Text: Melissa