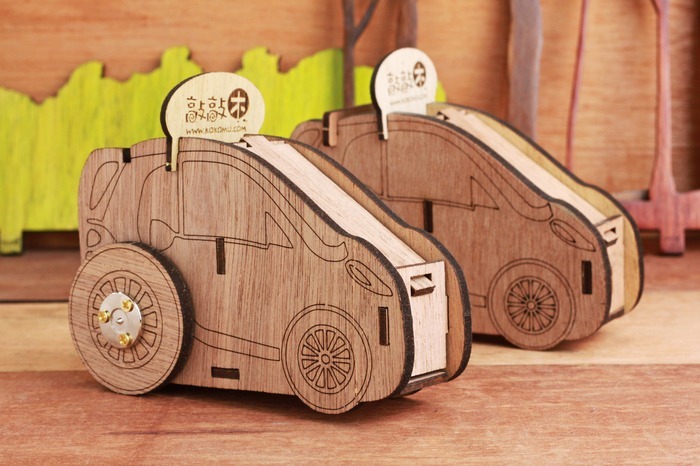 When the lumber industry burgeoned in In the early 1960s, it brought more than 450 woodcraft factories to Puli, Taiwan. One of them was Haishan Handcrafts: they produced large quantities and varieties of Christmas decorations, such as Nutcrackers, Christmas pyramids, jewelry boxes, music boxes and more.  
Fast forward 50 years, and only less than ten woodcraft factories remain in Puli. Haishan Handcraft's second generation, the three Shih brothers, decided to carry on their father's vision and turned the factory into Kokomu Music Box, a family travel destination for hands-on experiences and a woodcraft brand specializing in wooden DIY gift kits.
From father to son, from a dwindling industry to future possibilities, Kokomu has decades of stories to share. Let's hear Ryan tell us all about it.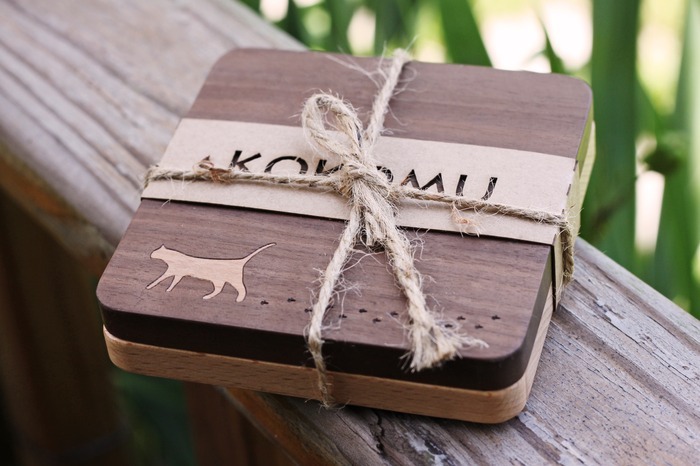 In January, 2012, we had our second baby. This meant we didn't have much to spare for a business investment, and I didn't want to be away from my family anymore. I contemplated what industry I could enter right here in Puli, and began to reconstruct our old factory and developed new productions, display areas, retail areas and DIY areas. With the tourism in Puli, Taiwan, I could share the history of local industries along with our brand, Kokomu, to visitors.
Six months before our opening, I was building the website and using SEO from what I learned in my past job, but the biggest question looming around was this: What is our product?
Eventually, we positioned ourselves with two main operations: family activities for tourism, and animal DIY music box collection for products. This collection came from three decades of experiences making music boxes and we targeted females in the 15–40 age range.
We opened our doors in July, 2012. It was a bumpy road and we didn't have many products to start with, but slowly, people began to discover us through SEO and we saw hopes of growing the brand.
What were you doing before starting Kokomu?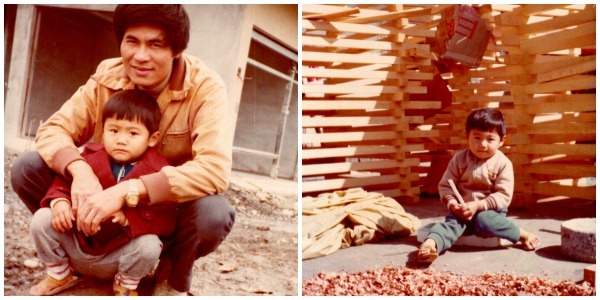 ▲(L) Ryan and his father (R) Ryan as a kid 
My dad became an entrepreneur in the woodworking business with my two uncles when he was eighteen. So I've spent my holidays helping out at home since I was seven. In my high school freshman year, my dad expanded from Taiwan to China, and since we were growing, I had to help with international purchases.
After college, I discussed the possibility of setting up retail in New York with my dad, and so I spent four years there, distributing and exhibitioning our music box and jewelry box products.
In 2007, there was the financial crisis in the U.S., so we shut down our U.S. branch in 2009 and returned home. I've been helping out in the family business for so long that I felt like hiding from it, so I worked somewhere else at an online business, where I learned to do online marketing. Later I had health issues, so I left the job and returned to my father's business and learned about operations and cost management. 
In 2012, my father reached retirement and asked if I wanted to keep running our business in China. I didn't want to, so I left China and returned to Puli to figure out how to take our business to the next phase.
What is the brand message of Kokomu?
"Let's knock on the wood": Through DIY, wooden crafts becomes invaluable gifts that only you can give to a beloved recipient.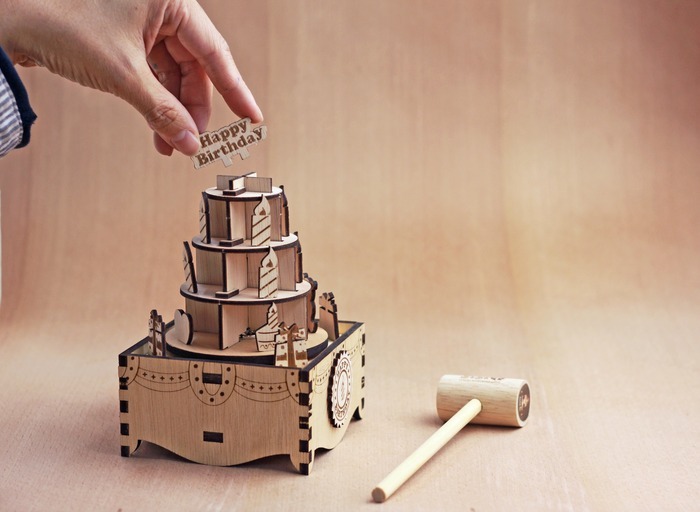 When it comes to gift giving, there are millions of things to choose from, but nothing is as unique as something you made yourself. The best thing is when both the giver and recipient feel the special meaning within the gift.
Wooden DIY kits are different from general woodcraft products. Not only does the finished product need to look good, it also needs to have the right DIY experience. The structure and the assembly differs by the age range of your target audience. The designed skill level, size and the assembly time all influence the customer experience and what they say about us.
We believe in user experience, and that the recipient's response to the kit reflects whether or not the gift giver's intention has been faithfully delivered.
In terms of woodcrafting, we have four decades of experience, but we still have a lot of learn. For example, how to keep the spirit of artisanal woodworking while adapting new technologies to push carpentry boundaries. Although our woodworking is not as complicated as furniture carpentry, we do need very fine surface and painting processes so that the receivers know a lot has gone into the piece.
What does design mean to you?
I've always enjoyed design. Design has allowed me to discover more beauty in my work in various stages of my life. However, design shouldn't be forced. A design is a vision expressed through graphics, products or texts that people can interpret and feel for themselves, thus reaching an emotional satisfaction. In other words, a state of contentment.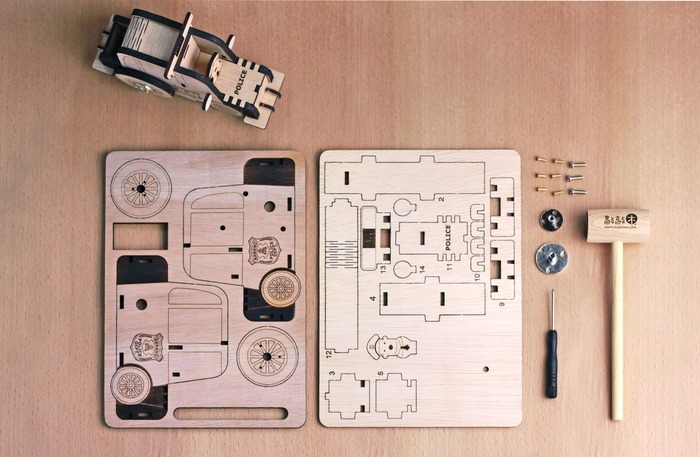 Delivering happiness and contentment is an important part of Kokomu products because I have two kids of my own, and I want to create collections of toys that they can hammer and paint and play with. Being able to see them concentrating during the process and proudly finishing their works is what keeps me going with the business. If I have the ability, one day I want to create a space for kids and adults to make crafts so they believe in their own abilities and be positive. I believe that believing in ourselves through making can make the world a better place!
What's the greatest fulfillment of running your own business?
Continuing the family business ourselves is the greatest fulfillment.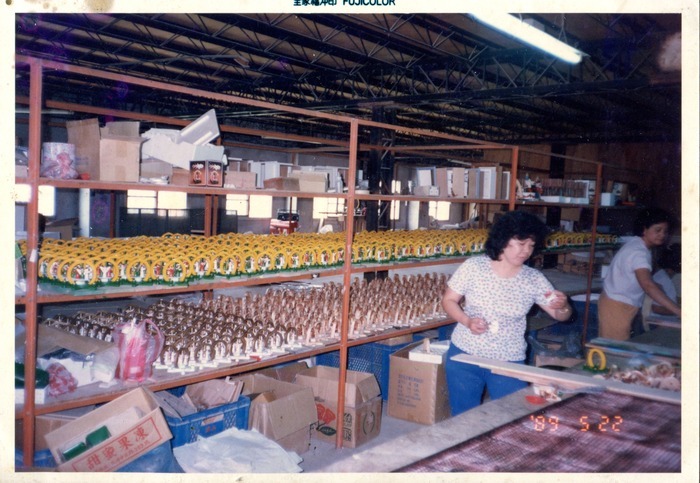 ▲ A snapshot of the Haishan Handcrafts era
Kokomu Musix Box is in its fifth year—still a young business. Puli used to have almost five hundred woodworking factories in a matter of four decades. It was the center of Christmas woodcrafts in the world. But the economy has shifted and there are less than ten factories left.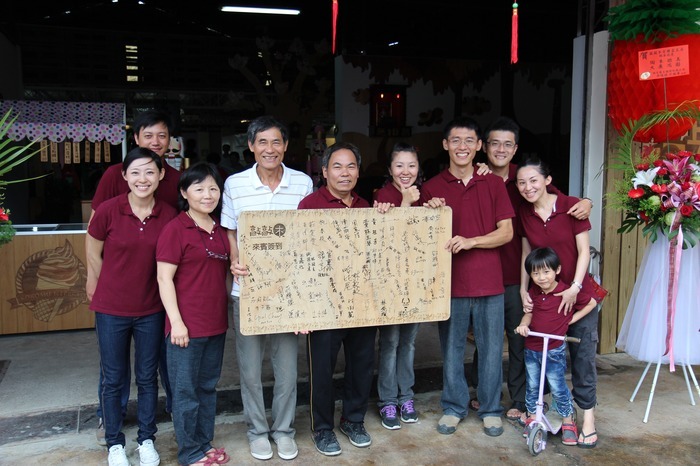 ▲ The Kokomu family
Take a look at traditional industries in Japan and you'll see many businesses with over a hundred years of history, but here in Taiwan, not many young people are interested in taking over the family business. Now, Kokomu is a team of less than five who are mostly family members. We might not be passing down the legacy the proper way, but we're working with what we know to continue the legacy. This is our greatest fulfillment as the second generation.
What are some biggest accomplishments you are the most proud of?
First, creating an identity among the Puli community.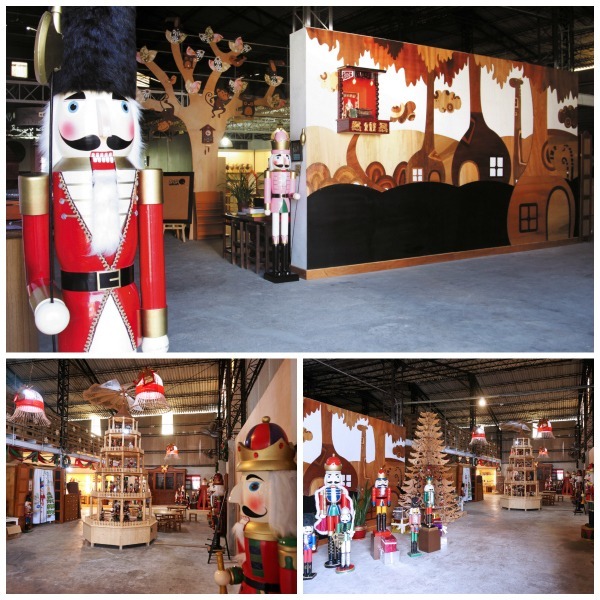 ▲ The Kokomu recreational area
In the 80s, the woodworking industry affected every family. Factories were working overtime until one in the morning to fulfill orders from all over the world. There used to be a saying "Tâi-uân tsînn, im kha-ba̍k.", meaning that Taiwan is flooding with money and the destination to strike it rich. It wasn't even competitive; every factory had orders to take and the money to make a living. 
After the 80s, the government began restricting woodcutting, and Taiwan started to rely on imported wood. In the 90s, many Taiwanese manufacturers started migrating to China. Along with the U.S.'s Section 301, the financial crisis and Persian Gulf War, the number of factories in Puli plummeted from hundreds to less than ten.
Many current Puli residents over forty may well have been the factory workers who worked day and night to ship products to the world. In the Kokomu recreational park tours, we include past products from that time and from Haishan Handcrafts, as well as legends from tens of thousands of craftsmen and painters from that era.
Through products, I hope more people, especially Taiwanese locals, learn about the past of traditional industries and that a wooden toy manufacturing center of the world used to be right here in Puli.
Second, giving back and doing good. It helps us feel happiness and self worth.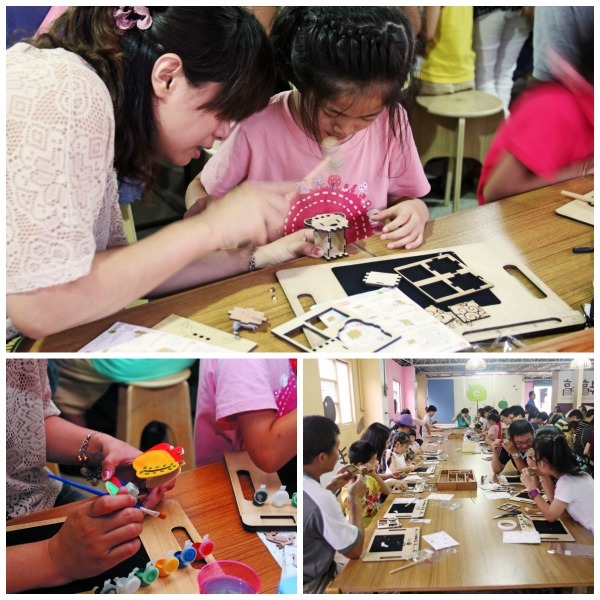 There are many children in Puli who need not only help from corporate sponsors but also care from the society. In order to help them find happiness and value, we host woodcraft classes and DIY workshops for them, guiding them to design and create with tools and technology.
These children might have lost their parents, have a broken family, or have served juvenile detention; They've experienced the harsh reality of this world earlier than most of us. In the classes, we feel they are headstrong and give themselves lots of pressure and expectations. We are parents too, and we feel them, so we want to try and help them find joy and confidence.
What is the biggest challenge you've faced so far?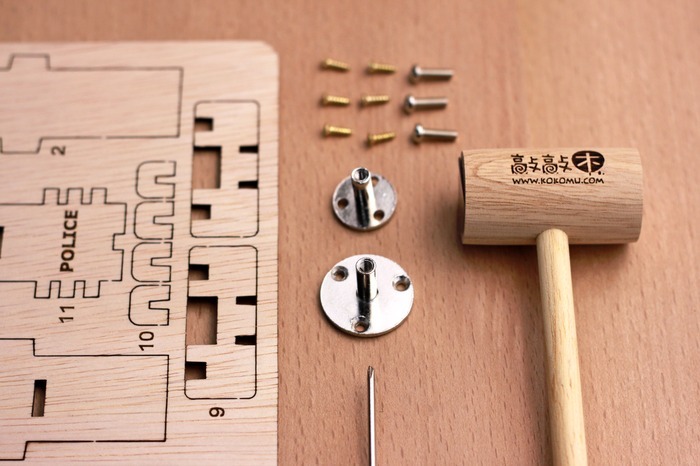 Our first challenge was finding out if there was a market for our products. From doing sales in the past, I've learned about product development and tasted the joy of our products being sold. But Kokomu products are very seasonal. People come looking for them only during holidays or special events. So, these early stage sales data pointed us to a growth strategy: invest in facility and automated processes for a leaner production. As for our recreational service, it is not only a way to reach potential customers, but also a way for us to identify problems in our DIY design, which helps us evaluate future retail and online opportunities.
After we reached a wider market, we discovered that it's easier for local brands to gain exposure in the early stage from bloggers and the media. However, to really convert that to sales, product is the key: without a good product, visibility becomes blessing with a curse.
Summing up our experience from the past few years, we realize that a brand must build on niche markets and use tools to analyze what most customers are looking for, and use that knowledge to develop very targeted products. Also, a yearly plan is necessary to roll out certain amounts of new products and observe the reaction from sales, marketing and customer service.
What new challenges will be coming for the DIY woodworking business in the next decade?
Within the next ten years, software and electronics will challenge the DIY market, which might push Kokomu to another business transition.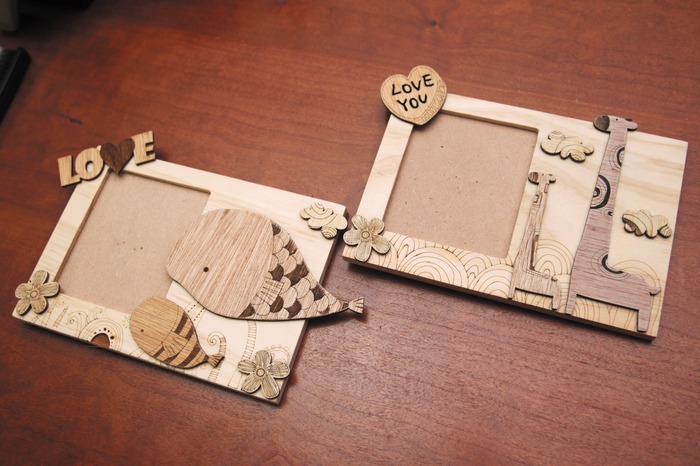 Many corporations (such as Lego) are already incorporating mechanical and software programming into their products. It's true that wooden music boxes are our main products now, but once we start incorporating electronics and module designs, we might head into a new market.
Laser cutters are very expensive now in Taiwan. Only companies can afford to invest in the machine. But when the tools become mainstream, more and more people will be able to jump in and become makers in design and manufacturing. At that time, Kokomu could become the forerunner of combining wooden craft DIY products and electronics, or become educational roles and cultivate talents for the technology. All of these are our possibilities and challenges.
What is your favorite piece of work?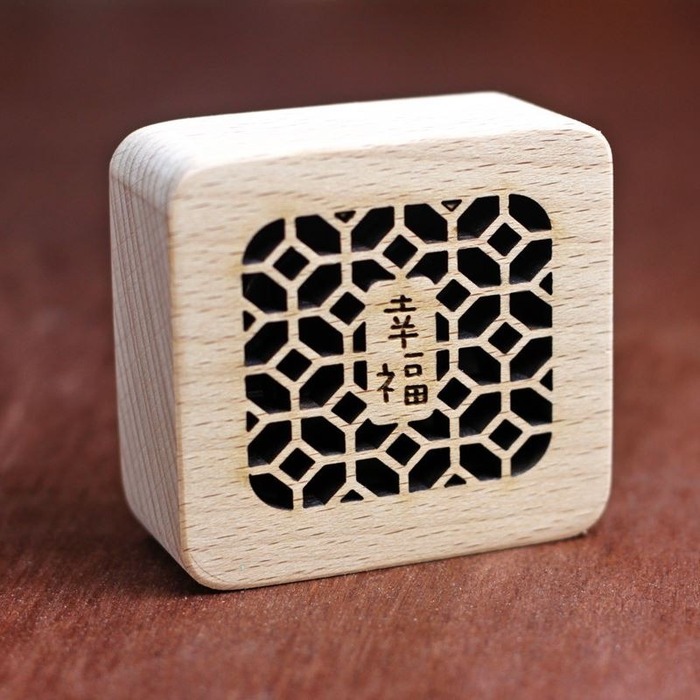 We enjoy applying new technology to products so time-consuming carpentry techniques can be performed exceptionally. When carpenters work, they are exposed to high-speed blades and danger every time they use a wire saw, a shaving machine, a wood router, or a drilling machine. But for this Window Grilles Music Box, we use CNC and laser cutting to let technology take care of the most challenging part like trenching, then the carpenters take over for sanding and painting for a beautifully finished product.
This Music Box is a symbol for the spirit of Kokomu: New technology cannot replace woodcrafting and its spirit; Only by combining crafts and technology can we bring products to the next level.
Why did you choose to sell on Pinkoi?
We chose to sell on Pinkoi because Pinkoi shops are positioned as "designer" shops.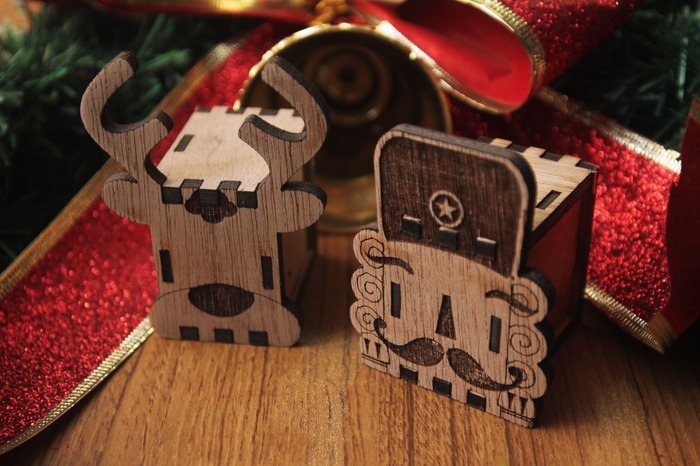 Pinkoi is very committed to discovering brands and helping the public discover them as well. Being seen and being able to sell are exactly what a designer hopes for. When we sell on Pinkoi, we feel like we're working with Pinkoi: we're working for our own good individually, and also working for the Taiwanese creative community.
This is the fourth year we are selling on Pinkoi. One thing that struck us deeply is that sales is not about the price or the design—it's about whether the emotional response is satisfying to the customer after they purchase and use your product for each of their specific purposes. The purposes might be complex, such as gifting purpose, purchasing purpose, DIY purposes, etc. Diving into these psychological factors will help designers target customer needs more accurately for better products.
What is your experience with Pinkoi? How did your brand grow?
After we started listing on Pinkoi, sales picked up, and we also saw significant growth in revenue, visibility and market awareness.
I think there are three main reasons:
Pinkoi is probably the best online marketplace in Taiwan, especially in the area of design products. Pinkoi reaches Hong Kong, Thailand and Southeast Asia markets, and even though higher shipping costs prevented proportional sales, the exposure is good.

Pinkoi is well designed for SEO. Even if you are inexperienced with SEO, the Pinkoi system can support you, and the rating system is nicely presented in Google search which helps customers relate to the brand more.

The tag system is very effective. Designers can set tags in their own shops which makes it easier for customers to discover your brand through Pinkoi search, and this helps with visibility.
What are your next goals for Kokomu?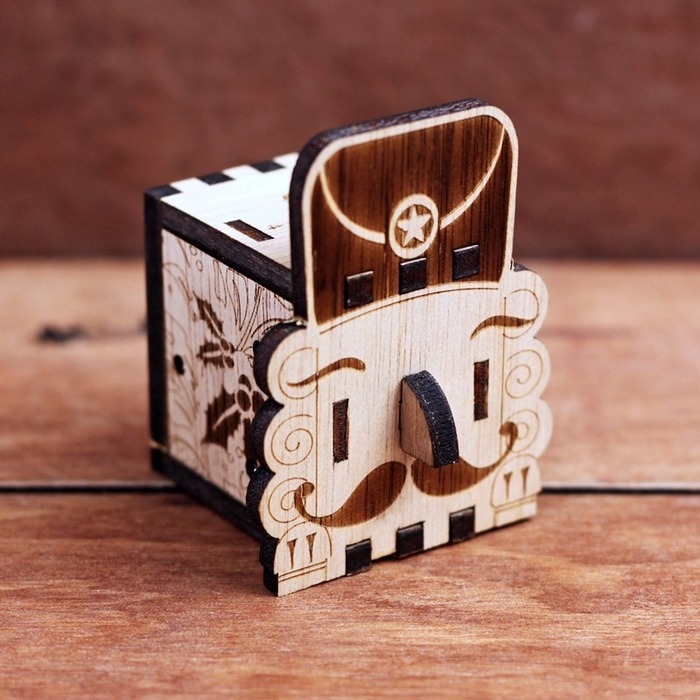 A brand sets goals for different phases. Aside from new products every year, we don't give ourselves too much restriction. However, people's lifestyles and shopping habits are changing all the time, so it's necessary to keep learning through technology and make more diverse and functional products that fit to people's lifestyle and preferences. Creating products that promises possibilities and piques interest is a goal in itself.
What advice would you give to aspiring Designtrepreneurs?
Working in the factory helped me think from a material source perspective: to not waste wood in mass production, to have limited variety of packaging specs… otherwise we have unnecessary costs. Learning to control your cost before going into creative design is an essential process. 
You need a vision to start a business, but you need to make a living even more. It sounds harsh, but it's what allows you to keep going for your dream.
It's not easy to start a business, and promoting your brand is a complicated process. You need to be sure there's a market for your product, decide your focus for marketing channels (including social media, press, print media, and TV networks), and understand your customers' experiences. When you don't have enough capital, promoting your brand takes time and strategy. Get clear on whether you are an original brand or a manufacturer. You'll need different strategies for either, and it's also the key whether customer find you distinct and memorable.
What would you like to say to the Pinkoi team?
Let us not forget where we come from and keep going!
Designers transforming traditional industries
► ► ► Designtrepreneur | Wood515 Customized Gifts
► ► ► Designtrepreneur | Damu Farms
► ► ► Designtrepreneur | Daughter Skin Care
Translation: Melissa