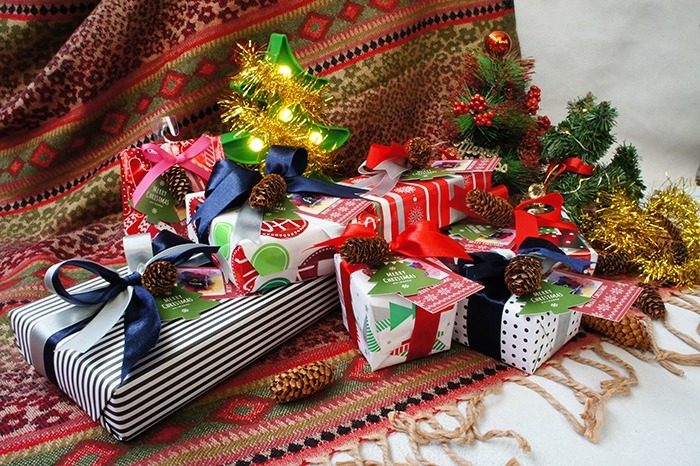 What does it take to find secret santa or white elephant gifts that won't break the bank? Humor, thoughtfulness, and a bit of search. Luckily, we've been doing the search for you. From sweet and desirable to funny to the most sought-after brands, these inexpensive gifts will surely make your crowd tick!
Most sought-after secret santa gift ideas from beloved brands
Comma woodworks, Daughter skincare, Wolf Tea, Grassphere herbals, A Little Lovely Company—with glowing reviews, social buzz and media presence, these beloved brands are Pinkoi classics that won't go wrong as Christmas gifts!
A fan stacked 24 of these wooden cats. Can you beat that? A set of 6 smaller cats is $13, so you can multiply. (Above are customer photos from mcosta80, Yuznzhen and yitin!)
Great as a toner or a lightweight moisturizer, Daughter's best-selling toner is back in a larger size!
A top pick for anyone who is delighted with great packaging, a great brand story, and great Taiwanese tea, which is currently going through a renaissance.
The cutest addition to the children's room or even the living room that gives a soft glow. It's BPA- and lead-free PVC, and can be set on a timer.
The set is a real treat! The 15 custom dried fruit and herbal blends are for making herbal water that'll wrap you up in refreshing floral and herbal goodness.
Seriously nice white elephant gift ideas to turn friends against each other
Not to brag, but last year, we finally walked away with the laptop sleeve everyone fought for at a white elephant party, after it was "stolen" twice. So, a nice gift is indeed an option for white elephant Christmas parties!
Besides being luxuriously protective, the pockets and scratch and water-resistant features makes this sleeve very desirable, like the one we won!
Grapefruit, Wood Sage, Wild BlueBell, Nectarine Blossom and Orange Leaves scents all packed in tiny bottles, and safe for clothing and fabric! Full size sprays in oriental notes available.
A stunning 9-inch marble tray in a rare salmon color design, crafted from handmade molds. A gift that carries weight!
Eating ice cream with this one-of-a-kind spoon, with a fluffy cloud-shape spoon stand on the side, just thinking about it will send a sweet tooth up to cloud nine. Choose from two color themes: Unicorn and Narwhal.
Novelty white elephant gift ideas to make them laugh

Butt vs. boobs—here's an combined illusion of both. Which is better? Let them decide.
May those in need receive the nose hair trimmer in their hands.
Dim sum for brunch! Mmm~who wouldn't like to wake up to the fragrance of shrimp dumplings? (Psst—the candles don't actually smell like dumplings, but they don't have to know!)
Great for when you really have to roll your eyes at someone. Even the corgi had to…
FREE THE NIPPLES cuz they're coming!
Send them back to elementary school!
Now get your hands on these items and stop worrying about secret santa or white elephant gifts for the rest of the season!

Season's greetings! Every day until 12/25, win cash rewards for all your holiday shopping with our scratch game.
Browse gifts by budget, shop personalized gifts, choose from Pinkoi's beloved classics, and give gifts worth remembering!
Let's get the shopping done!
► ► What to Get Him for Christmas? 14 Gorgeous Christmas Gifts for Him
► ► 10 Extra Meaningful Personalized Christmas Gifts for Him and for Her
► ► Christmas Shopping Done Right! Indie Asian Brands that Ships Under $5
► ► 20 Secret Santa Gift Ideas Under $20
► ► 10 Unique Christmas Presents for Her
► ► 12 Crafty Essentials to Do Your Holiday Gift Wrapping
► ► 5 Christmas Gift Wrapping Ideas with Winter Holiday Washi Tapes
► ► Step Up Your Gift Wrapping Game! DIY Your Own Christmas Wrapping Paper
► ► See all gift guides
Text: Melissa